A Rite of Passage
TTUHSC Medical Students to Receive First White Coat
By Kay Williams
July 28, 2023
The Texas Tech University Health Sciences Center's (TTUHSC) School of Medicine Class of 2027 received their first white coat and pledged their commitment to the medical profession at the White Coat Ceremony 2:30 p.m. Friday (July 28) at the Lubbock Memorial Civic Center.
The white coat is one of the most visible symbols of the health care profession. John DeToledo, M.D., TTUHSC interim dean of the School of Medicine, said this ceremony is a rite of passage for first-year future doctors at most medical schools across the country.
"The White Coat Ceremony serves as a welcome to the profession and the symbolic start of the student's journey of servanthood," DeTodelo said. "It's also a ceremony of dedication — a reminder of their commitment and responsibilities to patients and lifelong learning that come with being a physician."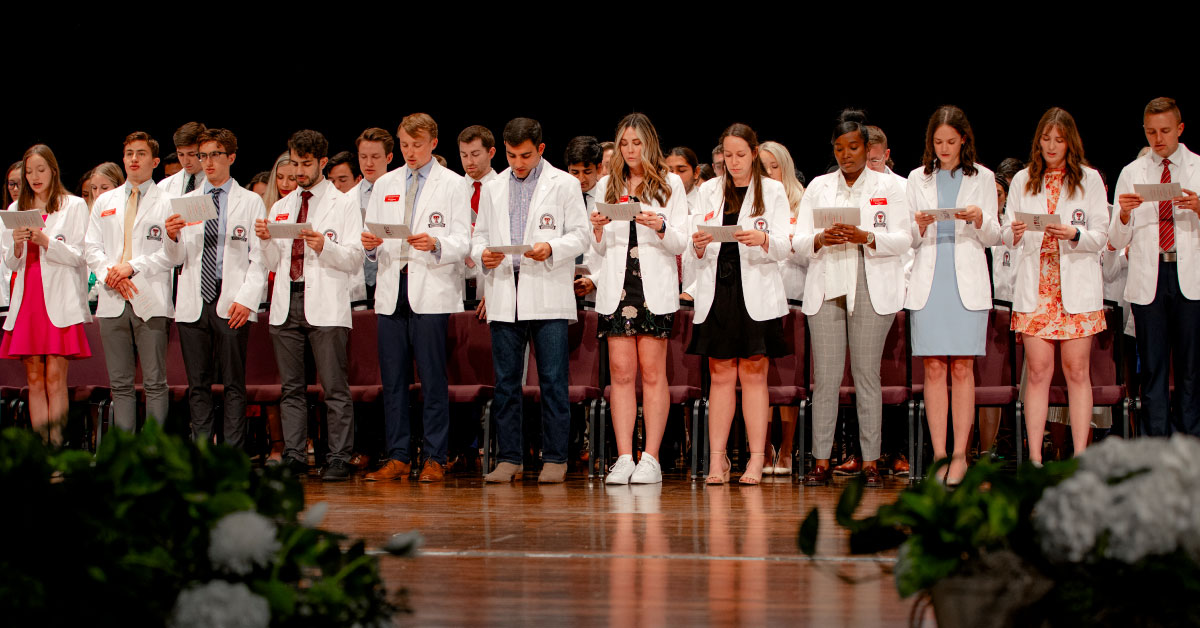 The 181 students in this cohort are graduates from 52 different schools including Emory University, Clemson University, Brown University, Princeton University, The University of Texas at Austin and Baylor University. Ninety-five students are from West Texas with 45 alumni from Texas Tech University.
Not all of the students are recent college graduates. Some students come from other jobs such as emergency medical technicians, registered nurses, veterinary techs, teaching assistants and tutors.
The average grade point average for class members is 3.85. Twenty-one students are pursuing dual degrees. Nine are earning a joint medical and business degree with the M.D./MBA program. Nine are working toward a joint medical and public health degree with the M.D./MPH program. Two are completing a dual M.D./Ph.D. degree, and one student is earning a joint M.D. and engineering degree.
"This is a strong and competitive class of students," DeToledo said. "They have earned the privilege of entering the medical profession. We had more applicants than ever. We know we've been able to attract and select the best of the best."
Related Stories
Education
By Suzanna Cisneros
September 13, 2023
TTUHSC President Lori. Rice-Spearman, Ph.D., announced the appointment of Deborah L. Birx, M.D., as the TTUHSC presidential advisor and adjunct professor in the Julia Jones Matthews School of Population and Public Health.
Education
By Melissa Whitfield
August 28, 2023
TTUHSC kicked off Middle School to Medical School (M2M), a program designed to inspire and support children interested in pursuing careers in medicine Monday, Aug. 28.
Education
By Melissa Whitfield
August 17, 2023
TTU System Board of Regents approved the appointment of Billy U. Philips, Ph.D., MPH, and Thomas J. Abbruscato, Ph.D.
Recent Stories
Research
By Mark Hendricks
September 21, 2023
The National Institutes of Health (NIH) recently awarded a two-year, $1.47 million grant to a new local research coalition led by Christine Garner, Ph.D., R.D., Julie St. John, Dr.P.H., and Stephanie Stroever, Ph.D., MPH.
Health
By Suzanna Cisneros
September 19, 2023
Natalie Scanlon, Ph.D., a clinical psychologist in the Department of Psychiatry at Texas Tech Physicians, provides tips for keeping children safe.
Research
By Mark Hendricks
September 13, 2023
In a list published by the National Academy of Inventors (NAI), the Texas Tech University System, including TTUHSC, ranked 75th among the Top 100 U.S. Universities Granted Utility Patents in 2022.