Society of Toxicology Tabs School of Pharmacy Grad Student for 2023 Award
By Mark Hendricks
February 14, 2023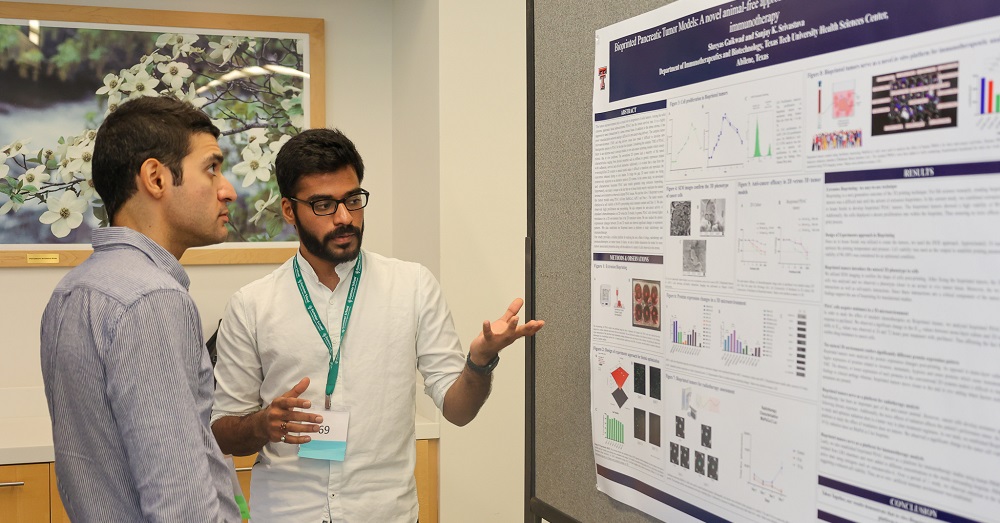 Shreyas Gaikwad, a Ph.D. candidate in the Graduate Program in Pharmaceutical Sciences at the Texas Tech University Health Sciences Center (TTUHSC) Jerry H. Hodge School of Pharmacy, was recently selected by the Society of Toxicology (SOT) as the 2023 recipient of the Syngenta Fellowship Award in Human Health Applications of New Technologies.
Gaikwad and his fellow 2023 SOT Award recipients will be honored during the organization's 62nd Annual Meeting and ToxExpo March 19-23 in Nashville, Tennessee.
Gaikwad, who works in the laboratory of Sanjay K. Srivastava, Ph.D., has been a member of SOT since 2019. As a student researcher, SOT has provided him with a wide platform for networking with experts in the field of toxicology, especially in areas such as carcinogenesis, drug discovery, safety assessment and others. He said SOT also provides ample opportunities for student members to grow as professionals.
"Personally, I am extremely happy and satisfied after receiving this award," Gaikwad said. "It provides me with a validation that I have been able to contribute toward the ever-growing area of drug discovery. Moreover, I am delighted that Syngenta has supported the area of drug-repurposing in cancer through this fellowship. It will provide me with resources to further understand the mechanism of action and safety evaluation of the compound which I have repurposed against cancer."
Gaikwad's primary project focuses on discovering the anti-cancer potential of compounds that have been approved previously for indications other than cancer. This concept is known as drug-repurposing, and by using this strategy, Gaikwad identified the anti-cancer potential of a compound (MBO) against pancreatic ductal adenocarcinoma (PDAC).
"This compound significantly reduced proliferation of PDAC cell lines in both in vitro and in vivo studies," Gaikwad explained. "The anti-cancer activity was confirmed in orthotopically induced tumor model, which is considered a clinically relevant model to study anti-cancer activity. Further, safety assessment was also conducted to understand whether the compound is a good fit for clinical trials in terms of toxicity and safety in humans."
Gaikwad said identifying new therapies against pancreatic cancer is urgently required since PDAC is on track to be the second deadliest cancer by 2030. Although a few chemotherapies have been approved for PDAC, the window of curability remains small. In addition, new treatment options such as immunotherapies have failed to show promising results in clinical trials
"From a patients point-of-view, strategies such as drug repurposing provide hope for novel treatment options," Gaikwad added.
SOT is a professional and scholarly organization consisting of more than 7,500 scientists from academic institutions, government and industry representing those who practice toxicology. SOT's awards program, which recognizes distinguished toxicologists and students each year based on merit, was created in 1965 with the establishment of two awards. Today, SOT presents more than 20 awards that recognize achievement, facilitates travel for senior and budding scientists and furthers toxicological research.
Related Stories
Education
By Suzanna Cisneros
November 06, 2023
Holly Wei, Ph.D., R.N., has been named the TTUHSC School of Nursing dean, the university announced.
Education
By School of Health Professions
October 19, 2023
Sarah Stringer, DMSc, PA-C, CAQ-Psych., discusses the role that physician assistants can play in bringing mental health treatment to rural populations.
Education
By School of Health Professions
October 05, 2023
Zach Sneed, PhD, CRC, LCDC, BC-TMH, discussed the roles and responsibilities of an addiction counselor today.
Recent Stories
Research
By Mark Hendricks
November 16, 2023
Ninh (Irene) La-Beck, Pharm.D., with the TTUHSC Jerry H. Hodge School of Pharmacy, received a five-year, $2.49 million grant to investigate how nanoparticles interact with the immune system and cancer.
Research
By Mark Hendricks
November 10, 2023
To help investigate the influence basal sex hormone alterations may have on chronic post-op pain, the NIH recently awarded a grant to Jenny Wilkerson, Ph.D., from the Jerry H. Hodge School of Pharmacy.
Health
By Tyler White
November 09, 2023
Scott Shurmur, M.D., a cardiologist at the Texas Tech Physicians Center for Cardiovascular Health, shared his expertise and his experience as a former collegiate athlete.