TTUHSC Psychiatry Team Honored as Texans Caring for Texans
By Meaghan Collier
August 4, 2023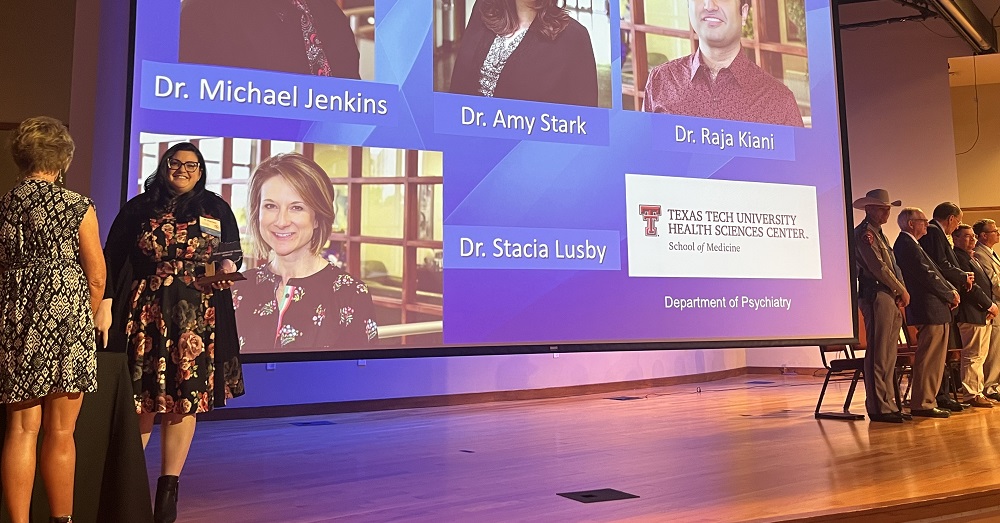 Each year state agencies from the upper 26 counties in the Texas Panhandle are invited to select an employee or team of employees to receive a Texans Caring for Texans award. The Texas Tech University Health Sciences Center (TTUHSC) School of Medicine honored the four psychiatrists from the TTUHSC Department of Psychiatry and Texas Tech Physicians Psychiatry in Amarillo for the honor. Amy Stark, M.D., accepted on behalf of Michael Jenkins, M.D., Raja Kiani, M.D. and Stacia Lusby, M.D.
"They work incredibly hard to meet the challenge of providing the best mental health care in this era of a severe national mental health provider shortage," Richard Jordan, M.D., TTUHSC School of Medicine professor, said in his nomination. "They are master teachers who have inspired 16 percent of our medical students to choose psychiatry for their specialty– an almost unheard-of high percentage."
The 2023 Texans Caring for Texans recipients were recognized Aug. 3 in a ceremony at West Texas A&M University in Canyon.
Other state agencies recognized included: Amarillo College, Clarendon College, Texas A&M AgriLife Research and Extension Center, Texas Department of Agriculture, Texas Department of Criminal Justice, Texas Department of Family and Protective Services, Texas Department of Public Safety, Texas Department of State Health Services, Texas Department of Transportation, Texas Health and Human Services Commission and West Texas A&M University.
The award program, created in 1996 by former State Representative David Swinford, recognizes these state employees for the effort they put forth to positively impact their communities.
Related Stories
Campus Life
By Melissa Whitfield
September 11, 2023
TTUHSC is one of the best colleges in the U.S. to work for, with special designation as an "Honor Roll" institution, according to a recent survey by The Great Colleges to Work For® program.
Campus Life
By Kay Williams
September 10, 2023
TTUHSC School of Medicine students will host a Women's Health Day free clinic from 10 a.m. to 1 p.m. Sept. 23 at The Free Clinic located at Lubbock Impact
Campus Life
By Kate Gollahon
September 05, 2023
This September, Texas Tech University Health Sciences Center (TTUHSC) will implement its refreshed brand identity.
Recent Stories
Research
By Mark Hendricks
September 21, 2023
The National Institutes of Health (NIH) recently awarded a two-year, $1.47 million grant to a new local research coalition led by Christine Garner, Ph.D., R.D., Julie St. John, Dr.P.H., and Stephanie Stroever, Ph.D., MPH.
Health
By Suzanna Cisneros
September 19, 2023
Natalie Scanlon, Ph.D., a clinical psychologist in the Department of Psychiatry at Texas Tech Physicians, provides tips for keeping children safe.
Research
By Mark Hendricks
September 13, 2023
In a list published by the National Academy of Inventors (NAI), the Texas Tech University System, including TTUHSC, ranked 75th among the Top 100 U.S. Universities Granted Utility Patents in 2022.