TTUHSC Team Members Honored at Annual Awards Ceremony
By Clara McKenney
August 25, 2023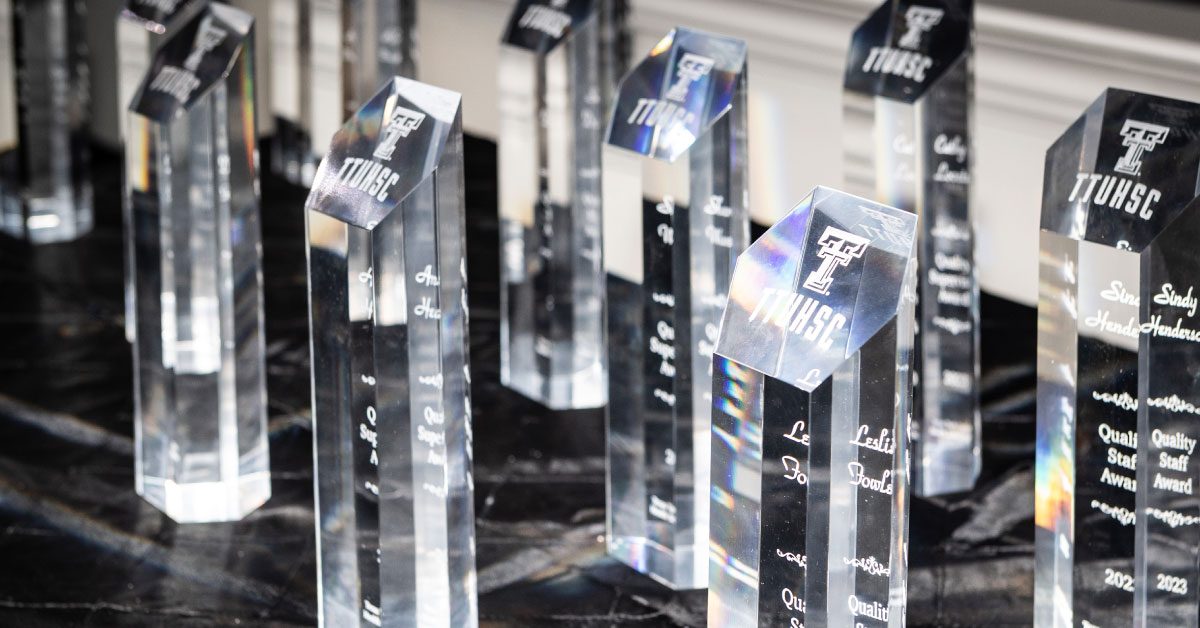 On August 24, team members throughout Texas Tech University Health Sciences Center (TTUHSC) were recognized for their outstanding efforts and achievements at the 2023 Distinguished Staff Awards ceremony.
Along with TTUHSC faculty, staff and leadership, friends and family of the award recipients came together in Lubbock to celebrate and congratulate the many deserving individuals who were honored.
Presented annually, the Distinguished Staff Awards recognize team members across all TTUHSC campuses for extraordinary contributions that impact the institution and support its mission of higher education, patient care and research. With five award levels ranging from Quality Staff Award to the Chancellor's Award of Excellence, recipients are chosen based on written nominations.
The Quality Staff Award is presented to team members who continually demonstrate the TTUHSC value of Beyond Service by creating and delivering positive defining moments. These individuals are recognized for anticipating the needs of others and going the extra mile. This year's Quality Staff Award recipients include:
Sharla Cook
Coley Duncan, M.D.
Leslie Fowler
Erica Frentress
Sindy Henderson
Veronica Lopez
Kristin Mauldin
Kelly Podzemny
Janet Roberson
Heather Russell
Christy Simpson
Danette Weller
The Quality Supervisor Award recognizes leaders of one or more team members. Recipients of this award lead with consistency, compassion and respect, and enable their team members not only to achieve goals but develop and grow as contributors to TTUHSC. This year's recipients of the Quality Supervisor Award include:
Andra Headley
Cathy Lovett
Shen Wang
The Quality Team Award is presented to a team of individuals who together epitomize the TTUHSC One Team value through open collaboration, constructive feedback, accountability, and encouragement. They serve as a shining example of how the One Team behavior produces excellent, innovative results. This year, two teams were recognized with Quality Team Awards:
Rural and Community Engagement Division (Odessa)
Adrian Billings, M.D.
Rebecca Brandenburg
Dijo John
Margaret Robles

Rural and Community Health

Sue Davis
Dolores Parrish
The President's Award of Excellence recognizes those who promote integrity in the workplace by committing to honesty, ethical choices and transparency in their actions and purpose. The success they have achieved through their essential contributions demonstrates their commitment to achieving short- and long-term goals that influence the success of TTUHSC. This year's recipient of the President's Award of Excellence is:

The Chancellor's Award of Excellence is the highest accolade presented in the Distinguished Staff Awards program. This award recognizes team members who have demonstrated considerable commitment to TTUHSC's mission and Values-Based Culture by exhibiting the behaviors inherent to each value–One Team, Kindhearted, Integrity, Visionary, Beyond Service–while motivating others to serve at the same level of excellence. This year's recipients of the Chancellor's Award of Excellence include:
Karla Chapman, Ph.D.
Alan Korinek, Ph.D.
To learn more, please visit the TTUHSC Distinguished Staff Awards website.
Related Stories
Campus Life
By Melissa Whitfield
September 11, 2023
TTUHSC is one of the best colleges in the U.S. to work for, with special designation as an "Honor Roll" institution, according to a recent survey by The Great Colleges to Work For® program.
Campus Life
By Kay Williams
September 10, 2023
TTUHSC School of Medicine students will host a Women's Health Day free clinic from 10 a.m. to 1 p.m. Sept. 23 at The Free Clinic located at Lubbock Impact
Campus Life
By Kate Gollahon
September 05, 2023
This September, Texas Tech University Health Sciences Center (TTUHSC) will implement its refreshed brand identity.
Recent Stories
Health
By Suzanna Cisneros
September 19, 2023
Natalie Scanlon, Ph.D., a clinical psychologist in the Department of Psychiatry at Texas Tech Physicians, provides tips for keeping children safe.
Research
By Mark Hendricks
September 13, 2023
In a list published by the National Academy of Inventors (NAI), the Texas Tech University System, including TTUHSC, ranked 75th among the Top 100 U.S. Universities Granted Utility Patents in 2022.
Education
By Suzanna Cisneros
September 13, 2023
TTUHSC President Lori. Rice-Spearman, Ph.D., announced the appointment of Deborah L. Birx, M.D., as the TTUHSC presidential advisor and adjunct professor in the Julia Jones Matthews School of Population and Public Health.