Serving and Empowering the Community
TTUHSC School of Medicine Student to serve as regional co-director for LMSA
By Kate Gollahon
October 12, 2022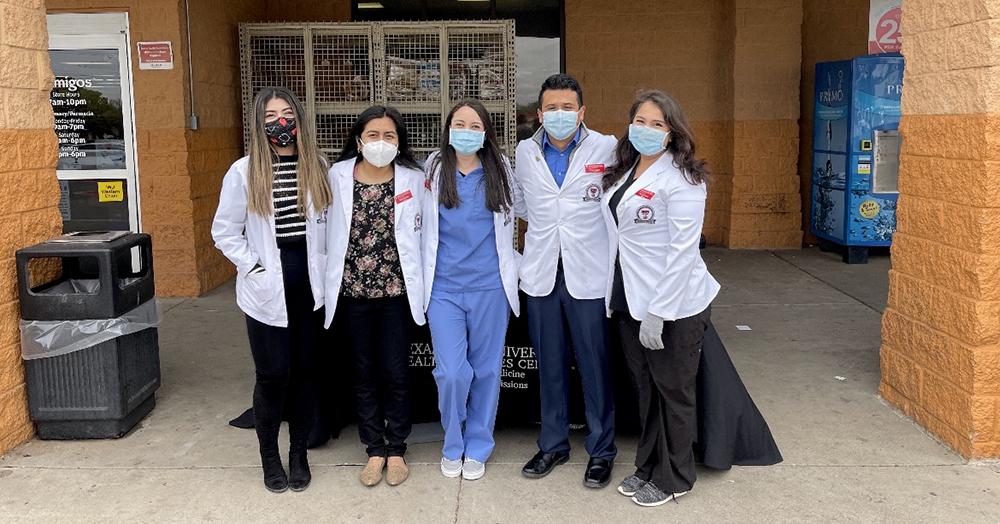 Texas Tech University Health Sciences Center (TTUHSC) School of Medicine student Angela Ballesteros is dedicated to making a difference in the community. As co-director elect for the Latino Medical Student Association (LMSA) Southwest region, Ballesteros strives to continue the association's mission to unite and empower medical students through service, mentorship and education and advocate for the health of the Latino community. She is the first to represent TTUHSC in this role, and has attained the position from years of hard work and service to local West Texans.
Individual contributions, big results
Throughout the last academic year, Ballesteros served as LMSA president for the local TTUHSC School of Medicine chapter.
"I put my heart and soul into the organization," Ballesteros said.
The chapter started the year with a Hispanic Covid-19 vaccine outreach program.
"We went to local supermercados and carnicerías in predominantly hispanic parts of Lubbock," said Ballesteros. "We gave out information, addressed concerns, answered questions and even helped our community register for the vaccine."
The program proved such a success that Ballesteros helped create a poster that the chapter presented at a conference, highlighting the disparities that faced the Latino community regarding access to care and receiving the Covid-19 vaccine.
Seeing the impact she could create within the organization, Ballesteros was inspired to join the service committee, where she helped put together a "Christmas at the Border" event—a fundraising event that provided toys and clothes for children in detention centers across the state. The day before Christmas eve, Ballesteros bought, collected and delivered toys to the Corpus Christi detention center.
Finally, serving those who follow directly in her footsteps, Ballesteros conceptualized a "Mock-Medical School Interview Day" for underrepresented minorities.
"I worked with the office of admissions and put together a whole day of experiences," said Ballesteros. "We worked with the undergrad LMSA and MAPS organizations, which gave 20 students the opportunity to go through a real interview experience with actual faculty members who do interviews here at TTUHSC."
The event was held in April of this year. According to Ballesteros, what made the project particularly special was providing students with feedback on both their applications and interview skills at the end of the day.
"We got SO much positive feedback from the students that we are continuing this project for the foreseeable future," Ballesteros said.
After making so many beneficial changes in the community, it is easy to understand why she was elected by the LMSA Southwest chapter presidents as co-director elect for the region.
"Now I am basically training for the Co-Director position next year," Ballesteros explained. "Another medical student and I will oversee the entire Southwest Region and be voting members on the National board."
Looking to the future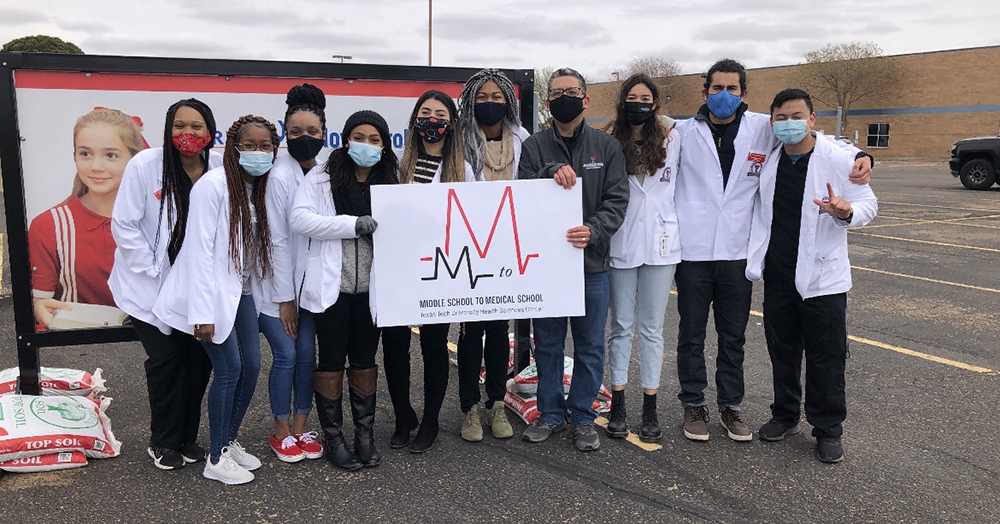 While she is proud of her accomplishments so far, Ballesteros is focused on the future and the new ways in which she can make a difference in her current position. The chapter will be providing another "Christmas on the Border" event this year, and Ballesteros will speak this month at the National Hispanic Medical Association meeting at Oshner Health in New Orleans on October 13th.
"I'll be talking about the LMSA Southwest region, our goals and objectives, and networking with a group of over 200 Hispanic providers," said Ballesteros.
She is also looking forward to the LMSA regional conference, which will be held in February at UNT Health Science Center in Fort Worth. The Southwest region of LMSA includes schools in Arkansas, Colorado, Louisiana, New Mexico, Oklahoma and Texas.
"At the meeting in October, I will represent the LMSA Southwest region and, by extension, the TTUHSC School of Medicine," Ballesteros said. "I'm honored to represent our community and student body on a regional and national level."
More about these efforts can be found at the LMSA Southwest and at the National Hispanic Medical Association websites.
Related Stories
Education
By Suzanna Cisneros
November 18, 2022
Gerard E. Carrino, Ph.D., MPH, has been named dean of the TTUHSC Julia Jones Matthews School of Population and Public Health.
Education
By School of Health Professions
November 17, 2022
Athletic training (AT) is a field of medicine focused on patient-centered care through injury prevention and treatment. Athletic training is a popular career field because of the vast need for the skillsets of these professionals.
Education
By School of Health Professions
November 10, 2022
The Clinical Laboratory Science Program offers a traditional face-to-face or online hybrid bachelor's degree in clinical laboratory science. Beginning in Fall 2023, the program will change its name to Medical Laboratory Science.
Recent Stories
Health
By Mark Hendricks
December 02, 2022
Students from TTUHSC have formed the Barbershop Blood Pressure Group. The students currently make periodic visits to about 10 Lubbock barber shops to provide free blood pressure checks and general health education.
Health
By School of Health Professions
December 01, 2022
Living with a disability has many effects on a person's life, both positive and negative. Overcoming obstacles, achieving goals or dreams, and living a fulfilling life are all things that anyone can relate to.
Health
By Amber Bustos
November 18, 2022
Kalin Clifford, PharmD, stays optimistic about the future of diagnosis and treatment options for Alzheimer's. By serving as a coach for BvB Dallas, Clifford assisted a fundraiser for awareness and research.