Treating Mental Health in Rural Areas
Physician assistants can be key in providing mental health treatment options for rural populations.
By School of Health Professions
October 13, 2022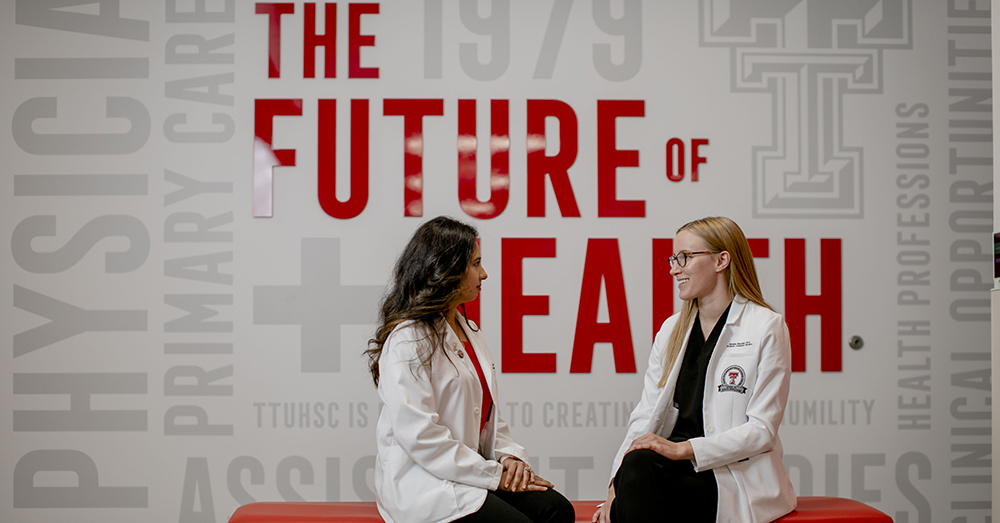 A 2020 paper published in the Journal of Clinical and Translational Science estimates that approximately one fifth of the U.S. population lives in rural areas. Of those, about one fifth, or 6.5 million individuals, have a mental illness.
While the prevalence of mental illness and psychiatric disorders is similar between rural and urban areas, the issue is about access to mental healthcare. People in rural areas have fewer options when it comes to seeking treatment.
We sat down with Sarah Stringer, DMSc, PA-C, CAQ-Psych., Assistant Professor in the TTUHSC School of Health ProfessionsMaster of Physician Assistant Studies, to learn about the role that physician assistants can play in bringing mental health treatment to rural populations.
Access to Mental Illness Treatment in Rural Areas
"We know that mental illness prevalence will be the same in urban versus rural areas, but rural areas have less access to services," Stringer begins. "In rural areas, if there are not many mental health resources available, patients might have to travel far for care or wait on very long wait lists to get help."
Stringer adds that living in a less-populated area where everyone seems to know each other can create a resistance to seeking care due to the stigma that still surrounds mental illness.
It's estimated that as many as 65 percent of non-metropolitan counties in the U.S. do not have psychiatrists available. The scarcity of mental health services in rural areas contributes to the disparity in care when compared to urban areas.
This is where physician assistants (PAs) can fill a valuable need.
How Can Physician Assistants Help Fill the Need for Mental Health Care?
"PAs are qualified to practice psychiatry upon graduation without any further credentialing or education," Stringer says. "There's a national shortage of practitioners in mental health, with the greatest need in rural areas."
While psychologists and therapists typically treat patients using psychotherapy or talk therapy, a PA will use a more pharmacological approach, much like a psychiatrist.
"PAs can practice psychiatry in collaboration with supervising physicians," Stringer adds. "And a psychiatrist is a physician."
The TTUHSC Master of Physician Assistant Studies Program
Physician assistants are part of one of the fastest-growing and most-rewarding healthcare fields. PAs are trained to provide care to patients in a variety of medical settings, and they are certified to practice medicine as part of the healthcare team. This includes psychiatry.
"Psychiatry is fascinating," Stringer says. "We try to keep it exciting for students and light the fire that makes them want to serve the rural population."
After practicing general medicine, Stringer finds working in psychiatry as a PA to be incredibly rewarding.
"It's rewarding to see them grow and their lives change," she says. "The family dynamic improves.
"I get the honor of being trusted with the deepest parts of a patient's life," she continues, "Their spirituality, struggles and triumphs."
Related Stories
Health
By Meaghan Collier
May 19, 2023
Robert Kauffman, M.D., a professor of obstetrics and gynecology at TTUHSC, was selected to present May 20 at the ACOG Annual Clinical and Scientific Meeting in Baltimore.
Health
By Kay Williams
April 19, 2023
Brian Kendall, M.D., TTUHSC assistant professor of Emergency Medicine, said even for shorter hikes, being prepared means having what you need to prevent and handle a variety of medical issues on the trail.
Health
By Udit Verma, M.D.
April 19, 2023
April is Esophageal Cancer Awareness Month, and health care professionals want to provide valuable information regarding this cancer that occurs in the esophagus or food pipe.
Recent Stories
Education
By Kate Gollahon
May 29, 2023
On Memorial Day each May, a service is conducted to pay respect to the Willed Body Program donors and their families.
Education
By Kate Gollahon
May 24, 2023
While the TTU System aimed to cast a spotlight on these individuals and their work, the honorees chose to cast that light onto others, sharing their humble gratitude toward those who helped, guided and inspired them.
Campus Life
By Tyler White
May 23, 2023
TTUHSC hosted commencement ceremonies for its 1,669-member Class of 2023.