Interprofessional Toy Fair and Expo Serves Families, Benefits Students
By Kate Gollahon
November 8, 2022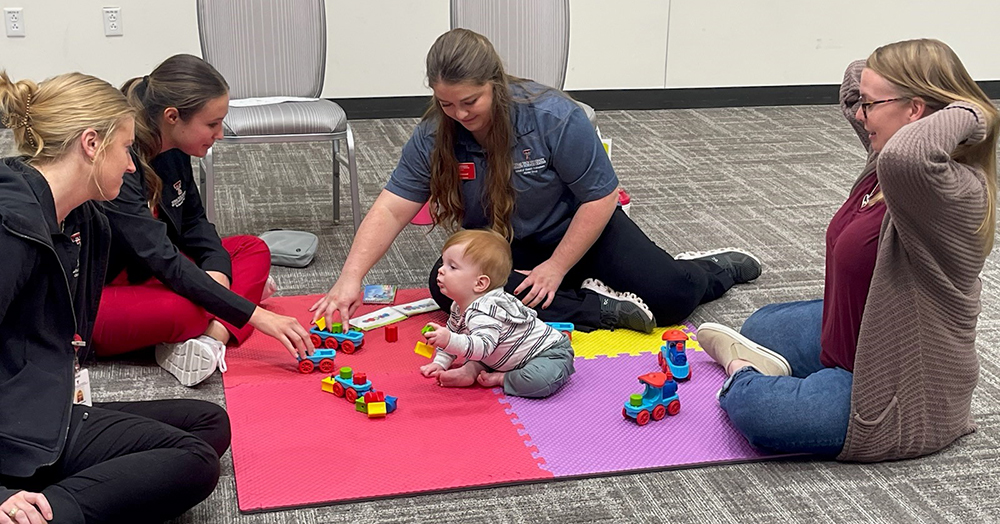 On October 15, the Office of Interprofessional Education (IPE) at Texas Tech University Health Sciences Center (TTUHSC) hosted its seventh annual Interprofessional Toy Fair and Expo, created for children ages birth-to-three who receive early intervention services for developmental delays and disabilities.
Michelle Kiser, Ed.D., Assistant Managing Director for the Office of Interprofessional Education, said that the toy fair is one example of the office's community engagement activities.
"Community engagement activities provide the opportunity for interprofessional learning, as interprofessional teams of students work side-by-side to respond to challenges faced by communities," said Kiser.
Kiser also explained that community engagement activities provide families access to interprofessional teams of health care professionals and educational materials that they might not otherwise be able to access, which can improve the health and well-being of the overall population.
Since 2016, the Interprofessional Toy Fair and Expo has been held in the fall of each year, in either October or November. The primary population for the event are families with children up to three years in age who were served by Lubbock Early Childhood Intervention (ECI).
There are 12 counties served in the Lubbock ECI geographical area: Cochran, Hockley, Lubbock, Crosby, Dickens, Yoakum, Terry, Lynn, Garza, Kent, Gaines and Dawson county.
During the event, interprofessional teams of TTUHSC students from audiology, nursing, occupational therapy, physical therapy and speech-language pathology provide valuable information to the families present.
"Our students educate between 150 and 250 families on the use of books and toys to increase physical, cognitive, communicative, social/emotional and self-help development," Kiser said.
Each year, the participating families receive student-developed educational materials about the use of books and toys to foster development, while each child receives a board book and a therapeutic toy appropriate to the child's developmental delay or disability.
Through experiences such as the toy fair, IPE community engagement not only benefits the lives of those within the community, but also allows students to advance their skills working side-by-side.
"The office promotes a collaborative environment," said Kiser. "Students learn about, from and with each other to improve health care outcomes, as well as improve the overall well-being of our community."
Find out more about the Office of Interprofessional Education on their webpage.
Related Stories
Campus Life
By Tyler White
May 23, 2023
TTUHSC hosted commencement ceremonies for its 1,669-member Class of 2023.
Campus Life
By Suzanna Cisneros
April 27, 2023
TTUHSC medical students raised more than $92,000 with the 2023 Annual Lubbock City Lights Charity Gala April 1.
Campus Life
By Kate Gollahon
April 18, 2023
30 faculty, students and scientists from TTUHSC arrived at the Texas capitol to promote expanding telehealth for the rural Texans whose lives could drastically improve with access to health care.
Recent Stories
Education
By Kate Gollahon
May 30, 2023
Several Texas Tech University Health Sciences Center (TTUHSC) School of Nursing faculty were awarded this year for their unparalleled contributions to medical education and patient care.
Education
By Kate Gollahon
May 29, 2023
On Memorial Day each May, a service is conducted to pay respect to the Willed Body Program donors and their families.
Education
By Kate Gollahon
May 24, 2023
While the TTU System aimed to cast a spotlight on these individuals and their work, the honorees chose to cast that light onto others, sharing their humble gratitude toward those who helped, guided and inspired them.