Passions in Performance and Patient Care
Two students at TTUHSC's School of Nursing reflect on the connection between the world of ballet and that of health care
By Kate Gollahon
May 31, 2022
The fabric that makes up Texas Tech University Health Sciences Center (TTUHSC) School of Nursing's student body is a unique, multi-textured material created from the diverse backgrounds and interests held by the individuals who are currently achieving their goals in health care. While a heart for service and patient care is something the students share, many of them have lives and passions that significantly set them apart.
For Natalie Chestnutt and Emily Lowke, a dedication to a future in nursing might be the primary trait they are known for on campus. But outside of the classroom, there is a whole other field of study where they excel – the study of dance.
Dreams taking shape
Emily Lowke, who just finished her first semester of the second-degree BSN program at TTUHSC, started dancing at the age of three.
"I immediately fell in love with it," said Lowke, who trained for 15 years at Momentum Dance in Arlington, Texas, becoming involved in several different genres ranging from ballet and jazz to hip hop and clogging. After high school, Lowke began dancing at the collegiate level at Texas Tech University (TTU), while taking up ballet at Ballet Lubbock.
Natalie Chestnutt, who also began dancing at a young age, formed her roots right here in west Texas. Starting at Ballet Lubbock when she was seven years old, Chestnutt just graduated from the school of nursing this month.
"When I was seven, I saw a Nutcracker performance and my mom let me play with her old pointe shoes. I decided that I wanted to be just like the girls on stage," said Chestnutt. Since those formative days, both Chestnutt and Lowke have stayed devoted to the art form.
Finding purpose in patient care
While these young women grew up dancing in different parts of the state, both also formed an interest in health care from experiencing service provided to their families in times of need. Chestnutt's interest in the medical field took shape when her grandfather was in the hospital. From there, once she spoke to others in the nursing field, she realized her calling.
"After talking with family and friends who worked as registered nurses, I saw that I would be able to maintain the health care aspect that I loved about being a physician while also gaining the one-on-one patient care that nursing possesses," Chestnutt said.
Lowke, who was already forming an interest in medicine, knew that nursing was the right path for her after her grandmother was diagnosed with stage four ovarian cancer. She explained that while her grandmother's physicians were wonderful, the role of the nurses stood out to her.
"It was the nurses who were the ones always talking to my grandmother and making her smile during the long chemo treatments, surgery preparations and hospital stays," Lowke said. "After my grandmother lost her battle to cancer, I decided to pursue a career in nursing in hopes that I too could be that light in someone's life just as the nurses were to my grandmother and our family."
Where art and science meet
The paths required to achieve success in health care and dance are vastly different. However, Chestnutt and Lowke agree that there is more of a shared skill set than meets the eye.
"I would say that my background in dance has actually been very impactful on my studies as a nurse," explained Lowke. "Competitive dance taught me many life lessons over the years that have helped shape me into who I am today, including self-discipline, time management and the importance of teamwork."
As a new graduate, Chestnutt finds that her approach to her two passions have much in common. While both are dependent on consistent hard work, she finds both to be rewarding. Additionally, Chestnutt pointed out that one connection that these passions share is the importance of communication.
"Performance and nursing are two forms of communication that are worlds apart, however, both rely heavily on nonverbal communication. For performance, it's the expression of feelings to an audience, whereas nursing requires interpreting and responding therapeutically to patient cues, both by words and body language."
Most importantly, success is about keeping a constant eye on personal growth.
"There are always improvements to be made, critiques to apply, and self-motivation needed to propel you into greater achievement," Chestnutt explained, adding that self-improvement helps others in both performance arts and nursing. Whether it is a patient or a member of the audience, her personal growth benefits those around her.
Choosing TTUHSC
When strategically laying their individual paths to success, both Chestnutt and Lowke chose Ballet Lubbock and TTUHSC's School of Nursing as a source of education, experience and support.
Lowke cited the second-degree BSN program's clinical coach program as an element that is particularly impactful.
"Having the opportunity to work shifts with my coach and be very hands-on in the clinical setting from the very first semester has taught me so much."
For Chestnutt, it is the consideration of a collaborative future that makes TTUHSC special.
"The school places special focus on learning and applying frameworks that guide nursing practice," she explained. "They want each student to enter their career as a nurse able to think critically and work cohesively with the interprofessional patient care team."
Dancing toward a bright future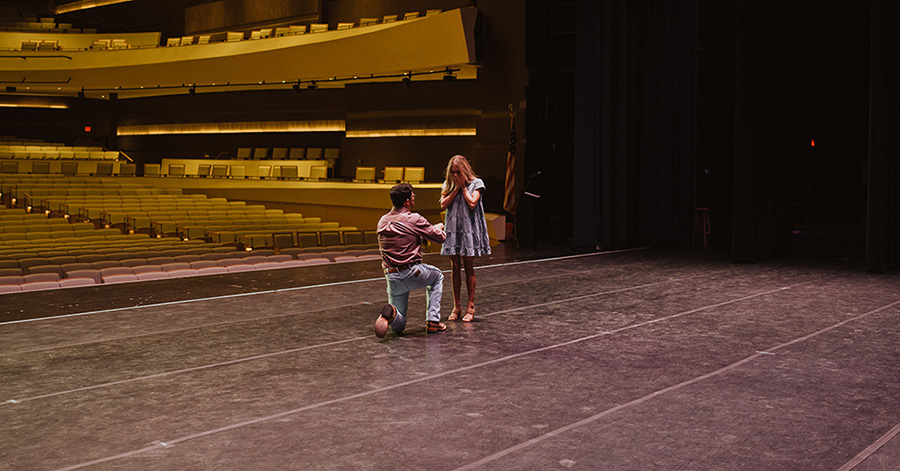 Their exact futures might not be clear, but if hard work is any indication, both women will reach success in their endeavors. After attaining her degree, Lowke hopes to become a labor and delivery nurse. When asked about a future in dance, she clarified that she is not about to give up that dream just because she is pursuing another.
"I truly believe that dance is something I will never be able to let go of," Lowke said. " I hope to continue to dance even after I begin my nursing career–whether it is performing with an NFL or NBA team or sharing my love and knowledge of dance with the younger generations through teaching."
With her nursing degree already achieved, Chestnutt is excited about what will come next. She is simultaneously planning out her future and embracing the unknown.
"I plan to work in a hospital setting for a few years and then head back for more schooling, possibly to receive my DNP," said Chestnutt, who has dreams of becoming a school nurse for an elementary school wherever she one day chooses to start her own family.
"The thought of being a professor in a nursing school also interests me," Chestnutt added, keeping her options open. "I honestly have many dreams for my future, but I'm confident they will reveal themselves as I gain experience as a nurse."
Chestnutt finds dance to be a crucial part of her future as well. Even if her role will not necessarily be on the stage, her background in ballet has certainly shaped her identity and life to come.
"Having been in the world of dance and the arts, I see the degree of their importance in everyday life," she said. "I'm not sure I could physically keep up the intensity of ballet, however, if I am not dancing myself, I intend to be in the audience supporting the arts at every opportunity I get."
Whether it's on the stage or at a patient's bedside, one thing is clear: Chestnutt and Lowke will bring passion, grit and dedication into each new phase of their lives.
Related Stories
Campus Life
By Clara McKenney
June 20, 2022
Michael Gutierrez, Campus Business Operations Officer for the Texas Tech University Health Sciences Center campus in Abilene, shares his experiences as a TTUHSC team member.
Campus Life
By Kate Gollahon
June 03, 2022
The School of Medicine faculty were honored for their outstanding contributions to medical education, research, patient care and administration at the Dean's Faculty Appreciation Dinner last month.
Campus Life
By Kate Gollahon
May 31, 2022
Two students at TTUHSC's School of Nursing reflect on the connection between the world of ballet and that of health care.
Recent Stories
Education
By School of Health Professions
June 30, 2022
Ericka Hendrix, PhD, MB(ASCP)cm, spoke about the training and education involved for diagnostic molecular scientists and how the pandemic has affected the role.
Education
By Suzanna Cisneros
June 29, 2022
TTUHSC and members of the Abilene community today (June 29) celebrated the official unveiling the new Julia Jones Matthews School of Population and Public Health.
Education
By Kate Gollahon
June 28, 2022
On June 29, the opening celebration event for the Julia Jones Matthews School of Population and Public Health will recognize many years of hard work and look ahead to the start of a new and exciting journey.