TTUHSC's Graduate School of Biomedical Sciences Hosts Student Research Week
By Mark Hendricks
March 25, 2022
The Texas Tech University Health Sciences Center (TTUHSC) Graduate School of Biomedical Sciences hosted its 34th Annual Student Research Week March 8-11.
Student Research Week provides an opportunity for TTUHSC student investigators to showcase their work and hear presentations from distinguished national speakers related to the year's specific theme. The event theme for 2022 was, "CSI: Immunology (Conducting Scientific Investigations)." Student Research Week Committee members for 2022 included Graduate School of Biomedical Sciences students Peyton Presto and Rachel Washington (co-directors), Taylor Hibler (vice director of poster competition), Sayanika Dutta (vice director of operations) and Morgana Kellogg (vice director of marketing).
After conducting an all-virtual event last year due to the pandemic restrictions, the 2022 Student Research Week was held in a hybrid format that featured live poster presentations and virtual poster judging. Presto said the format was well-received by students and faculty.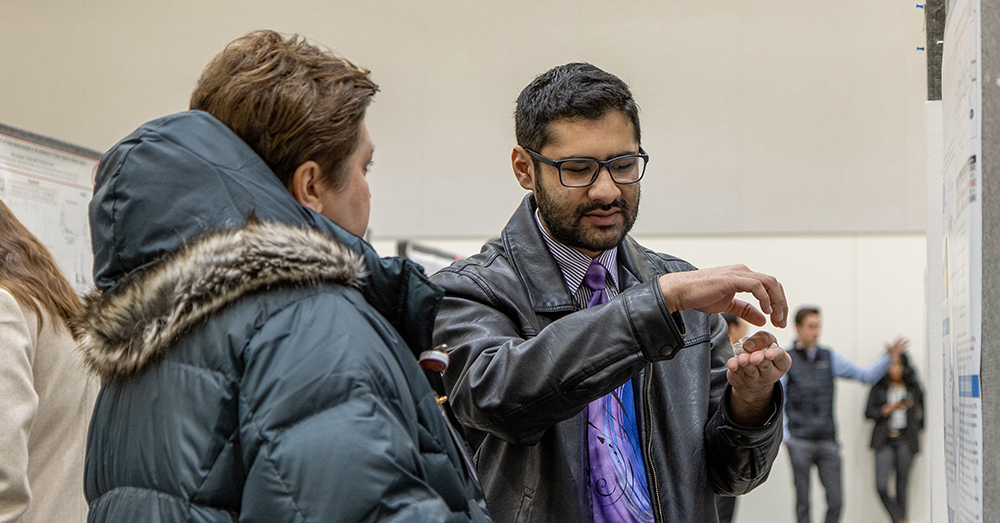 "The [hybrid] format allowed for increased participation from students and judges on other TTUHSC campuses and through distance learning programs," Presto said. "We were also very excited to host Friday events both in person and online for the first time."
The Friday program featured two keynote speakers: Stanley Hazen, M.D., Ph.D., from the Cleveland Clinic, who made his presentation in person, and Claudia Kemper, Ph.D., from the National Institutes of Health (NIH), who made her presentation virtually.
Hazen, chair of the Department of Cardiovascular and Metabolic Sciences at the Cleveland Clinic's Lerner Research Institute, is considered to be a pioneer in understanding how gut microbiome pathways contribute to cardiovascular and inflammatory disease development.
Kemper, an NIH senior investigator and section chief at the National Heart, Lung and Blood Institute, led a group that discovered that activation of the immune component complement (coined the complosome) serves many non-traditional roles including cell metabolic pathway regulation.
Kellogg, who has served on the Student Research Week committee for the last three years, said the 2022 event was the most remarkable of the three.
"Not only did we have more students participate, but we also had schools within TTUHSC that had never participated, like the rehabilitation sciences program," Kellogg said. "The hybrid system really lends itself to increased participation, especially with all of the campuses within TTUHSC, and I think it was a strength of the climate produced by the pandemic, not a weakness."
Student Research Week also features a poster competition, and there were a record-breaking 312 posters submitted this year. Entries were received from all five TTUHSC schools representing the Lubbock, Abilene, Amarillo, Dallas and Permian Basin campuses. Students from TTUHSC's distance learning program and undergraduate researchers on the Texas Tech University (TTU) campus also submitted posters. Presto said it was exciting to see so much student participation.
"Every year I am blown away by the quality of research presented by our students," Presto said. "This year our research spanned topics such as basic/translational science, clinical case studies and chart reviews, public health, medical education and literature reviews. The vast array of subjects presented highlights the importance of research within every discipline in the health sciences. Our hybrid format allowed students to easily interact with researchers in other programs, facilitating interprofessional education opportunities throughout Student Research Week."
The final day of the event included podium presentations from seven student speakers whose research spanned several disciplines. The day also included an Alumni Career Panel discussion during the lunch hour. The panel included recent graduates from several TTUHSC programs who advised current students about networking and career opportunities.
Kellogg, who also served as the event's IPE coordinator, touted the success of the Alumni Career Panel.
"We had a great turnout and fantastic questions for the panel," Kellogg said. "We also had participation from many different schools within the School of Medicine, not just the Graduate School of Biomedical Sciences. It started out slow but it was really busy toward the end and I almost wish we had had an extra 30 minutes. I think it was extremely helpful to see where graduates go, so I look forward to what we come up with next year."

Presto said it was an honor to serve as a co-director for the 2022 hybrid event. She also thanked TTUHSC President Lori Rice-Spearman, Ph.D., TTUHSC Provost Darrin D'Agostino, D.O., and TTU System Chancellor Tedd L. Mitchell, M.D., for their support.
"I also would like to thank the entire Student Research Week committee for rising to the challenge of facilitating this event in a brand-new format [and] during a year of record-breaking participation," Presto added. "I look forward to seeing many more years of continued Student Research Week growth that highlight the incredible work performed by TTUHSC students."
2022 Student Research Week Poster Competition Award Winners
Basic/Translational Science (First- and Second-year students):
1st Place: Rebecca Gabrilska
2nd Place: Marilyn Mathew
3rd Place: Kerri Spontarelli
Basic/Translational (Third- and Fourth-year students):
1st Place: Peyton Presto
2nd Place: Taylor Hibler
3rd Place: Ryan Sweazy
Undergraduate Students:
1st Place: Isaiah K. George
Literature Reviews:
1st Place: Jacob Awkal
2nd Place: Akhila Reddy
Medical Education:
1st Place: John Wolpert
2nd Place (tie): Scarlett Bloodworth
2nd Place (tie): Caitlin Lowry
Clinical Case Studies:
1st Place: Dan Hayward
2nd Place: Jessica Sisco
3rd Place: Bayley Richardson
Clinical Chart Reviews
1st Place: Addie Pederson
2nd Place (tie): Evan Bradshaw
2nd Place (tie): Jake Sellers
School of Nursing:
1st Place: Emily Shussler, BSN, R.N, and Candace Webb, BSN, R.N.
2nd Place: Valerie Huerta, BSN, R.N., and Jennifer Ozzello, BSN, R.N.
3rd Place: Alma Nevarez, BSN, R.N.
Lorenz O. Lutherer, M.D., Ph.D., Clinical Research Award:
Hannah Daniel
Related Stories
Health
By Julie St. John, DrPH
January 12, 2023
People who have survived being trafficked generally suffer from myriad physical and mental health issues, which makes trafficking both a public health issue and a health care issue.
Health
By School of Health Professions
January 05, 2023
Toby Brooks, Ph.D., LAT, ATC, discussed the current state of youth sports and what needs to change for kids to get the most out of athletics at every level.
Health
By Christopher Townsend, Ph.D.
December 21, 2022
For those living with addiction, this time of the year can give rise to a host of addiction-triggering emotions and feelings such as excitement, loneliness, depression and anger.
Recent Stories
Research
By Mark Hendricks
January 31, 2023
Gail Cornwall, Ph.D., professor in the Department of Cell Biology and Biochemistry at the TTUHSC, has been named a member of the American Association for the Advancement of Science Fellowship Class of 2022.
Research
By Mark Hendricks
January 27, 2023
To help address communication hurdles, the Patient-Centered Outcomes Research Institute (PCORI) has awarded a $438,756 subcontract to Tetyana L. Vasylyeva, M.D., Ph.D., from the TTUHSC School of Medicine.
Education
By Suzanna Cisneros
January 19, 2023
Texas Tech University Health Sciences Center Department of Surgery Chair Sharmila Dissanaike, M.D., was elected as the American Burn Association president for 2025.