TTUHSC's Rahman Receives Grant Extension
Funding Will Allow Expansion of ABC24WT Program
By Mark Hendricks
March 4, 2022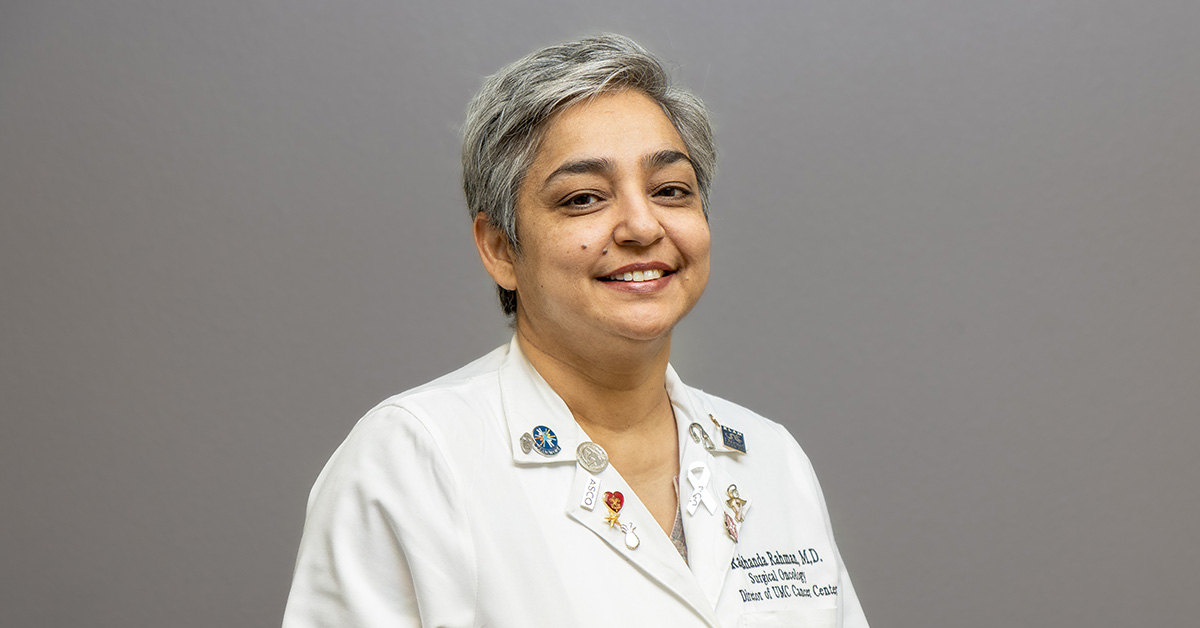 In its most recent funding cycle, the Cancer Prevention & Research Institute of Texas (CPRIT) awarded a $2,499,999 grant extension to Rakhshanda Rahman, M.D., professor of breast surgical oncology at the Texas Tech University Health Sciences Center School of Medicine and the founding executive director of the school's multi-campus Breast Center of Excellence (BCE). The BCE was the first breast center in West Texas to be accredited by the National Accreditation Program for Breast Centers
The grant, "Access to Breast and Cervical Care for West Texas (ABC24WT) Maintenance and COG-9 Expansion," will allow Rahman and the BCE to provide no-cost mammograms and Pap smears to underinsured and uninsured women in the Permian Basin, which makes up the Texas Regional Council of Government-9 (COG-9).
Texas is divided into 24 regions, each served by a voluntary organization of local government entities that coordinate programs and services to address needs that cross jurisdictional boundaries. COG regions currently served by the program include the Panhandle (COG-1), South Plains (COG-2) and Central West Texas (COG-7).
Rahman, who also is medical director for the UMC Cancer Center, said the grant's focus would remain on providing breast and cervical cancer screening and prevention services to underserved women. With the easing of pandemic restrictions, she expects to see a noticeable increase in the number of women who take advantage of the free program.
"The last couple years of the previous grant suffered with all the lockdowns and the screening centers that were shut down for the pandemic," Rahman said. "We are seeing a big uptick as things are reopening, so we are expecting a significant jump from the last grant to this grant because [progress on] that grant slowed down during the pandemic."
The grant represents a continuation of CPRIT funding initially awarded to Rahman in 2010 that led to the establishment of BCE's Access to Breast Care for West Texas (ABC4WT) program. A 2014 grant extension allowed BCE to add cervical screening services and create the Access to Breast and Cervical Care for West Texas (ABC²4WT) program. Rahman serves as the project director for both programs.
Due to the programs' success, BCE received additional CPRIT funding to develop ABC4WT dissemination products in 2016 available to other institutions and organizations interested in acquiring education, outreach and service programs modeled after ABC4WT. And in 2019, Rahman and the BCE received a third extension that allowed the program to expand its programs to Central West Texas (COG-7), which encompasses Abilene and the surrounding area.
Breast cancer is the second most common cancer in West Texas, trailing only lung cancer. And while cervical cancer is not as prevalent, Rahman said the incidence and mortality rate nationally for cervical cancer is highest in West Texas.
"Some counties in Utah come close to us for lack of [Human Papillomavirus Virus or HPV] vaccinations, so we are a sore point, if you will," Rahman explained. "Texas overall is second only to Utah in not getting vaccinations and prevention of cervical cancer, and we currently rank number 47 in the country for vaccination rates, which is very unfortunate."
As of June 2021, the ABC4WT and ABC24WT programs have contacted more than 5.2 million women via social media, television, radio and newspaper. The BCE's strategic approach of public-private-community partnerships has led to approximately 39,000 direct educational contacts, allowing it to provide more than 10,000 mammograms, 2,000 Pap smears and 8,500 HPV shots. The programs also have led to the detection of 154 cancers or cancer precursors, and all of those patients received the highest quality treatment under Rahman's care.
Related Stories
Research
By Suzanna Cisneros
May 11, 2022
The Carnegie Classification® of Institutions of Higher Education has designated Texas Tech University Health Sciences Center (TTUHSC) as a Special Focus Four-Year Research Institution.
Research
By Mark Hendricks
April 12, 2022
CPRIT awarded a four-year, $1.34 million grant to C. Patrick Reynolds, M.D., Ph.D., director for the School of Medicine Cancer Center at the Texas Tech University Health Sciences Center.
Research
By Suzanna Cisneros
April 07, 2022
Alongside Texas Tech University and 2THEDGE, a leading technology consulting and investing firm, TTUHSC unveiled the groundwork of a future public-private collaboration supporting the advancement of Unmanned Aerial Systems (UAS) research at a summit event on the TTUHSC campus Wednesday, April 6.
Recent Stories
Education
By Suzanna Cisneros
May 24, 2022
The school, which is the sixth at the university, aims to train future health care leaders in population and public health.
Education
By Meaghan Collier
May 21, 2022
The TTUHSC Jerry H. Hodge School of Pharmacy celebrated the Class of 2022 May 21 with its annual commencement ceremony.
Health
By School of Health Professions
May 19, 2022
Dysphagia is a swallowing disorder that affects a person's ability to eat or drink, affecting between 300,000 and 700,000 people in the United States each year.