Rural Healthcare for Persons with Disabilities
By School of Health Professions
July 27, 2022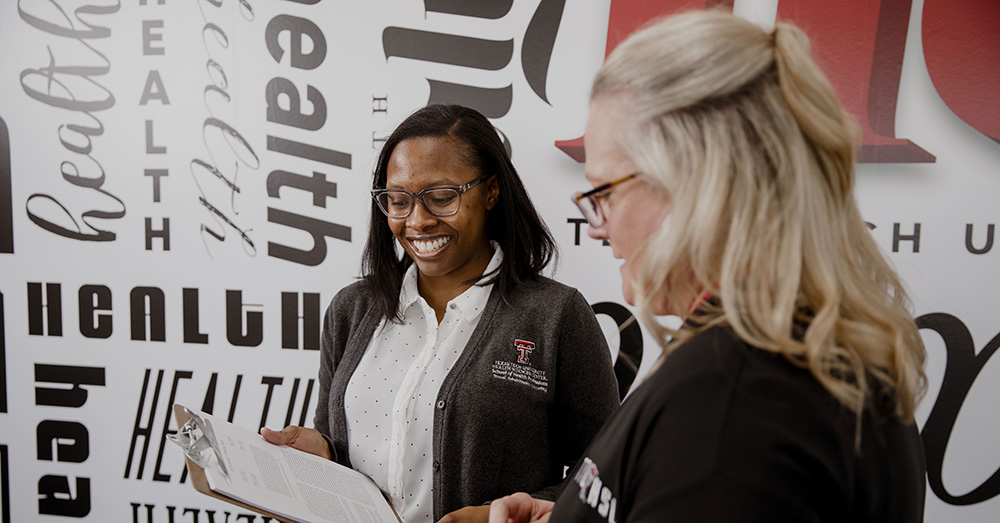 Persons with disabilities can face specific challenges when accessing healthcare, and those in rural areas can experience roadblocks. TTUHSC is working to improve the experience.
For rural healthcare providers, delivering high-quality healthcare means facing several unique challenges that are not typically faced in most urban settings. From having to cover great distances on small country backroads, to having limited available resources, rural populations often have to go the extra mile to receive care.
And for persons with disabilities who live in rural areas, the challenges are even greater.
We spoke with Taryn Richardson, Ph.D., NCC, CRC, an Assistant Professor in the Department of Clinical Counseling and Mental Health of the TTUHSC School of Health Professions, about the challenges that those with disabilities face in getting care in rural areas, and how TTUHSC is helping providers to serve this population.
Access to Healthcare in Rural Areas
Rural healthcare serves one-quarter of the nation's population in the United States. While it does many things exceptionally well, such as continuity of care and personalization, it also has faced many challenges. Many of which have been exacerbated by the COVID-19 pandemic.
"Rural healthcare has its issues, and persons with disabilities have their issues," Richardson begins. "Those can intersect and overlap."
For some, it may be the challenge of having limited access to transportation to get to a healthcare facility.
"In urban areas, there may not be a barrier with public transportation to get to their appointments," Richardson says.
And once the patient has made it to the facility, they may face physical barriers, such as the site not being ADA compliant.
"If they have a visual impairment, are there any resources in braille that they can take home?" she asks. "If they have a hearing disability or are Deaf, are there interpreters available for services?
"When they enter the site, depending on the type of disability, often resources are not made available to help them to understand what care they are receiving. For example, accessible instructions providing information for what to do at home," Richardson adds.
Richardson also points to more subtle mental health components. Many persons with disabilities may face anxiety when having to go to a crowded facility.
"In my area of behavioral health and counseling, the goal is being able to enhance the quality of life for persons with disabilities in their communities," she says.
The Impact of COVID-19 on Rural Areas
While the COVID-19 pandemic led to an increase in health services via telemedicine, Richardson is quick to note that many people living with disabilities in rural areas were further challenged.
"While COVID expanded services through telehealth, there were some people in (rural) communities that may not have access to computers or enough bandwidth. While it is an advantage for some, it is also a barrier for others," she says.
Funding and Regulation for Healthcare in Rural Areas
Many rural hospitals and healthcare facilities face financial challenges to keep the lights on and the doors open. According to a report from the Center for Healthcare Quality and Payment Reform, more than 500 rural hospitals in the United States were at immediate risk of closure before the COVID-19 pandemic due to financial losses and a lack of reserves to maintain operations.
Sixteen rural facilities had to close their doors in 2020, including one in Texas. And more than 800 rural hospitals are at a high or immediate risk of closure. As rural hospitals continue to close, the access problem will only get worse.
Rural health institutions are at a disadvantage already when it comes to generating revenue because they serve a fraction of the patients when compared to larger institutions in urban areas. Larger urban hospitals tend to have a much higher percentage of privately insured patients, while many people in rural communities don't have health insurance at all.
Regarding what needs to change, Richardson says it's a very layered situation.
"The solution relies a lot on the resources that are available to communities, which ties back to our politicians and those in office at the state and national level," she says.
Awareness and advocacy are essential, according to Richardson.
"Having an awareness of the needs of persons with disabilities, engaging with the community, and finding ways to adapt within the legal limits are vital," she says. "Persons with disabilities want their voices to be heard with new policies and rehabilitation needs. We saw this in the independent living movement."
Professional Collaboration in Rural Areas
Richardson stresses the importance of collaboration among healthcare providers when it comes to providing quality care.
"My area is behavioral health and counseling," she says. "We are one piece of a person's overall well-being."
Richardson commends the work that TTUHSC does in providing professional education events to provide awareness across all fields.
"Physicians want to be better informed in how to assist in these areas," she says. "It's a matter of individuals in each field taking a more holistic view of professional collaboration.
"When it comes to rural healthcare, there are many people that play a part in enhancing the quality of life for persons with disabilities," she concludes. "If we have people who feel well, they are more likely to participate in their community. If we support the needs of our clients and patients, it will come back to us in the long run."
Related Stories
Health
By Mark Hendricks
August 16, 2022
Ana Montanez, M.D., a pediatrician with Texas Tech Physicians, said there are steps parents can take to help their children—and themselves—transition to the classroom as smoothly as possible.
Health
By School of Health Professions
August 11, 2022
Leigh Ann Reel, Au.D., Ph.D., CCC-A, discussed the causes and prevention strategies for noise-induced hearing loss, particularly for adolescents in rural areas.
Health
By Alan Korinek, Ph.D.
August 02, 2022
Recognizing the process of becoming angry can help us take a step back from an anger-creating situation and lead us to use the coping strategies.
Recent Stories
Education
By School of Health Professions
August 18, 2022
Addiction counseling focuses on helping patients overcome substance use disorders and other unhealthy dependencies.
Health
By Mark Hendricks
August 16, 2022
Ana Montanez, M.D., a pediatrician with Texas Tech Physicians, said there are steps parents can take to help their children—and themselves—transition to the classroom as smoothly as possible.
Education
By Suzanna Cisneros
August 11, 2022
The Texas Tech University System Board of Regents approved the appointments of TTUHSC faculty Sherry Sancibrian and Thomas Hale, Ph.D., R.Ph., as Grover E. Murray Professors.