Human Obesity and the Role of the Physician Assistant
Diving into the neurobiological aspects of obesity and the ways physician assistants can fill the knowledge gap.
By School of Health Professions
January 6, 2022
Obesity is a medical problem that can lead to or exacerbate other diseases and health problems including heart disease, diabetes, high blood pressure and some cancers. Rates of obesity in the United States have been rising steadily for years, and the ramifications are catastrophic.
We spoke with Dr. Chanaka N Kahathuduwa, M.B.B.S., M.Phil., Ph.D, an Assistant Professor in the Texas Tech University Health Sciences Center's Physician Assistant Program, about the causes and effects of human obesity and how Physician Assistants (PAs) are equipped to diagnose and treat the problem.
The Obesity Pandemic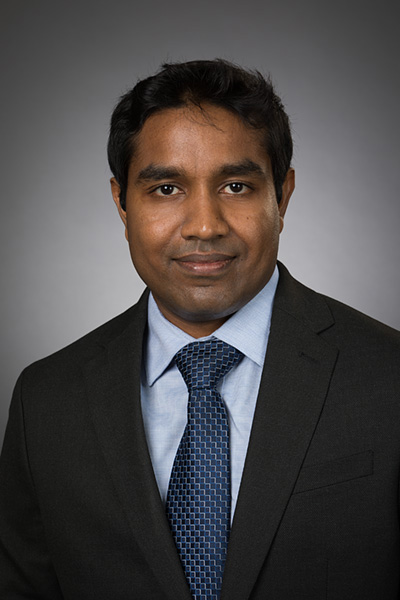 While often referred to as an epidemic, Kahathuduwa says that obesity is actually a pandemic, spreading across all continents of the world. "The rise is more prevalent in states with low socioeconomic statuses and states with less access to healthcare services," he says. Obesity is more likely to cause complications in underserved communities.
The diagnosis of obesity is based on the body mass index criteria (BMI). In adults, a BMI over 30 kg/m2 equates to having obesity, but health complications can come into play earlier, at lower BMIs.
For children, Kahathuduwa points out that BMI must be considered compared to their age and sex.
"Childhood obesity is a rising problem," he says. "The prevalence of childhood obesity is rising at a more marked rate than in adults."
And sadly, obesity often goes undiagnosed until the patients present with a devastating complication.
"If someone doesn't seek healthcare, they're less likely to be diagnosed with obesity and more likely to remain unaware of the complications," Kahathuduwa says. "And they don't seek treatment."
According to the CDC, the rates of obesity are continuing to rise with lower-capita states suffering the most.
"These are small towns without access to outlets of fresh produce such as farmer's markets, the only food outlet available to some communities is a fast food restaurant" Kahathuduwa points out.
There are also fewer resources to get adequate physical activity. It's easy to say, "Go to the gym," but what if the town doesn't have a gym or even a safe sidewalk?
Treating Obesity
When it comes to treating obesity, Kahathuduwa says there are many factors to consider. In cases of mildly increased BMI, a patient may benefit from behavioral management and counseling so they can work on their own to bring their weight down.
"They might be referred to a dietician, who may work with them to formulate a diet plan and may teach them important skills, such as how to count and restrict calories and how to correctly read and interpret a food label," he says.
For some patients, controlling portion sizes works. For those who find this difficult, meal replacement solutions can help. Physical activity is also an important part of addressing obesity. Quoting one of his former supervisors, Dr. Nikhil Dhurandhar, Kahathuduwa says, "It's important to remember that a patient doesn't choose obesity, obesity chooses them."
When portion control or meal replacement isn't enough, there are more advanced treatment options including medication, weight control devices and bariatric surgery.
"There are about 10 FDA approved medications that work well in the short term," Kahathuduwa says. "There are at least four commonly performed types of bariatric surgery."
Kahathuduwa points out that medication and/or surgery tend to work in the short to medium term.
"Long term is hard to nail down," he says.
All Roads Lead to the Brain
"Based on my research experience in neuroscience as related to obesity and ingestive behavior, the solution to obesity might be in the brain," Kahathuduwa says. He explains that there are a lot of factors that contribute to obesity, but many of those contributors, especially the biological factors, converge in the brain.
"A lot of hormones are playing a role," he says.
There are cognitive factors at play that must be understood and addressed. All of these things might be contributing, but they are not solely responsible.
"None of these are villains by themselves," he says.
Lack of knowledge and lack of access to healthcare have contributed to this pandemic of obesity.
There are many factors that contribute to the problem, such as intake of excessive calories, for example as fast food or limited physical activity, but none of these can be blamed as 'the' single cause of obesity.
How Physicians Assistants Can Help Fight Obesity
"We have a limited number of physicians in the United States, especially in West Texas," Kahathuduwa says. "The PA Profession and especially the TTUHSC PA program have been established with the mission of serving the underserved."
With health care provider shortages, PAs can increase the efficiency and have proved to be a cost-effective way to improve health care. PAs are well equipped to provide comprehensive care and education to patients and assess risk factors to obesity and its complications. PAs can bridge the gap, especially in underserved and rural communities.
"They're better able to fill the knowledge gap among patients," Kahathuduwa says. "PAs are trained to do everything a doctor can do to manage and prevent obesity at the primary care level, especially in underserved communities."
Through this, PAs can have a meaningful positive impact in the fight against the obesity pandemic.
Related Stories
Health
By School of Health Professions
March 09, 2023
Zach Sneed, Ph.D., discussed the effects of substance abuse on adolescents and their families, and how substance abuse counseling can help.
Health
By Melissa Whitfield
March 01, 2023
Texas Tech University Health Sciences Center (TTUHSC) hosted a ribbon cutting ceremony and tour for the new Your Life Behavioral Health and Wellness Clinic March 1, 2023.
Health
By QEP Committee
February 28, 2023
Do you like to make New Year's resolutions? Many people aren't into that sort of thing, viewing it as a useless or fruitless activity since the resolutions are so difficult to keep. Often the difficulty comes from creating resolutions that are too ambiguous, or too ambitious. Good resolutions, like good goals, should be specific, attainable, and measurable (S-A-M).
Recent Stories
Education
By Suzanna Cisneros
March 24, 2023
Recognizing academic excellence, the honors are the most prestigious awards granted to faculty throughout the TTU System. The awards are funded by gifts to the Chancellor's Council, a giving society that supports the chancellor's priorities across the TTU System.
Campus Life
By Suzanna Cisneros
March 23, 2023
TTUHSC School of Medicine students will host a Women's Health Day free clinic from 10 a.m. to 1 p.m. April 15 at The Free Clinic
Research
By Mark Hendricks
March 21, 2023
TTUHSC Cytogenetic Technologist Jasbir Bisht and a team from P. Hemachandra Reddy's internal medicine laboratory analyzed the impact of cancer in Hispanics in comparison to other ethnic groups.