TTUHSC Recognized as a Hispanic-Serving Institution
Strengthening the Culture to Create an All-Inclusive Foundation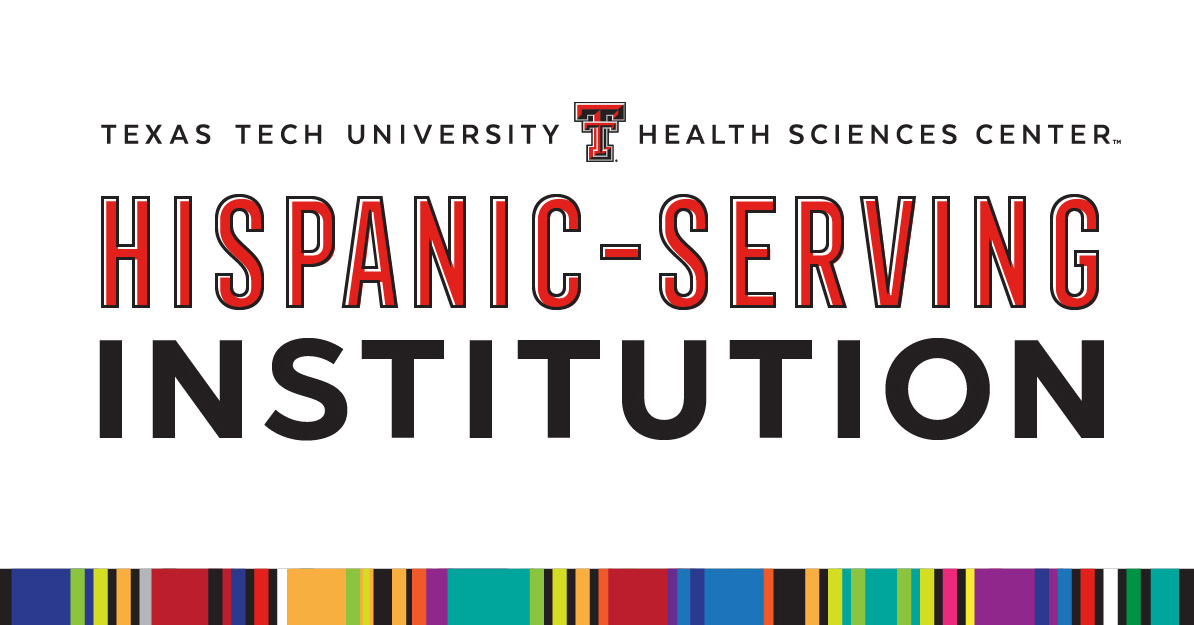 On February 24, Texas Tech University Health Sciences Center (TTUHSC) President Lori Rice-Spearman, Ph.D., announced that the U.S. Department of Education has recognized TTUHSC as a Hispanic-Serving Institution (HSI). HSI designation enables the university to strengthen its ongoing efforts to recruit and support underrepresented students, grow a more diversified faculty and better serve its communities as a comprehensive health care institution.
TTUHSC is only the third health sciences center in the state of Texas to receive HSI status. Rice-Spearman said the HSI status builds on the university's foundation to enrich the experiences of all underserved populations and train future health care professionals to serve a more diverse population.
"This recognition as a Hispanic-Serving Institution supports our vision to transform health care through innovation and collaboration," Rice-Spearman said. "The status expands opportunities to work collaboratively not only within our institution, but also with external community partners in all areas of academic medicine. As a result, we anticipate leading efforts where innovative contributions allow us to better serve all populations, establishing a culture that will serve as a model for others."
This accomplishment positions TTUHSC among the 569 institutions across the country that claim HSI status – which also makes available dedicated U.S. Department of Education Hispanic-Serving Institutions Grant Programs.
According to Best Colleges, in 1976, Hispanic students made up 4% of all college students; by 2019, they represented nearly 22% of college students. Today, Hispanic/Latino students rank as the second-largest ethnic group in higher education and . HSIs educate 66.8% of all Hispanic students in the United States.
To receive HSI status, the U.S. Department of Education requires a Hispanic/Latino undergraduate student population of at least 25% in addition to other criteria. TTUHSC reported 27% of Hispanic undergraduate students in Fall 2019 and began the process of applying for HSI designation.
HSI was established under Titles III and V of the Higher Education Act of 1965 to improve higher education accessibility for Hispanics and makes available grant funding through the U.S. Department of Education and other federal agencies. Rice-Spearman explained that this will help the university leverage resources on a national level to support coursework, outreach programs and research opportunities to enhance the cultural experiences and environments for students, faculty, staff and patients.
As a Hispanic-Serving Institution, TTUHSC continues to take thoughtful, innovative, and inclusive steps forward, training the next generation of health care providers that will serve a more diverse population across Texas.
Related Stories
By Lori Rice-Spearman, Ph.D., Steven L. Berk, M.D.
March 22, 2022
TTUHSC Celebration of Life Service was held March 25th in remembrance of Tom McGovern, Ed.D.
By Suzanna Cisneros
March 18, 2022
TTUHSC has been named as a Military Friendly® School for 2022-2023. Among graduate schools, TTUHSC ranked fourth in the nation, achieving Gold award status.
By Meaghan Collier
March 17, 2022
On March 16, fourth-year TTUHSC Jerry H. Hodge School of Pharmacy students interested in completing a residency after they graduate in May, learned where they would spend the next stage of their training during the Pharmacy Residency Match Day.
Recent Stories
Health
By Mark Hendricks
September 29, 2022
CPRIT recently awarded a $1 million prevention grant to Rakhshanda Rahman, M.D., Rebeccah Baucom, M.D., and John Kidwell, M.D., from the TTUHSC School of Medicine.
Research
By Kathryn Dankesreiter (TTU)
September 26, 2022
The Innovation Hub at Research Park today (September 26, 2022) announced the winners of its annual Presidents' Innovative Startup Awards. The award recognizes startups that have a high potential for growth and an economic impact in West Texas.
Education
By Suzanna Cisneros
September 23, 2022
Fifth graders from Bean Elementary School became doctors for a day. The Texas Tech University Health Sciences Center (TTUHSC) Student National Medical Association (SNMA) hosted the Doctors for a Day Minicamp on Sept. 23.