Reddy Family Foundation Gives to TTUHSC
Two substantial gifts promote research and academics at TTUHSC
By Kate Gollahon
August 23, 2022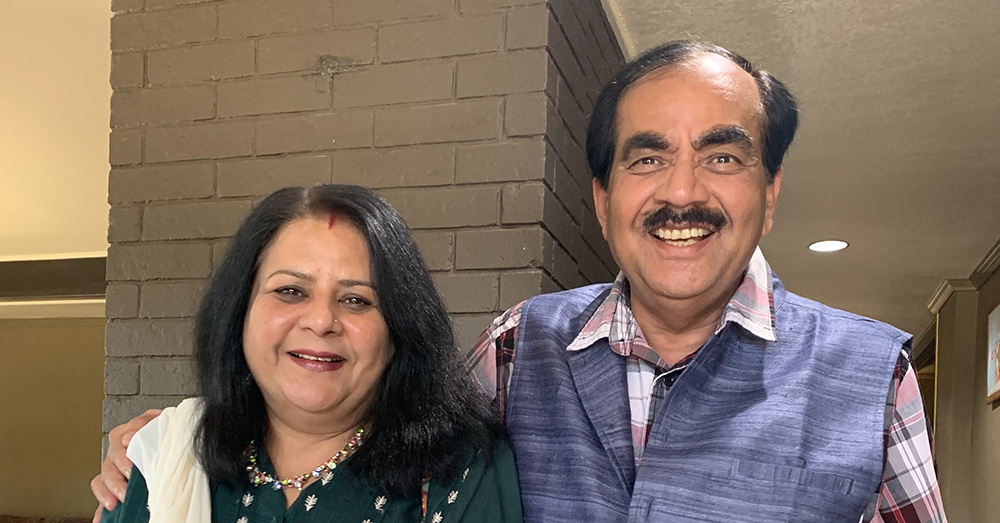 P. Hemachandra Reddy, Ph.D., and his wife, Arubala P Reddy, Ph.D., have been long-time supporters of the continual advancement of both research and educational pursuits within Texas Tech University Health Science Center (TTUHSC).
Between P. Hemachandra Reddy's work as a professor and vice chair of Internal Medicine, Adjunct professor of Neuroscience/Pharmacology, Neurology and Public Health at TTUHSC and adjunct professor for Nutritional Sciences at TTU, and Arubala P Reddy's work as an assistant professor for Nutritional Sciences at TTU, The Reddy family has been an integral part of the fabric that makes up the West Texas community.
Now, the two have created the Reddy Family Foundation, formally established to support and promote research and educational activities for graduate students and postdoctoral scientists. The family has provided TTUHSC with two extraordinary gifts, both of which can help transform the future of health care.
"My family strongly believes that education and research are primary factors for the development and welfare of our communities," said Reddy. "Therefore, we decided to donate to TTUHSC. We have been supporting GSBS's best students for the last few years, and now we have requested that TTUHSC establish our family foundation."
The Reddy Family Foundation has provided two gifts–one as a scholarship within GSBS, and one for postdoctoral research stipends. The scholarship provides a $500 award for an outstanding student each year (for ten years), while the postdoctoral research stipend provides a postdoctoral scientist with a $2000 fellowship each year (for five years).
"Our goal is to inspire students and fellows involved in biomedical research and education at TTUHSC," Reddy said. "We would like to promote the message of giving back to TTUHSC from faculty and staff, to promote academic activities at our institution."
The Reddy family also strives to generate awareness about healthy aging, as well as reproductive and brain health. By supporting research and education, they provide a chance to increase that awareness.
For the Reddy family, giving back is about encouraging the innovation and creativity surrounding scientific research, regardless of economic status.
"My wife and I came from a rural, modest background in India. We strongly believe that cutting-edge research, with innovation and creativity, is important in our health care system," said Reddy. "The concept of giving back to the community is possible at every economic level."
Related Stories
Campus Life
By Tyler White
November 04, 2023
The Laura W. Bush Institute for Women's Health hosted Jenna Bush Hager and Barbara Pierce Bush for the "Love Comes First: A Bush Sisters Luncheon" on November 3.
Campus Life
By Amber Bustos
October 30, 2023
The Dr. Janie Robles Memorial Scholarship was established to benefit a fourth-year pharmacy student who has shown commitment to academic excellence and to service at TTUHSC.
Campus Life
By Kate Gollahon
October 26, 2023
The Texas Tech University Health Sciences Center (TTUHSC) Student National Medical Association (SNMA) hosted 'Docs' for a Day camp on Friday, Oct. 20, for Ramirez Elementary School students.
Recent Stories
Research
By Mark Hendricks
November 16, 2023
Ninh (Irene) La-Beck, Pharm.D., with the TTUHSC Jerry H. Hodge School of Pharmacy, received a five-year, $2.49 million grant to investigate how nanoparticles interact with the immune system and cancer.
Research
By Mark Hendricks
November 10, 2023
To help investigate the influence basal sex hormone alterations may have on chronic post-op pain, the NIH recently awarded a grant to Jenny Wilkerson, Ph.D., from the Jerry H. Hodge School of Pharmacy.
Health
By Tyler White
November 09, 2023
Scott Shurmur, M.D., a cardiologist at the Texas Tech Physicians Center for Cardiovascular Health, shared his expertise and his experience as a former collegiate athlete.