TTUHSC Excels in National NSF Innovation Corps Teams
By Kate Gollahon
August 9, 2022
The National Science Foundation (NSF) Innovation Corps (I-Corps™) program is an immersive training program that allows for cutting-edge entrepreneurial training and paves the path from innovation to impactful development beyond the laboratory setting. With a regional I-Corps Innovation Hub just down the street from Texas Tech University Health Sciences Center's (TTUHSC) Lubbock campus, there are continuous opportunities for participation from students and faculty within the Texas Tech University System.
The formation of these I-Corps teams are available at the regional and national level. In order to participate on a national level, teams must either be recommended for their performance at a regional I-Corps innovation hub, or have a history of NSF grant funding.
Guiding teams toward success
The collaboration between TTUHSC and TTU has formed teams that have not only been able to participate in this prestigious program, but by doing so have created impactful discoveries that will improve the health and well-being of others on a grand scale. The TTUHSC School of Health Professions Associate Dean of Research Innovation Phil Sizer, P.T., Ph.D., FAAOMPT has been a part of many of these teams, from being an official industry mentor to unofficially helping out teams along their commercialization journey.
Last spring, Sizer served as industry mentor for a TTU System team, called Surgic, in the Upstate New York I-Corps Node hosted by Cornell University. The team consisted of technical leads Catherine Ronaghan, M.D., professor in the department of surgery, and Paul Egan, Ph.D., assistant professor in the department of mechanical engineering at TTU. Travis Reiss, a mechanical engineering student at TTU, and Chris Ackerman, TTU graduate and engineering consultant, served as co-entrepreneurial leads. The team received a $50,000 NSF grant to attend this NSF I-Corps cohort.
As the team's industry mentor, Sizer helped move the team throughout the seven-week program, conducting interviews and bettering the product for market.
"Teams conduct interviews, and you have to do a minimum of 100 interviews over a seven-week period," Sizer said. "This kind of customer discovery helps complete your business model canvas by learning about potential customers' pains and gains and value propositions. That validates the customer so that you don't make something that nobody wants, and it also de-risks the innovation for future investors and or industry partners."
Surgic's particular project involved a simulation technology that increases success in becoming proficient at performing surgery.
"At the time, it was an education system that helps future surgeons build confidence and competence for successfully closing an abdominal surgery, but it has emerged beyond that to improve surgical techniques overall," said Sizer. "Their discoveries were profound, and they're doing brilliantly. They also completed the TTU Accelerator Program , so they are now validating their technology to launch their product and create a real impact."
When elements within these projects are tracked, teams are evaluated regarding different aspects of the project, such as the number of interviews conducted. By the end of the seven-week period, the team had collected the most interviews, putting them in first place in the cohort.
"With 131 interviews, they were the highest scoring team out of 24 different teams from all over the United States," said Sizer.
In fact, many of the participating teams were from highly regarded innovation universities, such as Massachusetts Institute of Technology (MIT). Three teams from the Texas Tech University System made the top ten in the cohort.
While this feat is exceptional and worth celebrating, this is not the first time the Texas Tech University System has excelled in this space.
"Every year that we've gone, we've placed in the top tier. At the TTU Innovation Hub, that's what we're accomplishing. We have become well known in the United States for our commercialization programming."
One TTUHSC team, which Sizer helped mentor at the regional level, moved on to a national cohort and once again achieved top tier and also won a first place award for their closing presentation.
Stop the Bleed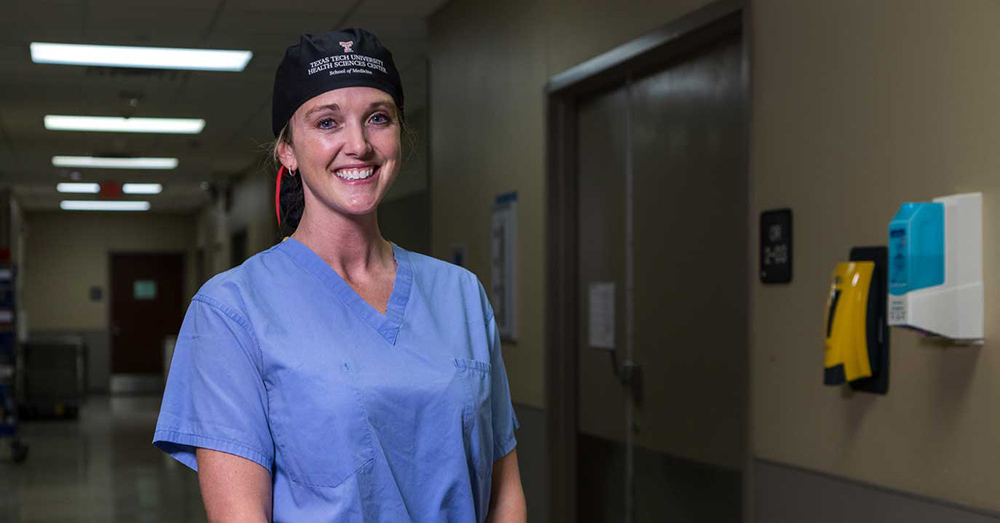 Similar to Surgic, another team (Stop the Bleed) received the same grant to attend National I-Corps. While the average time it takes for Emergency Medical Services to arrive on scene is only seven minutes, an individual can bleed to death in as little as five. According to the National Trauma Institute, excessive bleeding is responsible for nearly 35% of pre-hospital deaths and 40% of deaths during the first 24 hours of a traumatic event–the number one cause of preventable death from trauma.
Brittany Bankhead, M.D., an assistant professor of surgery for the Division of Trauma, Burns and Critical Care at TTUHSC, aims to change that statistic. Alongside teammates Toby Brooks, Ph.D., associate professor and program director of the master's in athletic training program, and Julie Chugh, an M.D. candidate in the school of medicine class of 2024, Bankhead started with a regional I-Corps program. They have now made significant accomplishments at the national level, designing a new training product that will change the future of bleeding control education.
"Organizations like the American College of Surgeons and the American Heart Association have developed bleeding control curriculums that they have rolled out into the community, but our team wants to make sure that this training is the best that it can be in terms of preparing and empowering people to act if they witness a bleeding emergency," said Chugh.
Regional I-Corps Beginnings
In the fall of 2021, the team participated in the regional I-Corps program at the TTU Innovation Hub. They collaborated with medical students, engineers and engineering students from TTU to develop a bleeding control training device to be utilized in bleeding control training courses, giving learners a better idea of what they might encounter if they witness a bleeding emergency.
"During that time we began working on a business model for our device and conducted 28 interviews with experts and potential customers," Chugh said.
Upon completion of the program, the team was recommended to apply to the NSF National I-Corps Program. After an interview process, the team was accepted and awarded the $50,000 grant to develop a business model and conduct at least 100 customer interviews over the course of seven weeks.
"We're currently 63 interviews in, and we have had the privilege of speaking with leaders across the country to learn more about their needs in the bleeding control training space," said Chugh.
Training for all
According to Bankhead, the goal of the product is to function as a trainer wherever the most people can learn how to stop life-threatening bleeding.
"Our team is still working to figure out how that will work best–whether through classes through a local trauma center, formal teaching by military combat learners, or maybe for everyone. We do hope that eventually this will be an item that will be available to the general public, perhaps in a new and creative way," said Bankhead.
While much of the potential future of this product is still in the innovation stages, Bankhead has worked tirelessly to create something that can make a difference in these types of emergency situations. Part of that work, she explained, involved adapting to a business mindset.
"Changing my mindset from purely academic-focused to being business-minded has taken a lot of adjusting," said Bankhead. "For over a decade I've only worked in the interest of patients and in saving lives and bettering their health–whether through surgery, the ICU, injury prevention or public information."
While the development of this trainer is centered around the ultimate goal of saving lives, it has now reached a new stage, and with that stage, a new focus.
"I've had to learn to focus our initial efforts on a plan that would bring this product to market for a desirable customer base," said Bankhead.
Without the revenue from this initial customer base, Bankhead explained that it would not be possible to do the purely academic and research-oriented work in which she thrives.
"I'm so grateful for the opportunity to have learned in this process, and to have a team that has worked incredibly hard to make it all happen."
The creation and development of life-saving products such as this trainer are the types of achievements these programs ultimately strive for. For students and faculty members interested in these programs, more regional I-Corps cohorts will be starting in the fall and the spring. Fall teams will begin in late August.
More information about the TTU Innovation Hub in Lubbock can be found on their webpage.
Related Stories
Research
By Mark Hendricks
March 21, 2023
TTUHSC Cytogenetic Technologist Jasbir Bisht and a team from P. Hemachandra Reddy's internal medicine laboratory analyzed the impact of cancer in Hispanics in comparison to other ethnic groups.
Research
By Mark Hendricks
March 14, 2023
Chanaka N. Kahathuduwa, M.D., Ph.D., and a collaborative team from TTUHSC and TTU conducted a systematic review and meta-analysis to help provide an insight into a possible ASD-cardiometabolic diseases link.
Research
By Mark Hendricks
March 07, 2023
Shane Harper, DMS, PA-C, is the founding editor-in-chief for the West Texas Journal of Medicine, which published its inaugural issue in December.
Recent Stories
Education
By Suzanna Cisneros
March 24, 2023
Recognizing academic excellence, the honors are the most prestigious awards granted to faculty throughout the TTU System. The awards are funded by gifts to the Chancellor's Council, a giving society that supports the chancellor's priorities across the TTU System.
Campus Life
By Suzanna Cisneros
March 23, 2023
TTUHSC School of Medicine students will host a Women's Health Day free clinic from 10 a.m. to 1 p.m. April 15 at The Free Clinic
Research
By Mark Hendricks
March 21, 2023
TTUHSC Cytogenetic Technologist Jasbir Bisht and a team from P. Hemachandra Reddy's internal medicine laboratory analyzed the impact of cancer in Hispanics in comparison to other ethnic groups.