Lt. Col. and TTUHSC Alumna Presents Special Flag to School of Nursing
By Kate Gollahon
April 1, 2022
Bagram Air Base in Afghanistan has seen hundreds of our nation's bravest pass through, doing what they can to make a far-away, temporary space feel like home.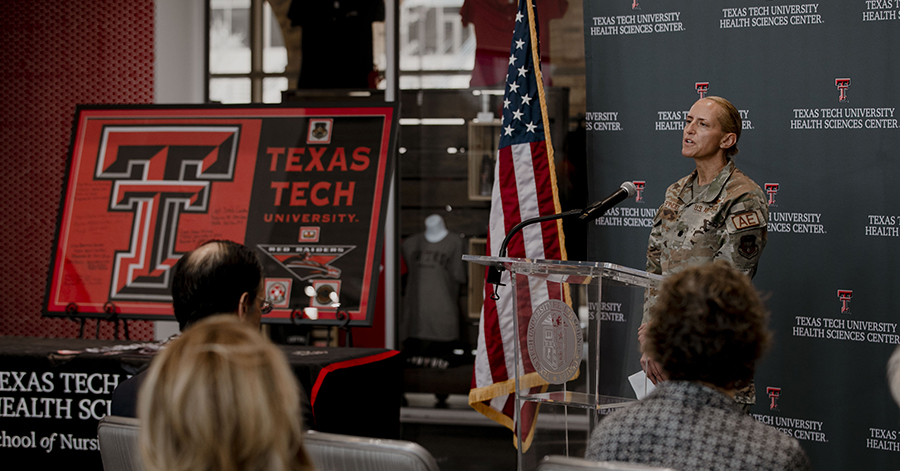 There is a sense of chosen family that ties these individuals together–brought closer not only by a larger sense of duty, but by the pieces of their lives back home that help them understand one another.
Years ago, a Texas Tech flag was hung and displayed at the air base. Over time, as Texas Tech University Health Sciences Center (TTUHSC) alumni served and spent time at that base, many signed the flag as an expression of their Red Raider pride and a shared sense of common history.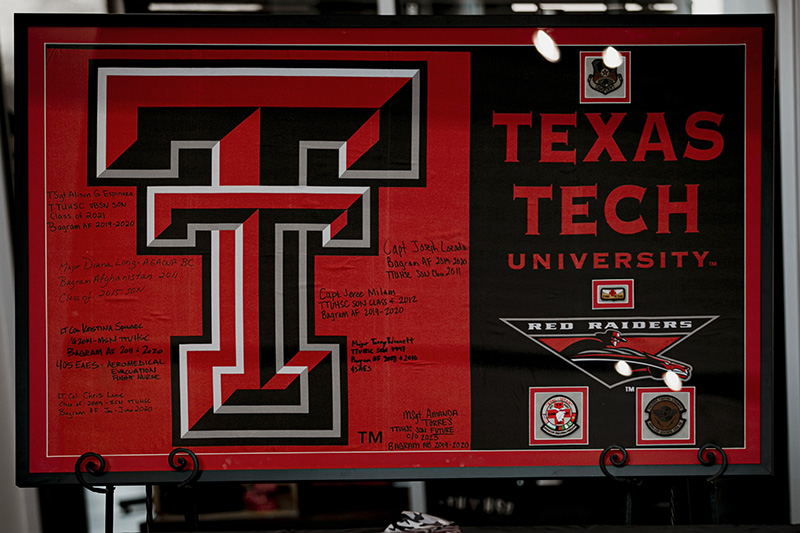 Lt. Col. Kristina Spindel is a 2014 graduate of the TTUHSC School of Nursing and a flight nurse in the U.S. Air Force Reserves. Having been deployed to Afghanistan multiple times, Spindel had signed the flag herself, and when the U.S. Military began its withdrawal from Afghanistan and Bagram Air Base, she realized it was time for the Texas Tech flag to finally return home.
Spindel reached out to Tara C. Hilliard, Ph.D., APRN, ACNP-BC, an associate professor for the School of Nursing. She told Hillard she had framed the Texas Tech flag and wished to hand it off–allowing it to be proudly displayed by the School of Nursing to honor all who have served in Afghanistan.
Spindel, Hilliard and Emily Merrill, Ph.D., APRN, FNP-BC, School of Nursing associate dean, spoke at the event this week held at the University Center at Lubbock Campus, where Spindel presented the legendary TTUHSC artifact.
When presenting the flag to the school, Spindel expressed that the flag memorializes TTUHSC alumni's contributions to battlefield medicine, and that she saw it as her mission to return it to the TTUHSC campus.
Related Stories
Campus Life
By Suzanna Cisneros
May 04, 2022
TTUHSC School of Medicine students will host a Women's Health Day free clinic on May 14 at the Free Clinic located at Lubbock Impact.
Campus Life
By Kate Gollahon
May 03, 2022
Managed by the TTUHSC Jerry H. Hodge School of Pharmacy, TPPC hosted three Spring Medication Cleanout™ events in Abilene, Amarillo and Lubbock over the past few weeks.
Campus Life
By Mark Hendricks
April 19, 2022
The Texas Panhandle Poison Center (TPPC), managed by the Texas Tech University Health Sciences Center (TTUHSC) Jerry H. Hodge School of Pharmacy, will host Lubbock's Spring Medication Cleanout™ event on Saturday, April 30
Recent Stories
Health
By School of Health Professions
May 19, 2022
Dysphagia is a swallowing disorder that affects a person's ability to eat or drink, affecting between 300,000 and 700,000 people in the United States each year.
Health
By Suzanna Cisneros
May 18, 2022
Brittany Bankhead, M.D., an assistant professor of surgery for the Division of Trauma, Burns and Critical Care at the Texas Tech University Health Sciences Center, said life-threatening bleeding can happen in everyday scenarios.
Education
By Clarissa Sanchez
May 16, 2022
TTUHSC celebrated the completion of the School of Health Professions Physician Assistant Program expansion May 16 with a ceremonial ribbon cutting.