Lt. Col. and TTUHSC Alumna Presents Special Flag to School of Nursing
By Kate Gollahon
April 1, 2022
Bagram Air Base in Afghanistan has seen hundreds of our nation's bravest pass through, doing what they can to make a far-away, temporary space feel like home.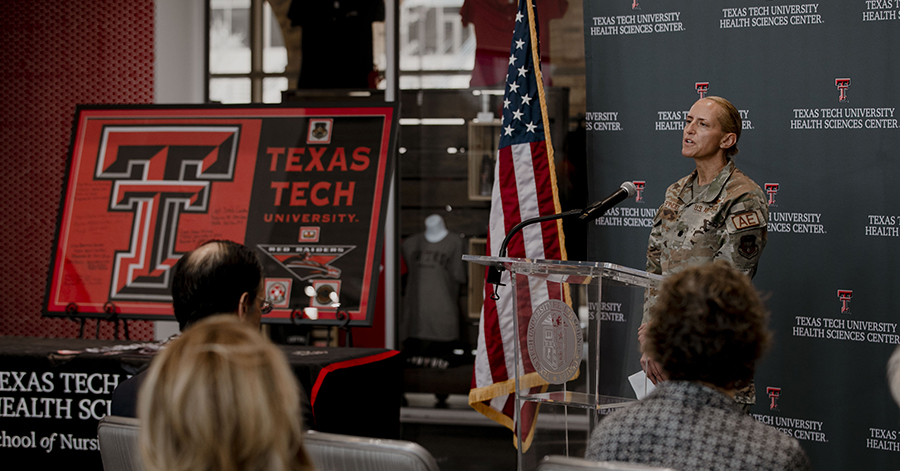 There is a sense of chosen family that ties these individuals together–brought closer not only by a larger sense of duty, but by the pieces of their lives back home that help them understand one another.
Years ago, a Texas Tech flag was hung and displayed at the air base. Over time, as Texas Tech University Health Sciences Center (TTUHSC) alumni served and spent time at that base, many signed the flag as an expression of their Red Raider pride and a shared sense of common history.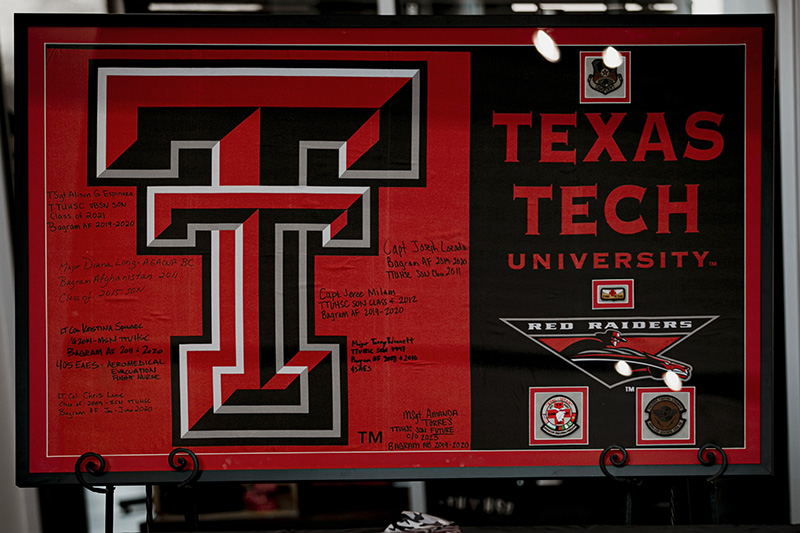 Lt. Col. Kristina Spindel is a 2014 graduate of the TTUHSC School of Nursing and a flight nurse in the U.S. Air Force Reserves. Having been deployed to Afghanistan multiple times, Spindel had signed the flag herself, and when the U.S. Military began its withdrawal from Afghanistan and Bagram Air Base, she realized it was time for the Texas Tech flag to finally return home.
Spindel reached out to Tara C. Hilliard, Ph.D., APRN, ACNP-BC, an associate professor for the School of Nursing. She told Hillard she had framed the Texas Tech flag and wished to hand it off–allowing it to be proudly displayed by the School of Nursing to honor all who have served in Afghanistan.
Spindel, Hilliard and Emily Merrill, Ph.D., APRN, FNP-BC, School of Nursing associate dean, spoke at the event this week held at the University Center at Lubbock Campus, where Spindel presented the legendary TTUHSC artifact.
When presenting the flag to the school, Spindel expressed that the flag memorializes TTUHSC alumni's contributions to battlefield medicine, and that she saw it as her mission to return it to the TTUHSC campus.
Related Stories
Campus Life
By Tyler White
May 23, 2023
TTUHSC hosted commencement ceremonies for its 1,669-member Class of 2023.
Campus Life
By Suzanna Cisneros
April 27, 2023
TTUHSC medical students raised more than $92,000 with the 2023 Annual Lubbock City Lights Charity Gala April 1.
Campus Life
By Kate Gollahon
April 18, 2023
30 faculty, students and scientists from TTUHSC arrived at the Texas capitol to promote expanding telehealth for the rural Texans whose lives could drastically improve with access to health care.
Recent Stories
Education
By Kate Gollahon
May 29, 2023
On Memorial Day each May, a service is conducted to pay respect to the Willed Body Program donors and their families.
Education
By Kate Gollahon
May 24, 2023
While the TTU System aimed to cast a spotlight on these individuals and their work, the honorees chose to cast that light onto others, sharing their humble gratitude toward those who helped, guided and inspired them.
Campus Life
By Tyler White
May 23, 2023
TTUHSC hosted commencement ceremonies for its 1,669-member Class of 2023.