Team Member Spotlight | Clayton Womack, Pediatric Nurse Practitioner
By Clara McKenney
September 28, 2021
With five campuses stretching across 108 counties in West Texas and beyond, Texas Tech University Health Sciences Center (TTUHSC) is a diverse and complex institution, and our success is due in no small part to our exceptional team members.
At TTUHSC, everyone plays a vital role. Being part of the TTUHSC team means being part of a supportive community where you can grow and thrive in a values-based culture that puts people first. As ambassadors of our mission and culture, our incredible team members go above and beyond every day in exemplifying our values: Beyond Service, Kindhearted, Integrity, One Team, and Visionary. We are excited to share their stories.

Meet Clayton Womack, Pediatric Nurse Practitioner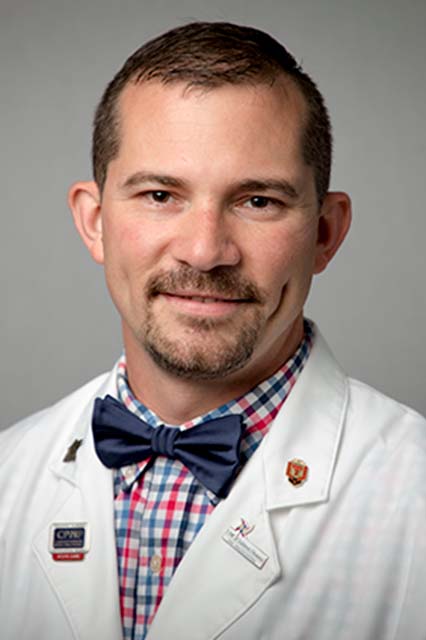 How long have you worked at TTUHSC, and what is your role?
I have worked within the TTUHSC Department of Pediatrics since January 2016. I currently work within the Division of Pediatric Critical Care Medicine as one of two Acute Care Pediatric Nurse Practitioners providing care to critically ill children in our community within the Pediatric Intensive Care Unit (PICU) at UMC Children's Hospital.
How did you come to work at TTUHSC? Can you tell us about your career journey to (or within) our institution?
Prior to joining TTUHSC, I worked for UMC as an RN starting in June 2010 as an ER nurse, then moved into the PICU and eventually became one of the charge nurses within that unit. I also worked in several other intensive care units as a float nurse, including UMC's Rapid Response team, while I was employed there.
Earlier, I was an EMT working in various 911 systems in Wichita Falls and Fort Worth, Texas. Having worked closely with the PICU medical team, and knowing I was interested in staying within the Pediatric Intensive Care realm, I was offered a job about four months after graduation to work alongside this awesome medical team.
What do you enjoy about your work, or what excites you most about your job?
I really enjoy coming to work, even on the hard days. I love getting to interact with the kids, parents, and nursing staff. What I find most exciting is seeing my patients improve and get discharged home or to rehab and come back weeks or months later showing significant improvement.
Which of the values (One Team, Kindhearted, Integrity, Visionary, and Beyond Service) is most integral to your job or team? Why?
I am not sure you can pick just one. I think it takes a mixture of all of these values to truly have an impact on the care we provide. Without the team, the care we provide patients is affected. Without integrity, we wouldn't be able to be honest with our patients' families, and without kindness, we couldn't show them the compassion they need in their darkest times. Without vision, we cannot see the end goal of where we need patients to be to go home or to rehab and the care it takes to get them there.
How would you describe the culture at TTUHSC?
The culture depends on the people within it. I interact with coworkers from different specialties daily and I see the care and compassion they provide every day. I know they have the vision to care for our community and improve local and global health, and are striving to achieve our mission.
What do you enjoy most about Lubbock, and what makes you proud to call West Texas home?
I moved to Lubbock in 2010 with my wife and son. My wife is from this area, so having family close by was attractive to me. I love the morning sunrises and the afternoon sunsets. I enjoy the community and the typical West Texas kindness that is shown. My children enjoy the great open spaces and the beauty of what this area has to offer, along with a wonderful church home. The people have definitely made this a great place to be.
What do you wish more people knew about your team or department, or our institution?
TTUHSC has so much to offer, specifically the care and specialties provided in our region. I know we provide top-notch care that is on par with other major metro areas within our state.
What most excites you about the future at TTUHSC?
I foresee continued growth with our President's vision, as well as with the success of our academic and athletic departments. Texas Tech is a true global leader in education and health care, and we have only just begun to see its impact.
What would you tell people who are considering a position at TTUHSC?
Happiness begins with you. Find what you love doing and keep doing it. Your attitude and behavior have a wide reach. I see that behavior daily within this organization and I know it can positively impact you!
Is there anything else you would like to share?
Sun's Up, Guns Up!
---

Follow the TTUHSC Team on Facebook, Twitter, Instagram and LinkedIn for team member stories, resources, and career opportunities at the Texas Tech University Health Sciences Center.
Ready for a rewarding career where you can build relationships and make a real difference? View our current openings and apply now, or explore what makes TTUHSC such a great place to work.

Related Stories
Campus Life
By Tyler White
May 23, 2023
TTUHSC hosted commencement ceremonies for its 1,669-member Class of 2023.
Campus Life
By Suzanna Cisneros
April 27, 2023
TTUHSC medical students raised more than $92,000 with the 2023 Annual Lubbock City Lights Charity Gala April 1.
Campus Life
By Kate Gollahon
April 18, 2023
30 faculty, students and scientists from TTUHSC arrived at the Texas capitol to promote expanding telehealth for the rural Texans whose lives could drastically improve with access to health care.
Recent Stories
Education
By Kate Gollahon
May 29, 2023
On Memorial Day each May, a service is conducted to pay respect to the Willed Body Program donors and their families.
Education
By Kate Gollahon
May 24, 2023
While the TTU System aimed to cast a spotlight on these individuals and their work, the honorees chose to cast that light onto others, sharing their humble gratitude toward those who helped, guided and inspired them.
Campus Life
By Tyler White
May 23, 2023
TTUHSC hosted commencement ceremonies for its 1,669-member Class of 2023.