Free Clinic Offered for Women's Health Day
Texas Tech University Health Sciences Center (TTUHSC) School of Medicine students will host a Women's Health Day free clinic from 10 a.m. to 1 p.m. Oct. 16 at The Free Clinic located at Lubbock Impact, 2707 34th St.
The Women's Health Day clinic will provide free medical services to uninsured women including well-woman exams, consultations with Texas Tech Physicians, breast exams, pelvic exams, Pap smears, mammogram sign ups and referrals, pregnancy tests, prenatal referrals and HPV vaccinations.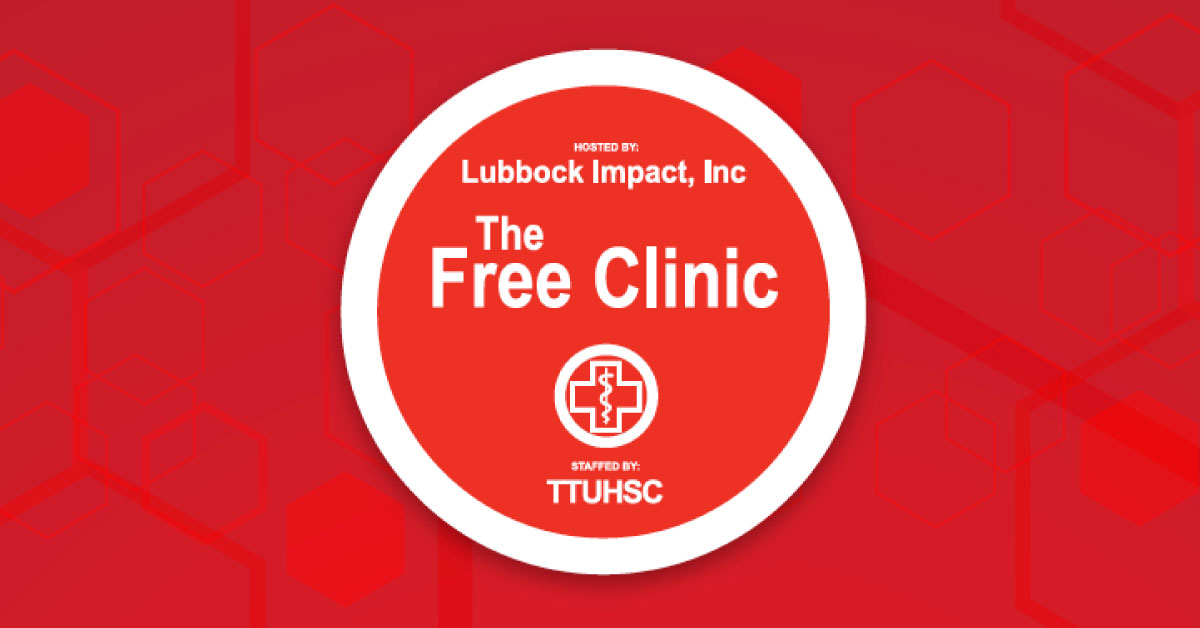 An estimated 1,685,210 new cases of cancer were diagnosed in the U.S. according to the Centers for Disease Control and Prevention (CDC). The CDC defines screening as checking one's body for cancer before symptoms appear. Regular screening tests can detect breast and cervical cancers early, when treatment is most effective. Zoe Davis, a leadership team member at The Free Clinic and a TTUHSC medical student, said the key to keeping women healthy is prevention.
"At The Free Clinic, we see a lot of women in need of Pap smears and other women's health exams," Davis said. "Regular health exams and screenings can detect problems before symptoms appear, which can increase a woman's chances of successful treatment."
The Free Clinic is a non-billing clinic developed by the TTUHSC School of Medicine.
"This Women's Health Day clinic is an opportunity for those who cannot afford services to come see a physician," said Julie Chugh, The Free Clinic leadership team member and TTUHSC medical student. "This is a day specifically devoted to women, and women are guaranteed to have physician specialists available for gynecological, breast or other women's health issues."
Appointments must be made by phone. For more information and to make an appointment, call (806) 319-5521.
Related Stories
By Lori Rice-Spearman, Ph.D., Steven L. Berk, M.D.
March 22, 2022
TTUHSC Celebration of Life Service was held March 25th in remembrance of Tom McGovern, Ed.D.
By Suzanna Cisneros
March 18, 2022
TTUHSC has been named as a Military Friendly® School for 2022-2023. Among graduate schools, TTUHSC ranked fourth in the nation, achieving Gold award status.
By Meaghan Collier
March 17, 2022
On March 16, fourth-year TTUHSC Jerry H. Hodge School of Pharmacy students interested in completing a residency after they graduate in May, learned where they would spend the next stage of their training during the Pharmacy Residency Match Day.
Recent Stories
Research
By Kathryn Dankesreiter (TTU)
September 26, 2022
The Innovation Hub at Research Park today (September 26, 2022) announced the winners of its annual Presidents' Innovative Startup Awards. The award recognizes startups that have a high potential for growth and an economic impact in West Texas.
Education
By Mark Hendricks
September 23, 2022
Fifth graders from Bean Elementary School became doctors for a day. The Texas Tech University Health Sciences Center (TTUHSC) Student National Medical Association (SNMA) hosted the Doctors for a Day Minicamp on Sept. 23.
Research
By Mark Hendricks
September 22, 2022
Pablo Artigas, Ph.D., from TTHSC's School of Medicine's Department of Cell Physiology and Molecular Biophysics, published a study with his team of collaborators in Nature Communications.