COVID-19 Changed the Journey—Not the Success of Future Physicians
TTUHSC Medical Students Learned Their Match
The COVID-19 pandemic forced changes to medical schools across the country with the 2021 residency recruitment, interview and Match Day processes. Fourth-year students went virtual for their residency interviews, adjusted clinical rotations and lived through the academic adjustments due to the pandemic.
Yet, even with the trials of the year, Texas Tech University Health Sciences Center (TTUHSC) School of Medicine fourth-year students met the challenges and participated virtually in Match Day March 19.
Match Day is a nerve-wracking event that has played out on medical school campuses across the country since 1952. Approximately 180 TTUHSC School of Medicine students participated in Match Day and learned where they will be for the next three to seven years for their residencies. The results were sealed in an envelope and opened simultaneously at all of the nation's medical schools.
TTUHSC Executive Vice President and Dean of the School of Medicine, Steven L. Berk, M.D., said COVID-19 did not deter students wanting to go into the medical field, but instead influenced a new generation of excellence in medicine.
"Few people have been spared the tragedies associated with this disease," Berk said. "For many, the pandemic has logically created a sense of despair and helplessness, of seeing events as being beyond one's control. To others, COVID-19 has been a call to arms to the medical workforce. The public health crisis has been a battle cry for many passionate students that want to rise to a generational challenge."
Months before Match Day, students begin applying to residency programs in their preferred specialties. Students visit sites to evaluate and ultimately rank their preferred residency programs. At the same time, administrators at each site interview applicants and rank them. The National Resident Matching Program (NRMP) coordinates this process and makes the final match algorithm, which is designed to produce results for students to fill the thousands of training positions available at U.S. teaching hospitals.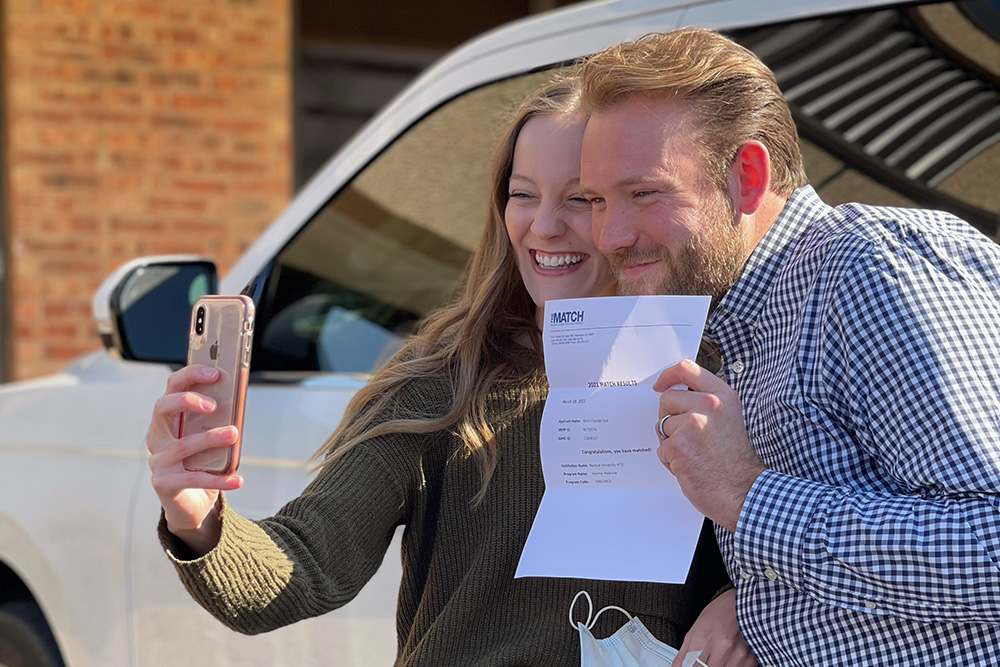 Berk said although Match Day is celebrated for one day, the event is actually a weeklong process. The process of Match Day is celebrated at the 155 U.S. medical schools accredited by the Liaison Committee on Medical Education. Starting on the Monday of Match Day Match Week, applicants are informed whether they have been matched to a residency program of their choice, but the student is not told the name of that program.
"These students were resilient, stepped up and answered the call to be on the health care frontlines and now will go on to begin their residencies," Berk said. "We are proud of our students' accomplishments and share their excitement as they pursue their careers at outstanding teaching programs around the country."
Match Day Awards 2021:
Amarillo
Outstanding Student in Family Medicine – Sypara Dhuka
Chairman's Award – Connor Jacobsen
Outstanding Student in Internal Medicine – Bella Kalayilparampil
Department of Obstetrics & Gynecology - Benjamin V. Salazar, M.D. Memorial Award
Outstanding Student in Obstetrics/Gynecology – Avery Bramnik
Maurice Dyer, M.D. Memorial Scholarship Endowment
Outstanding Student in Pediatrics- Monisha Narayanan & Sarah Mende
Gerald Holman, M.D. Pediatric Scholarship Award - Mary Girgis, MSIII & Angela Abraham, MSIII
Outstanding Student in Neonatology - Aisha Khan
Outstanding Student in Psychiatry – Emily Nguyen
Outstanding Student in Surgery – Ahmed Abdalla
Chairman's Award – Bradley Osemwengie
Steven L. Berk, M.D. Overall Outstanding Student - Bella Kalayilparampil
J. Rush Pierce M.D. Medical Student Leadership Award - Ganesh Maniam
Mitchell Jones Medical Student Endowed Scholarship - Diego Regalado, MSIII
Bernie Mittemeye - M.D. Medical Student Award - Mousab Diab
E.K. Jones, M.D. Award - Shree Dharmarpandi
Potter Randall Medical Alliance Scholarship - Cheryl Haston Mario Feola, MD
Outstanding Faculty Award - Amy Stark, M.D.
Outstanding Resident Award - Shaun Wesley, M.D. & Lindsay Porter, M.D.
Covenant Branch Match Day Award Winners
Best Medical Student in Family Medicine: Phillip Simpson
Best Medical Student in Internal Medicine: Tanir Moreno
Best Medical Student in Pediatrics: Katerina Keller and Craig Skousen
Best Medical Student in Psychiatry: Emily Mendez
Best Medical Student in OBGYN: Donna Ayala
Best Medical Student in Surgery: Connor Barry
Big Heart Award: Andrew Hennecke
Utility Award/Pay it Forward Award: Kelly Banta
Best Preceptor in Family Medicine: Dr. Chris Rose
Best Preceptor in Internal Medicine: Dr. Brad Snodgrass
Best Preceptor in Pediatrics: Dr. Shaughn Nunez
Best Preceptor in OBGYN: Dr. David Blann
Best Preceptor in SUR: Dr. Caleb Sallee
Overall Best Preceptor: Dr. Shaughn Nunez
Lubbock Awards
Pediatrics – Peyton Bluhm
Surgery – Caleb Stewart
Ophthalmology – Andres Guerrero (Amarillo student)
Psychiatry – Brooke Walterscheid
Ortho – Hunter Jones
Family Medicine – Anthony Betteridge
FMAT – Noriko Merida Morales
Ob/Gyn – Samantha Edwards
Internal Medicine – Kandis Boothe (Covenant student)
Permian Basin Awards
Nnana Amakiri – Outstanding Student Award – Department of Surgery
Reid Rivers – Outstanding Student Award – Department of Family & Community Medicine
Kristin Kinsley – Outstanding Student Award – Department of Psychiatry
Austin Turner - Outstanding Student Award – Department of Pediatrics
Joshua Macaluso - Outstanding Student Award – Department of Internal Medicine
Maricela Chavez - Outstanding Student Award – Department of Obstetrics & Gynecology
Joshua Macaluso - Outstanding Student Award – Patients, Physicians, Population & EPT Course
Rebecca Meiser - Outstanding Student Award – Patients, Physicians, Population & EPT Course
Lee David Moore, MD – Outstanding Faculty – As Voted by the Class of 2021
Chisom Nwoye, MD – Outstanding Resident – As Voted by the Class of 2021
Rebekah Redfern – Outstanding Staff – As Voted by the Class of 2021
Related Stories
By QEP Committee
March 21, 2023
As spring approaches, some people's thoughts turn to gardening. Whether it's a flower garden they desire or a vegetable garden want to have, they begin planning what they'll plant and what they need to do to ensure a successful garden.
By QEP Committee
March 21, 2023
A "growth mindset" accepts that our intelligence and talents can develop over time, and a person with that mindset understands that intelligence and talents can improve through effort and learning.
By Melissa Whitfield
February 13, 2023
Abstaining from drug abuse and an early diagnosis of familial hypercholesterolemia (high cholesterol) can help prevent heart disease.
Recent Stories
Education
By Kate Gollahon
May 29, 2023
On Memorial Day each May, a service is conducted to pay respect to the Willed Body Program donors and their families.
Education
By Kate Gollahon
May 24, 2023
While the TTU System aimed to cast a spotlight on these individuals and their work, the honorees chose to cast that light onto others, sharing their humble gratitude toward those who helped, guided and inspired them.
Campus Life
By Tyler White
May 23, 2023
TTUHSC hosted commencement ceremonies for its 1,669-member Class of 2023.