A Call to Serve
Make a Plan
While most of the public was preparing for a lockdown in March 2020, Dr. Barbara Cherry, RN, DNSc, associate dean for Strategic Partnerships, TTUHSC School of Nursing, was thinking beyond household goods. She was coming up with a plan to support the local COVID response in case hospitals were hit with a surge of patients.
"There would be these horrific scenes of full ICUs in New York and Gov. Cuomo was calling for nurses because they were overwhelmed with trying to take care of all the COVID patients," said Cherry. "So Chancellor Tedd Mitchell and our then interim president, Dr. Lori Rice-Spearman, started discussing the availability of nurses in the nursing school and nursing faculty. We have several nursing schools in the area so they asked what we could do in the event hospitals needed additional support. Could other nurses help with this support?"
Although Cherry had never tackled a project of this kind or size, TTUHSC School of Nursing Dean Michael Evans, Ph.D., RN, FAAN, asked Cherry to put together the COVID Response 2019: Nursing Consortium Plan in the event that Lubbock, Texas, needed additional nursing help.
"I had to think it through and my very first step was to reach out to the chief nursing officers at both local hospitals and ask if they would be open to other nurses coming in to help. It's a challenging situation to bring a nurse new to your hospital and then have them trained and oriented. You don't just pop in and start working," Cherry explained.
It just so happened that both Covenant and University Medical Center (UMC) had very good plans in place to address staffing for a surge in COVID patients. But they did agree the consortium might prove valuable in the event they became overwhelmed.
In those conversations, Cherry said the hospitals realized they would also need additional respiratory therapists to operate ventilators and added them to the consortium.
Her next step was to seek advice from someone with experience in setting up care sites for national and global health crisis, Commander James Dickens from the U.S. Public Health Service.
"He advised that we were doing the correct first step by identifying any potential care providers who can support the effort," Cherry said.
Another person Cherry contacted was the coordinator for the region's emergency preparedness plan, Nicholas Gordon.
"Mr. Gordon was in full support of our work. He said that this coordinates perfectly with his work to identify personal protective equipment, ventilators and alternate bed availability should it become necessary. He said he was relieved to know that I was working on the staffing because the staffing is difficult," Cherry added.
Call to Serve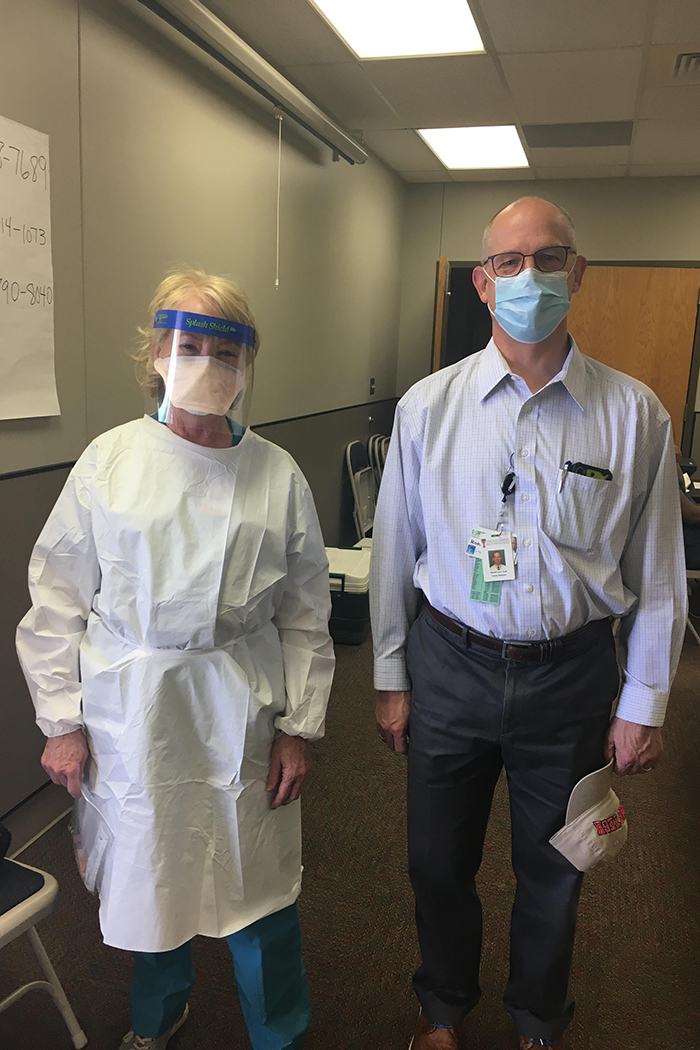 Barbara Cherry, R.N., DNSc and Ron Cook, D.O.
The next step was to establish a database of RNs, LVNs, respiratory therapists, advanced practice nurses, paramedics and students who were willing to serve in the event that there was a significant number of cases in Lubbock.
The email went to nurses and students at four local nursing schools and nurses in the local school districts, nursing associations and clinics and surgery centers.
"Basically, we are establishing a network of organizations that employ nurses not affiliated with UMC, Covenant or a long-term care facility. These contacts reach out to their networks or nurses and other health professionals and collect their information through a Qualtrics database. With the help of Dr. Alyce Ashcraft and Dr. Huaxin Song, 'Call to Serve' and database distribution was prepared," Cherry explained.
The database allowed them to see who would be willing to volunteer and then matched their skills to the needs. Cherry also considered that these additional staffing resources might be used for other jobs such as triage, transport, patient discharge and follow-up, basic patient monitoring and care, etc.
"We had student nurses and nursing faculty who did not have recent ICU experience, but I felt like they could be used in some way. We also emphasized it was for the Lubbock area because we have a lot of students from all over the state and we didn't want them to travel," Cherry said.
Stand By
Armed with the list and equipment, the next step was to develop deployment strategies.
"At what point do we call on these resources? What employment and orientation processes do they need to go through?" Cherry said.
Finally, she asked, how do they address the same process for the regional campuses?
Although there hasn't been a need to proceed with Cherry's plan, the database did prove its value when Katherine Wells, director of public health in Lubbock, asked for volunteer nurses to conduct COVID screenings.
Cherry, who also volunteered at the clinic, said, "We sent an email asking for help and were able to staff the clinic for about six weeks. Eventually the health department received additional funding and were able to hire a couple of nurses. So that was the end of our volunteer nurses.
"I am really proud of how many people were willing to help if they were needed. The hospitals did an outstanding job managing the COVID patients. I prayed every night that we wouldn't have to call on these nurses and that the COVID situation in Lubbock would be controlled."
Related Stories
By Melissa Whitfield
February 13, 2023
Abstaining from drug abuse and an early diagnosis of familial hypercholesterolemia (high cholesterol) can help prevent heart disease.
By Lori Rice-Spearman, Ph.D., Steven L. Berk, M.D.
March 22, 2022
TTUHSC Celebration of Life Service was held March 25th in remembrance of Tom McGovern, Ed.D.
By Suzanna Cisneros
March 18, 2022
TTUHSC has been named as a Military Friendly® School for 2022-2023. Among graduate schools, TTUHSC ranked fourth in the nation, achieving Gold award status.
Recent Stories
Education
By Meaghan Collier
March 17, 2023
TTUHSC Amarillo medical students participated in Match Day Friday, March 17.
Education
By Suzanna Cisneros
March 17, 2023
TTUHSC medical students participated in Match Day Friday, March 17.
Education
By Meaghan Collier
March 16, 2023
On March 15, TTUHSC Jerry H. Hodge School of Pharmacy students interested in completing a residency after they graduate learned where they would spend the next stage of their training.