STAT!Alert Emergency Notifications Update: Text Alerts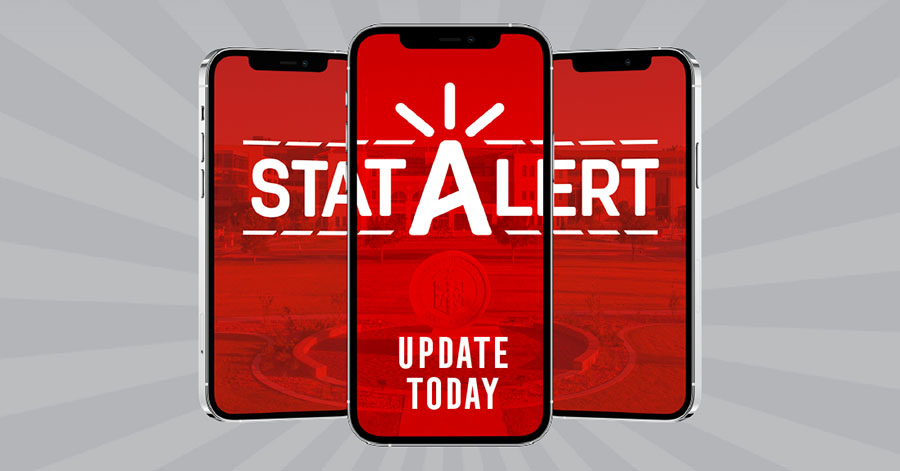 Texas Tech University Health Science Center (TTUHSC) uses STAT!Alert Emergency Notifications to communicate alerts and emergency response information to faculty, staff and students in the event of a campus or regional emergency as defined by TTUHSC officials.
Text Alerts Provide the Fastest Delivery
STAT!Alert messages can be sent through phone calls, voice mail, text messages, email, Facebook, Twitter and RSS feeds to display on digital signage monitors across campus. Of these methods to receive communications, TTUHSC's emergency management team has found when communicating to a large audience that text messaging is the fastest form of delivery, which is important in an emergency situation.
Student and employee records will automatically add the listed mobile numbers into the STAT!Alert database, but participation is needed in order to increase the database of mobile numbers, reaching a maximum number of people.
Free, Quick and Confidential
This effort will require the participation of all students, faculty and staff to ensure their record with the university is accurate. To verify or update your contact information, individuals can login to the university's emergency alert page. The process takes only minutes to complete.
The information entered into the Emergency Notification Database will not be used for any other
purpose than STAT!Alert messaging.
Attention to this important component of emergency management ensures the safest possible TTUHSC community.
Related Stories
By QEP Committee
March 21, 2023
As spring approaches, some people's thoughts turn to gardening. Whether it's a flower garden they desire or a vegetable garden want to have, they begin planning what they'll plant and what they need to do to ensure a successful garden.
By QEP Committee
March 21, 2023
A "growth mindset" accepts that our intelligence and talents can develop over time, and a person with that mindset understands that intelligence and talents can improve through effort and learning.
By Melissa Whitfield
February 13, 2023
Abstaining from drug abuse and an early diagnosis of familial hypercholesterolemia (high cholesterol) can help prevent heart disease.
Recent Stories
Research
By Mark Hendricks
November 16, 2023
Ninh (Irene) La-Beck, Pharm.D., with the TTUHSC Jerry H. Hodge School of Pharmacy, received a five-year, $2.49 million grant to investigate how nanoparticles interact with the immune system and cancer.
Research
By Mark Hendricks
November 10, 2023
To help investigate the influence basal sex hormone alterations may have on chronic post-op pain, the NIH recently awarded a grant to Jenny Wilkerson, Ph.D., from the Jerry H. Hodge School of Pharmacy.
Health
By Tyler White
November 09, 2023
Scott Shurmur, M.D., a cardiologist at the Texas Tech Physicians Center for Cardiovascular Health, shared his expertise and his experience as a former collegiate athlete.