STAT!Alert Emergency Notifications Update: Text Alerts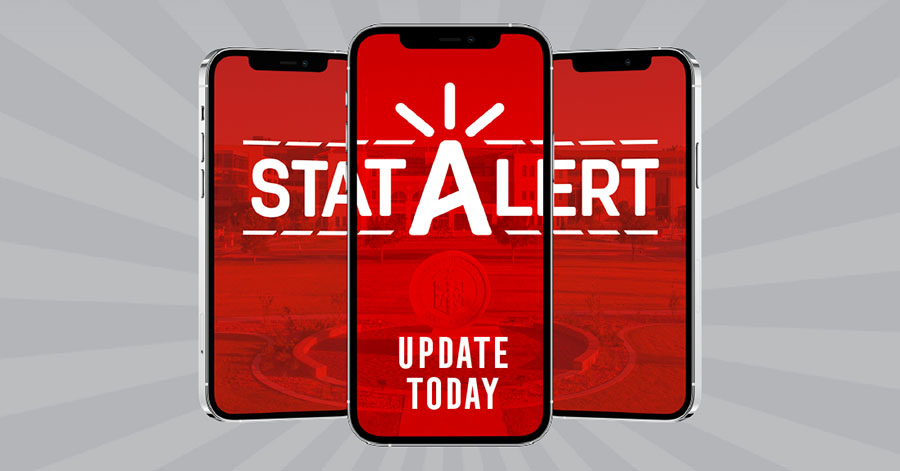 Texas Tech University Health Science Center (TTUHSC) uses STAT!Alert Emergency Notifications to communicate alerts and emergency response information to faculty, staff and students in the event of a campus or regional emergency as defined by TTUHSC officials.
Text Alerts Provide the Fastest Delivery
STAT!Alert messages can be sent through phone calls, voice mail, text messages, email, Facebook, Twitter and RSS feeds to display on digital signage monitors across campus. Of these methods to receive communications, TTUHSC's emergency management team has found when communicating to a large audience that text messaging is the fastest form of delivery, which is important in an emergency situation.
Student and employee records will automatically add the listed mobile numbers into the STAT!Alert database, but participation is needed in order to increase the database of mobile numbers, reaching a maximum number of people.
Free, Quick and Confidential
This effort will require the participation of all students, faculty and staff to ensure their record with the university is accurate. To verify or update your contact information, individuals can login to the university's emergency alert page. The process takes only minutes to complete.
The information entered into the Emergency Notification Database will not be used for any other
purpose than STAT!Alert messaging.
Attention to this important component of emergency management ensures the safest possible TTUHSC community.
Related Stories
By Lori Rice-Spearman, Ph.D., Steven L. Berk, M.D.
March 22, 2022
TTUHSC Celebration of Life Service was held March 25th in remembrance of Tom McGovern, Ed.D.
By Suzanna Cisneros
March 18, 2022
TTUHSC has been named as a Military Friendly® School for 2022-2023. Among graduate schools, TTUHSC ranked fourth in the nation, achieving Gold award status.
By Meaghan Collier
March 17, 2022
On March 16, fourth-year TTUHSC Jerry H. Hodge School of Pharmacy students interested in completing a residency after they graduate in May, learned where they would spend the next stage of their training during the Pharmacy Residency Match Day.
Recent Stories
Education
By Clarissa Sanchez
October 04, 2022
TTUHSC hosted "Building the Basin: a Permian Basin Health Care Workforce Summit" Oct. 4.
Health
By Mark Hendricks
September 29, 2022
CPRIT recently awarded a $1 million prevention grant to Rakhshanda Rahman, M.D., Rebeccah Baucom, M.D., and John Kidwell, M.D., from the TTUHSC School of Medicine.
Research
By Kathryn Dankesreiter (TTU)
September 26, 2022
The Innovation Hub at Research Park today (September 26, 2022) announced the winners of its annual Presidents' Innovative Startup Awards. The award recognizes startups that have a high potential for growth and an economic impact in West Texas.