"These Aren't the Days of the Strawman"
How TTUHSC entrenched simulation into its curriculum
One exciting thing about the COVID-19 pandemic, if exciting is an appropriate word to use in this context, is the need for innovation. Periods of intense human struggle had often led to some of the greatest pieces of technology and knowledge in human history. For instance, World War I brought about several medical innovations such as the first blood banks, mobile X-Ray machines and prosthetics, which are some of the key elements when we think of modern medicine. World War II bought about the first computers, serving as a prelude to an explosion of new technologies at the start of the 21st century.
COVID-19 brought its fair share of challenges to Texas Tech University Health Sciences Center (TTUHSC) by making clinical hours and in-person lectures unavailable for students. However, it also has given TTUHSC a chance to explore the strengths and weaknesses of fully incorporating simulation into virtual learning, stated Sharon Decker, Ph.D., RN, Associate Dean for Simulation for the School of Nursing and Executive Director of the TTUHSC Simulation Program.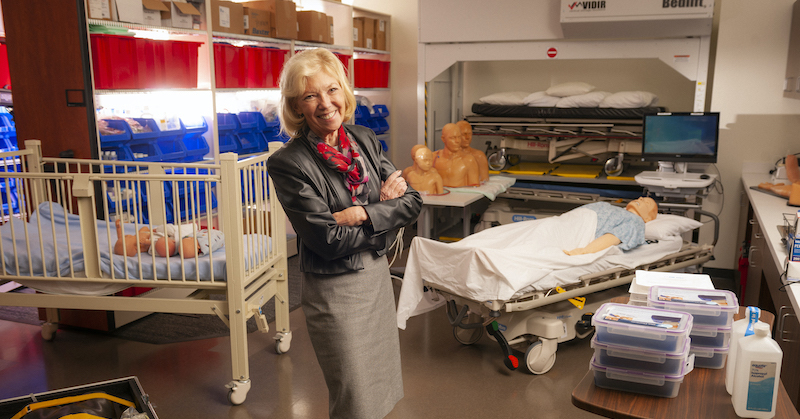 "Faculty from the various schools at TTUHSC had to modify their way of teaching, and do it overnight," Decker said. "At the same time, faculty are still held accountable for making sure that their students and graduates, are confident, and have the skill set required to provide safe, quality patient care. So it was, and continues to be, extremely challenging.
"Modifications were initiated as simulation-based learning was integrated at a greater degree into virtual learning platforms. There's going to be further innovations. These innovations will integrate current knowledge with new discoveries resulting in hybrid approaches to learning. And as we look forward, we need to ask what opportunities do we have? Yes, we're going to have challenges, but how are we going to solve these challenges? This crisis could provide so many opportunities."
According to the National Council of State Boards of Nursing, effective simulation could substitute for approximately 50% of clinical hours. In addition, simulation creates many remedies for the difficulties that clinical training created. Amanda Veesart, Ph.D., RN, Associate Dean for the traditional BSN program mentions one major remedy: The experiences each student may have at the clinic will vary. Therefore, it's not guaranteed a student will be exposed to all the scenarios needed to prepare them before they leave the program. This is where simulation comes into play.
"A student on the floor, for example, may only have renal patients and may never see a cardiac patient." Veesart added. "So, in simulation, we guarantee that they see all of those different scenarios so that they're exposed no matter where they go to work."
Another problem is clinic space, which has been limited due to the overwhelming demand from programs that want to assign students for their clinical hours.
"Schools are all aiming for space; every school that has a nursing school wants clinical space so we all kind of compete for it," said Kyle Johnson, Ph.D., RN, clinical and simulation director. "And so, we use simulation a lot to replace some clinical. The evidence has been so overwhelmingly supportive of the use of simulation to replace patient care clinical in a hospital or any facility."
With simulation already a major component in TTUHSC's School of Nursing curricula, the transition to all-virtual classes for the Spring 2020 semester was sudden, yet manageable. Several projects had previously explored the integration of augmented and virtual reality into curricula. For example, in 2017 the Simulation Program, in collaboration with the School of Nursing, participated as a mixed reality pilot site that incorporated Microsoft Hololens. Decker assisted in developing the content for this project, which utilized a holographic video capture capacity to process videos of individuals with various health concerns. In 2020, Johnson began testing various virtual games and software to see if they would match learning objectives.
With the interruptions caused by COVID-19, the TTUHSC Simulation Program transitioned to educational experiences that incorporated standardized patients into a virtual format utilizing video technology. Faculty quickly embraced these opportunities. Additionally, basic care skills had to be taught by School of Nursing faculty utilizing a virtual format. Unfortunately, students had to use dolls or pillows as patients. This challenge provided an opportunity for the TTUHSC Simulation Program to work with Laerdal Medical in designing and beta testing the Modular Skills Trainers, which can be used to assist students in developing over 10 patient care skills at home in a safe environment.
Things are looking up. According to Johnson, not only are TTUHSC faculty and instructors adjusting, but some techniques and innovations used during quarantine may carry over in the transition back to business-as-usual.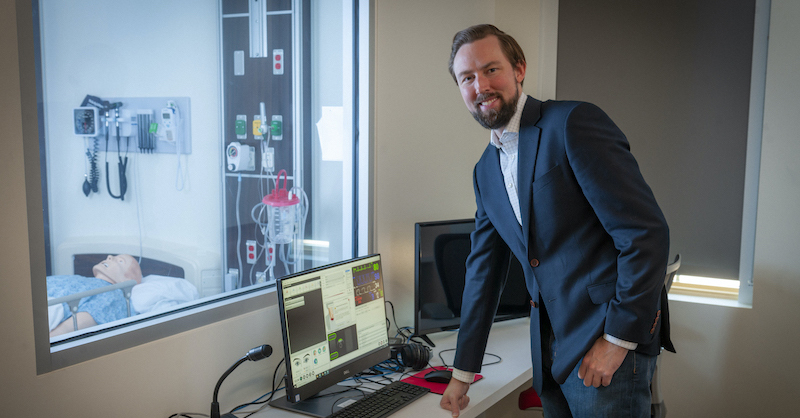 "Faculty are really interested in keeping this [virtual] learning modality because of what they feel students have learned," Johnson said. "Some faculty who have always done 100% clinical in the hospital are saying, 'Hey, you know I really don't want to do a whole semester of virtual again because that's exhausting. But what if we could have like three or four days of virtual while they go to the hospital?'
"I think, for the longest time, faculty were always interested in virtual simulation. There was just never any reason to dive deeper. All of a sudden, our faculty were forced to get in and play these virtual simulations and really understand how they were going to use them in the context of teaching clinical care. And now, a lot of them love it. They were amazed with what decision-making skills we could teach through a computer game."
"TTUHSC is a national leader in simulation," said Decker when asked about the strengths that lead to these opportunities. "We have a simulation program recognized nationally with educators (nursing, pharmacy and medicine) certified in simulation. Our simulation program is also accredited by the Society for Simulation in Healthcare."
Simulation centers were established at TTUHSC as early as 1981 and the program and resources have been expanding ever since. The COVID-19 pandemic has given an opportunity in the field of simulation and virtual learning to grow. Maybe like WWI, we will see a new wave of health care innovations, and the simulators of today will be the outdated strawman of tomorrow.
Related Stories
By QEP Committee
March 21, 2023
As spring approaches, some people's thoughts turn to gardening. Whether it's a flower garden they desire or a vegetable garden want to have, they begin planning what they'll plant and what they need to do to ensure a successful garden.
By QEP Committee
March 21, 2023
A "growth mindset" accepts that our intelligence and talents can develop over time, and a person with that mindset understands that intelligence and talents can improve through effort and learning.
By Melissa Whitfield
February 13, 2023
Abstaining from drug abuse and an early diagnosis of familial hypercholesterolemia (high cholesterol) can help prevent heart disease.
Recent Stories
Research
By Mark Hendricks
November 16, 2023
Ninh (Irene) La-Beck, Pharm.D., with the TTUHSC Jerry H. Hodge School of Pharmacy, received a five-year, $2.49 million grant to investigate how nanoparticles interact with the immune system and cancer.
Research
By Mark Hendricks
November 10, 2023
To help investigate the influence basal sex hormone alterations may have on chronic post-op pain, the NIH recently awarded a grant to Jenny Wilkerson, Ph.D., from the Jerry H. Hodge School of Pharmacy.
Health
By Tyler White
November 09, 2023
Scott Shurmur, M.D., a cardiologist at the Texas Tech Physicians Center for Cardiovascular Health, shared his expertise and his experience as a former collegiate athlete.