Pharmacy Researcher Receives CPRIT Grant for Cancer Research Equipment
Imaging Instrumentation Will Enhance Cancer Research at TTUHSC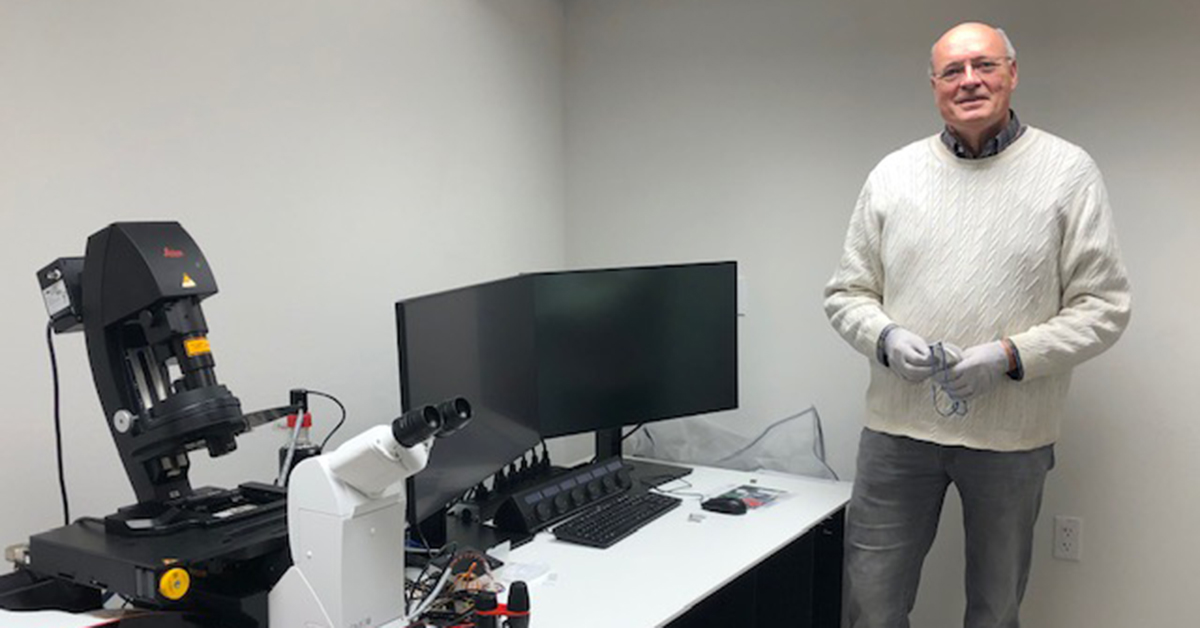 Nearly $3 million in imaging equipment arrived at Texas Tech University Health Sciences Center (TTUHSC) Jerry H. Hodge School of Pharmacy in Amarillo thanks to a grant from the Cancer Prevention & Research Institute of Texas (CPRIT).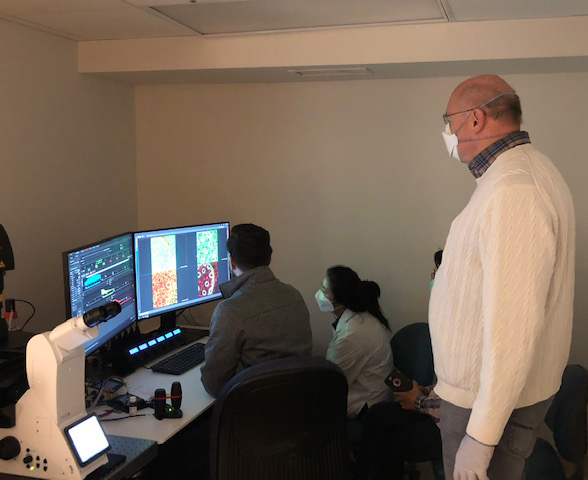 The $2.8 million grant funded the purchase of three new imaging instruments that, together with existing equipment, transform the core facility on the Amarillo campus into a state-of-the-art imaging facility—an indispensable component of any competitive biomedical research institution. The Imaging Core Facility will serve current TTUHSC faculty and will also be open to researchers at the new Texas Tech University School of Veterinary Medicine. Ulrich Bickel, M.D., professor and associate dean of sciences in the TTUHSC Jerry H. Hodge School of Pharmacy, said the recently introduced Leica super resolution microscope is one of two such instruments currently deployed in the country.
"Because of its uniqueness, we expect collaborative projects will be initiated in coming years with scientists from other universities in Texas and beyond," Bickel said.
The first imaging instrument is a microscope system that allows optical imaging of living cells at a resolution previously achievable only by electron microscopy. The inventors of the microscope received a Nobel Prize in 2014.
The second instrument is an automated imager, which enables long-term observation of living cells under conditions causing minimal levels of phototoxicity.
The third instrument is capable of whole-animal live imaging with fluorescent dyes emitting in the near-infrared range. This instrument achieves very high resolution and a depth of imaging sufficient to visualize the entire body and internal organs of a mouse in a non‐invasive manner.
"Collectively, these instruments will greatly enhance the quality of images obtainable in ongoing and future cancer research projects," Bickel said.
During the last 20 years, various cancers have been at the focus of research activities at TTUHSC. In fact, the Jerry H. Hodge School of Pharmacy has a strong research mission that includes about 15 full-time faculty conducting bench research funded by the National Cancer Institute, the Department of Defense programs in cancer research, CPRIT and others.
"This is one of the larger grant mechanisms that CPRIT offers, and probably the largest CPRIT grant the SOP received to date," Bickel said. "There were only four core support awards funded."
The equipment arrived on campus at the end of December.
Related Stories
By Lori Rice-Spearman, Ph.D., Steven L. Berk, M.D.
March 22, 2022
TTUHSC Celebration of Life Service was held March 25th in remembrance of Tom McGovern, Ed.D.
By Suzanna Cisneros
March 18, 2022
TTUHSC has been named as a Military Friendly® School for 2022-2023. Among graduate schools, TTUHSC ranked fourth in the nation, achieving Gold award status.
By Meaghan Collier
March 17, 2022
On March 16, fourth-year TTUHSC Jerry H. Hodge School of Pharmacy students interested in completing a residency after they graduate in May, learned where they would spend the next stage of their training during the Pharmacy Residency Match Day.
Recent Stories
Health
By School of Health Professions
February 02, 2023
Moumita Choudhury Au.D., CCC-A, spoke about the present and future of social media's impact on healthcare in general and on hearing healthcare specifically.
Research
By Mark Hendricks
January 31, 2023
Gail Cornwall, Ph.D., professor in the Department of Cell Biology and Biochemistry at the TTUHSC, has been named a member of the American Association for the Advancement of Science Fellowship Class of 2022.
Research
By Mark Hendricks
January 27, 2023
To help address communication hurdles, the Patient-Centered Outcomes Research Institute (PCORI) has awarded a $438,756 subcontract to Tetyana L. Vasylyeva, M.D., Ph.D., from the TTUHSC School of Medicine.