Surgeon Brings FEVAR Procedure to Area Patients
TTUHSC Physician First in Region to Perform Procedure
As the body's largest artery, the aorta delivers oxygen-rich blood from the left ventricle of the heart to important areas such as the kidneys, brain, muscles and various other organs and cells via an intricate network of smaller arteries known as arterioles and capillaries.
If an area of the aorta weakens, a balloon-like bulge known as an aortic aneurysm can form. If the weakness or bulge forms in the lower portion of the aorta, the result is an abdominal aortic aneurysm.
Wei Li, M.D., MPH, a vascular surgeon and an associate professor of surgery at the Texas Tech University Health Sciences Center (TTUHSC) School of Medicine, said smoking is the primary risk factor for developing an aortic aneurysm. Elderly Caucasian males also appear to have a higher risk of developing abdominal aneurysms.
"If the patient has a family history of aneurysms, that individual also has a higher risk of developing aneurysms," Li said.
Li said abdominal aortic aneurysms in many cases remain symptom-free until they rupture or just prior to doing so. At that point, the patient may experience a sudden, intense and persistent abdominal or back pain with tearing sensation, low blood pressure and rapid pulse.
Aortic aneurysms also put patients at risk of developing blood clots in the area. Li said when a blood clot breaks loose from the inside wall of an aneurysm and blocks a blood vessel elsewhere in the body, it is known as distal embolization. These blood clots can travel away from the aneurysm and reduce or block blood supply to organs and limbs. One of Li's patients, Leonard Routier, developed such a blood clot that moved down and impacted the blood flow to his leg.
Currently, Li said, the majority of abdominal aortic aneurysms can be treated with a minimally invasive technique known as Endovascular Aneurysm Repair (EVAR). However, Routier's aortic anatomy was very unique in that his kidney arteries were too close to his aneurysm. This increased risk to the kidneys prevented him from receiving an EVAR.
Another option to treat Routier was to employ a process known as open repair, which is considered a traditional surgical process that requires a large incision to open the abdomen and expose the aorta.
"Open repair is a very invasive surgery that many elderly patients, like Mr. Routier, do not tolerate well," Li said. "Fortunately, we were able to offer Mr. Routier a more advanced and minimally invasive option known as, Fenestrated Endovascular Aortic Repair (FEVAR), which allowed him to get his aneurysm fixed while preserving his kidneys."
In the operating theater, Li began the FEVAR technique by accessing Routier's aneurysm through small needle-sized incisions made in the groin area. Li then thread a guide wire through the femoral artery to the aneurysm site so the entire fenestrated stent graft system could be inserted to repair the aneurysm. The two small incisions do not even require any sutures to close them.
"Patients who undergo open aneurysm repair also must spend several days in the hospital without eating or drinking by mouth," Li said. "Mr. Routier was allowed to drink and eat on just the next day after FEVAR surgery and was discharged from the hospital shortly after."
Several studies have shown FEVAR to be safer than open repair to treat complex aneurysms like Routier's because FEVAR reduces the risk of death and minimizes other complications and the need for blood transfusions.
While he has offered FEVAR to patients who have complex aortic aneurysms, Li said he also treats majority of his abdominal aortic aneurysm patient using the EVAR procedure.
"If the aneurysm involves the renal and other adjacent branches of aorta, we will need to have a specially designed graft, such as a fenestrated graft, to treat those aneurysms." Li explained.
Li said a fenestrated graft contains specially placed holes, or fenestrations that have been custom-made so that holes in the graft correspond to the unique position of branches from individual patient's aorta so blood can continue to flow through the graft into the arterial branches, such as the renal arterial branches in Routier's case.
"After the FEVAR procedure, the patient can be released from the hospital as early as the next day after surgery," Li added.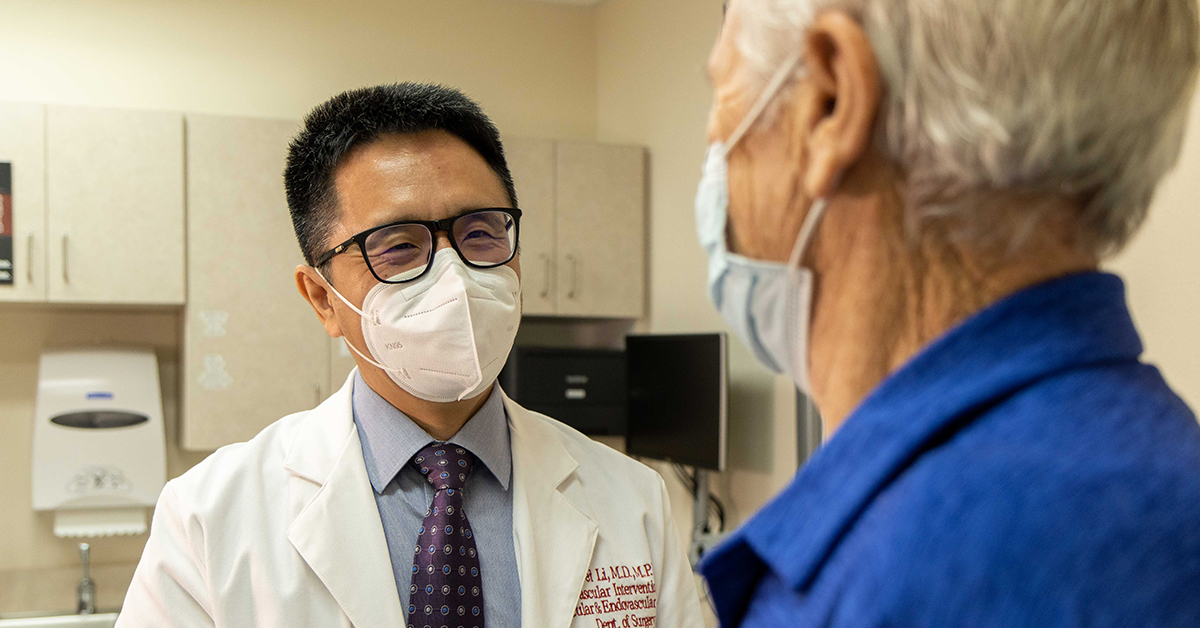 Before he joined TTUHSC, Li performed the FDA-approved FEVAR procedure since 2015 in other major academic medical centers. However, when Li treated Routier in late January, it was the first time the FEVAR procedure had been used to treat a patient in the West Texas-Eastern New Mexico region. In fact, Li is currently the only physician in the region who is certified to perform FEVAR.
Routier said he had no problem being the first patient in the area to undergo the FEVAR procedure, especially since he could do it in Lubbock. His recovery has been uneventful and he's not experienced any recurring issues with his legs.
"Dr. Li was very knowledgeable of what was going on," Routier said. "He had done this procedure elsewhere before, so I just had the thought that if he had already done the procedure, then why not do it here? This is a teaching hospital, but these are not students that are doing the procedures. These are knowledgeable people that have been doing these things for a long time."
Li believes the success of such an advanced and complex endovascular aneurysm repair was the result of effective teamwork. He credits the Department of Surgery leadership, especially Sharmila Dissanaike, M.D., the department chair and vascular surgeon colleague Dixon Santana, M.D., for providing valuable support with Mr. R.'s case.
"We built a comprehensive aortic team with collaboration from the University Medical Center," Li said.
Li has trained various other team members, including clinical, radiology and operating room personal, prior to performing this first-in-West-Texas-Eastern New Mexico FEVAR procedure. Previously, patients needing this complex aortic surgery were referred to outside medical centers in other major Texas cities.
In addition to using FEVAR to treat aorta aneurysms, Li has performed several endovascular and hybrid procedures to treat aortoiliac occlusive disease (i.e., occluded aorta) utilizing a special "body flossing-type" technique. The procedure is especially beneficial for patients with such aortic pathology who also have other medical conditions such as COPD (chronic obstructive pulmonary disease), a common consequence of a long history of smoking.
"Since my arrival, I have also treated a number of patients with peripheral vascular diseases, such as occluded leg artery, and offered several surgeries of leg bypasses with arm veins to patients who otherwise would have to suffer amputations." Li added. "I am very happy to have seen those patients come to the hospital on the stretcher and then be able to walk out of the hospital door with smiling faces."
Li also is an expert in, and has employed multiple modalities to treat carotid diseases, including the new minimally invasive transcarotid artery revascularization (TCAR) procedure that he is looking forward to working with Lubbock hospitals to offer.
Prior to his arrival at TTUHSC, Li was an academic vascular surgeon and has served as faculty to train future vascular surgeons in major institutions, including the Albert Einstein College of Medicine Montefiore Medical Center where the first EVAR was performed in the U.S.
Related Stories
By QEP Committee
March 21, 2023
As spring approaches, some people's thoughts turn to gardening. Whether it's a flower garden they desire or a vegetable garden want to have, they begin planning what they'll plant and what they need to do to ensure a successful garden.
By QEP Committee
March 21, 2023
A "growth mindset" accepts that our intelligence and talents can develop over time, and a person with that mindset understands that intelligence and talents can improve through effort and learning.
By Melissa Whitfield
February 13, 2023
Abstaining from drug abuse and an early diagnosis of familial hypercholesterolemia (high cholesterol) can help prevent heart disease.
Recent Stories
Education
By Suzanna Cisneros
March 24, 2023
Recognizing academic excellence, the honors are the most prestigious awards granted to faculty throughout the TTU System. The awards are funded by gifts to the Chancellor's Council, a giving society that supports the chancellor's priorities across the TTU System.
Campus Life
By Suzanna Cisneros
March 23, 2023
TTUHSC School of Medicine students will host a Women's Health Day free clinic from 10 a.m. to 1 p.m. April 15 at The Free Clinic
Research
By Mark Hendricks
March 21, 2023
TTUHSC Cytogenetic Technologist Jasbir Bisht and a team from P. Hemachandra Reddy's internal medicine laboratory analyzed the impact of cancer in Hispanics in comparison to other ethnic groups.