Abilene Scientist Receives Grant to Research Novel Brain Tumor Treatment
Saha to Investigate Use of Viruses to Attack, Weaken Deadly Glioblastoma Cells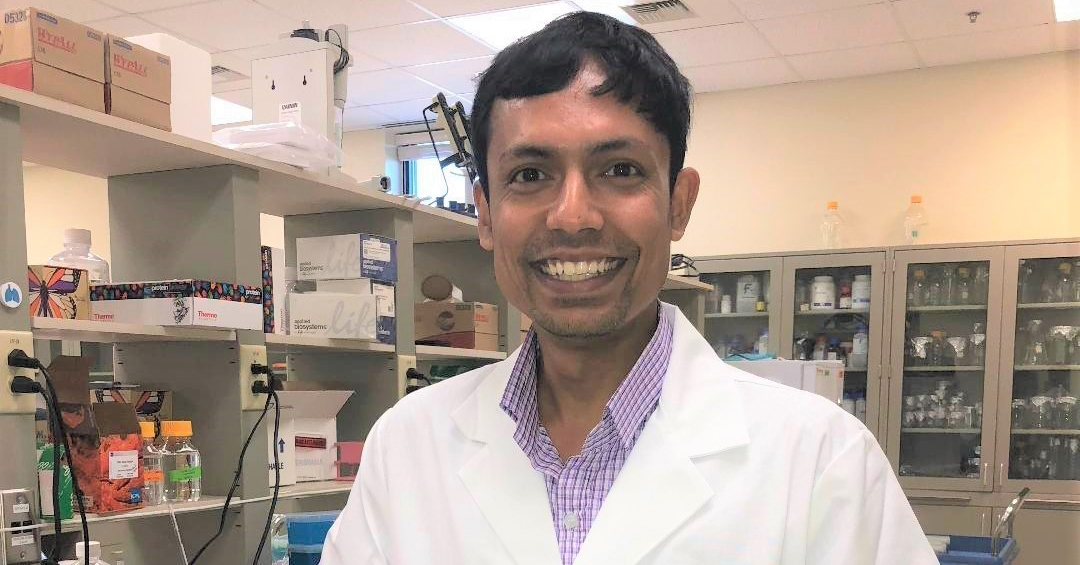 An estimated 700,000 people in the U.S. are living with a brain tumor and nearly 80,000 new cases are diagnosed each year. Glioblastoma (GBM), an aggressive cancer most often found in the brain, is responsible for more than 75% of these tumors. Currently there are no effective treatments for GBM, which is almost always fatal, and most patients die 12-18 months after initial diagnosis.
In an effort to improve the prognosis for GBM patients, the U.S. Department of Defense recently awarded a $550,491 grant to Dipongkor Saha, D.V.M., Ph.D., a cancer immunologist and assistant professor of immunotherapeutics and biotechnology at the Texas Tech University Health Sciences Center (TTUHSC) Jerry H. Hodge School of Pharmacy in Abilene.
"Our goal is to develop a novel and safe treatment strategy that should provide treatment relief to a significant number of individuals suffering from this devastating disease," Saha said.
Saha's current research is primarily focused on inciting anti-tumor immunity, which is when the body recognizes and begins an immune response to certain antigens expressed by cancer, known as tumor associated antigens (TAAs). He is investigating the use of oncolytic virus therapy, which uses certain viruses to attack and compromise cancer cells while leaving the adjacent healthy cells to function normally. The process can kill cancer cells or weaken them so that other treatments like radiation and chemotherapy may be more effective.
In the studies proposed by his new grant, Saha said he not only will investigate how to effectively induce immunity against tumor cells, but also seek ways to divert the body's immune system specifically toward TAAs.
"Importantly, TAAs are exclusively present in cancer cells, but absent or present at an insignificant level in healthy cells," Saha explained. "Therefore, the TAA-targeted treatments will only kill cancer cells while sparing healthy cells, thus conferring safety to treated individuals."
Saha's grant funding began Sept. 1 and is scheduled to run through August 2023.
Related Stories
By Lori Rice-Spearman, Ph.D., Steven L. Berk, M.D.
March 22, 2022
TTUHSC Celebration of Life Service was held March 25th in remembrance of Tom McGovern, Ed.D.
By Suzanna Cisneros
March 18, 2022
TTUHSC has been named as a Military Friendly® School for 2022-2023. Among graduate schools, TTUHSC ranked fourth in the nation, achieving Gold award status.
By Meaghan Collier
March 17, 2022
On March 16, fourth-year TTUHSC Jerry H. Hodge School of Pharmacy students interested in completing a residency after they graduate in May, learned where they would spend the next stage of their training during the Pharmacy Residency Match Day.
Recent Stories
Health
By School of Health Professions
February 02, 2023
Moumita Choudhury Au.D., CCC-A, spoke about the present and future of social media's impact on healthcare in general and on hearing healthcare specifically.
Research
By Mark Hendricks
January 31, 2023
Gail Cornwall, Ph.D., professor in the Department of Cell Biology and Biochemistry at the TTUHSC, has been named a member of the American Association for the Advancement of Science Fellowship Class of 2022.
Research
By Mark Hendricks
January 27, 2023
To help address communication hurdles, the Patient-Centered Outcomes Research Institute (PCORI) has awarded a $438,756 subcontract to Tetyana L. Vasylyeva, M.D., Ph.D., from the TTUHSC School of Medicine.