TTUHSC Hosted Third Abilene Research Symposium
Annual Event Encouraged Local Research Collaborations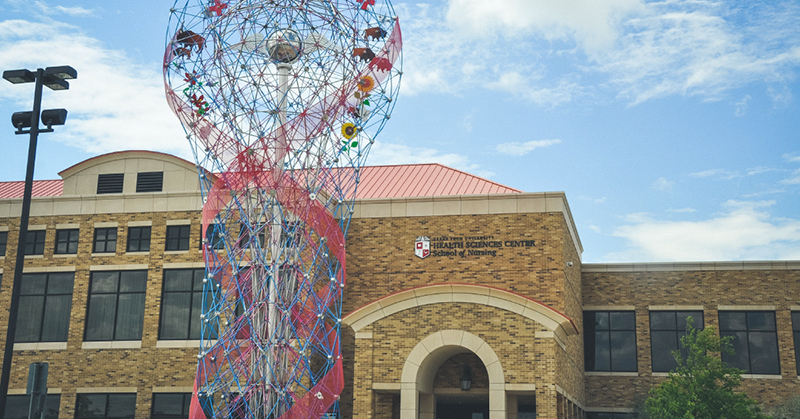 The Texas Tech University Health Sciences Center (TTUHSC) hosted top researchers from the Abilene area Oct. 30 at the third Abilene Interdisciplinary Symposium on Cancer & Biomedical Research.
Due to COVID-19, the 2020 symposium was conducted virtually. Sanjay K. Srivastava, Ph.D., who chairs TTUHSC's Department of Immunotherapeutics and Biotechnology, said 174 people registered for the symposium and 24 abstracts were submitted for the half-day event.
Symposium speakers and presenters included faculty and student scientists from TTUHSC, Abilene Christian University (ACU), Hardin-Simmons University (HSU), McMurry University (MU), Cisco College (CC) and Hendrick Health System. Srivastava said featuring local researchers helps the scientists better understand each other's work and opens the doors for potential collaboration.
"The overall intent of the Abilene Research Symposium is to promote collaboration of Abilene undergrad universities with TTUHSC," Srivastava explained. "We especially look for collaboration opportunities with our research-intensive Department of Immunotherapeutics and Biotechnology faculty scientists."
Anna Krichevsky, Ph.D., an associate professor of neurology at Harvard Medical School, was the symposium's the keynote speaker. Krichevsky, who also serves as an associate scientist at Brigham and Women's Hospital in Boston, presented, "Expanding the Repertoire of Therapeutic Targets for Brain Tumors: The Focus on Non-coding RNA."
Other speakers included Emily Bailey, Ph.D., and Dipongkor Saha, Ph.D., from TTUHSC; Rusty Kruzelock, Ph.D., (ACU); and Dianna E. Willis, Ph.D., from the Burke Neurological Institute, an affiliate of Weill Cornell Medicine in New York.
"We always look for a scientist who has made significant contribution in science," Srivastava said. "We selected Dr. Krichevsky from Harvard Medical School based on her seminal discoveries on microRNAs. We also chose Dr. Willis from Cornell University due to her work on Axonal and RNA Biology. We were also excited to get Dr. Kruzelock, the new vice president of research from Abilene Christian University in our symposium."
Pearl Merritt, Abilene regional dean for TTUHSC's School of Nursing, said the 2020 symposium was a success despite having to make the event virtual.
"We are hoping by next fall we will be able to have the face-to-face symposium again," Merritt said. "However, we feel like a virtual symposium is certainly in order if that is necessary. We believe we were very successful in our first endeavor."
Merritt said the symposium is an annual highlight for the Abilene Research Coalition, which she, Srivastava and fellow TTUHSC researcher Maciej Markiewski, M.D., Ph.D., helped create in 2017 with faculty scientists from the other Abilene area colleges and universities. The goal, then and now, is to develop collaborations among TTUHSC researchers and between the TTUHSC scientists and those from the other Abilene schools.
"This is a great way for us at TTUHSC to share our expertise and resources with other local universities," Merritt added. "Ultimately, it's the students who benefit."
Related Stories
By Lori Rice-Spearman, Ph.D., Steven L. Berk, M.D.
March 22, 2022
TTUHSC Celebration of Life Service was held March 25th in remembrance of Tom McGovern, Ed.D.
By Suzanna Cisneros
March 18, 2022
TTUHSC has been named as a Military Friendly® School for 2022-2023. Among graduate schools, TTUHSC ranked fourth in the nation, achieving Gold award status.
By Meaghan Collier
March 17, 2022
On March 16, fourth-year TTUHSC Jerry H. Hodge School of Pharmacy students interested in completing a residency after they graduate in May, learned where they would spend the next stage of their training during the Pharmacy Residency Match Day.
Recent Stories
Health
By Mark Hendricks
September 29, 2022
CPRIT recently awarded a $1 million prevention grant to Rakhshanda Rahman, M.D., Rebeccah Baucom, M.D., and John Kidwell, M.D., from the TTUHSC School of Medicine.
Research
By Kathryn Dankesreiter (TTU)
September 26, 2022
The Innovation Hub at Research Park today (September 26, 2022) announced the winners of its annual Presidents' Innovative Startup Awards. The award recognizes startups that have a high potential for growth and an economic impact in West Texas.
Education
By Mark Hendricks
September 23, 2022
Fifth graders from Bean Elementary School became doctors for a day. The Texas Tech University Health Sciences Center (TTUHSC) Student National Medical Association (SNMA) hosted the Doctors for a Day Minicamp on Sept. 23.