Patients Want to Age In Place, and Occupational Therapists are Helping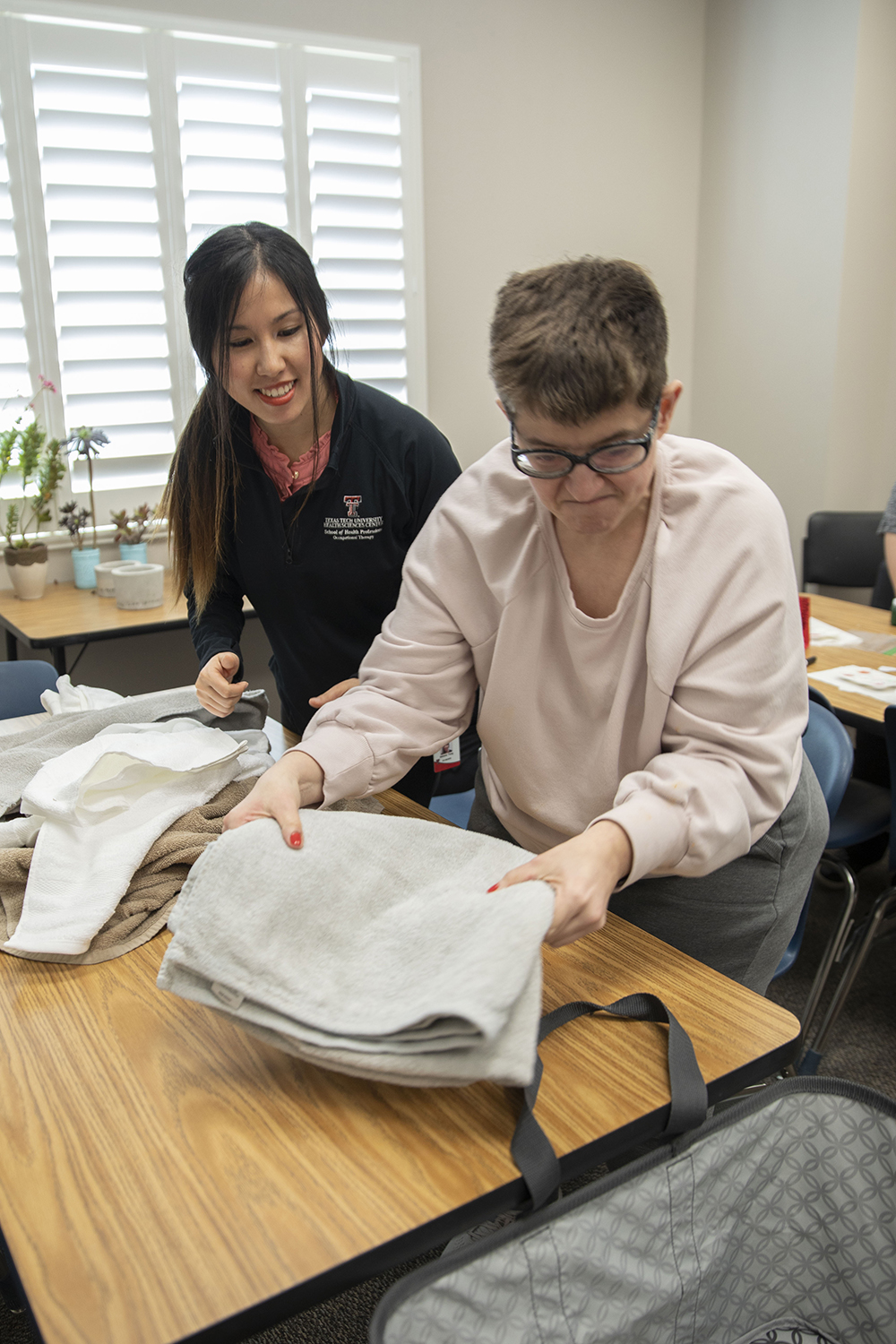 As the U.S. population continues to age, older Americans want to live independently and stay in their own homes — or what occupational therapists refer to as aging in place. "Aging in place is being able to stay in the environment that you most prefer as you grow older," says Laurie Stelter, a certified occupational therapist and an assistant professor in the occupational therapy OTD program at Texas Tech University Health Sciences Center School of Health Professions (TTUHSC SHP).
The number of Americans ages 65 and older is projected to nearly double from 52 million in 2018 to 95 million by 2060, according to the nonprofit Population Reference Bureau. They will make up nearly a quarter of the total population.
An aging population requires an increasing need for health care and social services. Adults over age 65 have different health care needs than children or younger adults because they may have chronic health issues. Ninety percent of adults over age 65 experience one or more chronic conditions, such as hypertension, arthritis, and heart disease and need specific medical care, according to the Rural Health Information Hub. Occupational therapists can help people modify their lifestyles and home environments to better manage these issues and live on their own for longer.
What is Occupational Therapy?
"Occupational therapy helps individuals do the things that they need and want to do in life safely," Stelter says.
She adds that occupational therapists work with people across the age spectrum, ranging from children to older adults, who face physical, cognitive, or physiological challenges. Stelter says that occupational therapy takes a broad and holistic approach. While physical therapy takes a very focused approach to physical challenges, occupational therapy might address psychological, cognitive and social issues such as motivation in addition to physical challenges.
For older clients, occupational therapists might help address age-related changes or chronic conditions that impact the things that they want or need to do. "An occupational therapist would work with those individuals in particular areas to learn to either overcome or eliminate those barriers or compensate for them," Stelter says.
Nine in 10 Seniors Want to Age in Place
A 2016 report from the Joint Center for Housing Studies of Harvard University discovered that the growing elderly population prefers to age in place, but their ability to do so is impacted by costs, the physical suitability of their homes and accessibility to services. Another survey found that nine in 10 seniors want to continue living in their current homes rather than moving into senior housing or assisted living facilities. They like where they live, they have family and friends nearby and they don't want to deal with the hassle of moving. Some seniors reported they cannot afford the cost of relocating.
Stelter says research shows people who are able to age in place experience positive outcomes, including strong ties to their communities, less cognitive decline and memory loss, less social isolation and greater independence. "Individuals who have that desire to stay within their home environment and are able to put into place the strategies that make them successful in doing that have a better quality of life and wellbeing," Stelter says.
However, while aging in place has many benefits, it requires a variety of services and support to be successful. That's where occupational therapists come in.
How Do Occupational Therapists Help People Age in Place?
Occupational therapists can help clients make modifications that allow them to continue to bathe and dress and perform the activities of daily living. In addition, they also help with issues such as financial management, medication and health management, home management, and shopping and preparing meals. "Those are the kinds of things that can have a huge impact on someone's ability to live independently," Stelter explains.
Occupational therapists might look at a client's living space during a home evaluation and make suggestions for modifications and adaptive equipment that would allow someone to age in place more comfortably. "It doesn't have to be something structural where you're having to bust out walls," Stelter says. "It could be as simple as working with an individual to remove clutter or rearrange furniture or put grab bars in certain places that might be helpful."
Safety is an important consideration for older adults, especially those with vision or mobility impairments. Stelter says falling in the bathroom or stumbling down stairs are common concerns among older clients, but accidents like these can be mitigated with adaptive equipment like shower seats, elevated toilet seats, and handrails.
"Things like that can really make a huge difference for an individual and make them safer," she says.
Fall prevention, Stelter adds, is a big part of the value occupational therapy can add to helping people age in place. "We have that kind of holistic perspective of not just how the physical aspect is impacting their fall risk but also the cognitive pieces, such as their fear of falling. We also look at the environmental components that could be contributing to their risk," she says.
What Are the Steps to Aging in Place?
First, a primary care physician or a social worker typically refers patients to occupational therapists, who will become part of that patient's health care provider team. These occupational therapy services are usually covered by private insurance, Medicare, Medicaid, Social Security, health and human services agencies and private organizations.
Next, to help assess someone's ability to age in place, an occupational therapist gets to know the patient and their surroundings by performing a home evaluation. "We want to get a sense of what this person likes to do and what activities are most meaningful to them and then identify potential barriers that could come up against their ability to do those things or could present some sort of safety risk — if not now, then maybe in the near future," Stelter says.
After the home evaluation, the occupational therapist would work with the individual and any family members or other caregivers to identify goals and start problem-solving. "It could be suggestions for home modifications or adaptive equipment or rearranging furniture, things like that. It could include some education around fall prevention or some specific interventions that might make them less at risk for falls," she adds.
In addition, occupational therapists can address issues like impaired vision, driving and community mobility. "If the individual wants to be able to continue to drive independently and there's some question around that, some occupational therapists are trained to evaluate safety and work with individuals in skill-building and adaptive approaches to make them continue to be safe driving for as long as possible," she says.
For clients who can no longer drive safely, occupational therapists can help connect them with alternative means of transportation, such as a local bus or shuttle service that offers at-home pick up, so they can continue shopping, going to church or participating in their communities.
Maintaining an active social life can be an important element of being able to age in place. Stelter says, "The idea is that they can continue to do the things that are meaningful to them even if they can no longer drive."
Occupational therapists can also help younger adults create a long-term plan for aging in place, such as exploring what type of assistance they might need in the near future, especially if they live alone or are managing a chronic health issue.
Occupational Therapy at TTUHSC SHP
At TTUHSC SHP, Stelter teaches courses related to clinical reasoning and psycho-social types of interventions and serves as the fieldwork coordinator for its graduate program in occupational therapy.
Beginning in the summer of 2020, she says, TTUHSC will offer a three-year entry-level doctoral program in occupational therapy. The program involves two years of classroom and clinical laboratory work and one year of clinical fieldwork. Students will gain a background in basic sciences, theory, clinical reasoning, assessment and intervention, professional practice and research. The program is transitioning from its current master's program in occupational therapy.
Stelter adds that through coursework and fieldwork, "Students get the opportunity to work with elderly populations and hone those skills a little bit more and learn what their unique needs are.
In addition to a course that covers occupational assessment and intervention in older adults, Stelter says occupational therapy students will encounter older adults among the range of clientele they'll meet in clinical settings such as in-patient rehab, home health settings, and skilled nursing facilities.
TTUHSC SCP also offers an online Post-Professional Doctor of Occupational Therapy (OTD) for certified practitioners. This program is designed for licensed occupational therapists who have earned a bachelor's or master's degree in occupational therapy and want to pursue graduate studies.
Once students finish their graduate program, they are licensed practitioners. The American Occupational Therapy Association offers board certification in gerontology for occupational therapists, as well as specialty training in areas that target elderly populations, such as driving and mobility training and environmental modifications.
Stelter adds that anyone going into occupational therapy needs to have compassion, problem-solving skills, and the ability to collaborate with other health care providers. Occupational therapists also need to be able to think on their feet and meet clients where they are. "You need to be able to take challenges and look at them from a wide range of options and think outside of the box about what some of those options might be and figure out something that will work with the resources available at the time," she says.
Employment Outlook for Occupational Therapy
Occupational therapy employment is projected to grow 18% from 2018 to 2028, much faster than the average for all occupations, according to the Bureau of Labor Statistics. The median salary is $84,270 per year with a master's degree. More than half of occupational therapists work in occupational therapy offices and hospitals, where they provide rehabilitation services to older clients suffering from ailments such as stroke, arthritis, Alzheimer's and other long-term disabilities.
The need for occupational therapists who specialize in gerontology to help patients age in place is particularly high in rural areas, which often have fewer health care providers and an older population.
"We're always looking for ways to encourage our students to consider locations and practice settings that are a little bit unique so that they can serve the more underserved populations and take that on as a personal mission," Stelter says.
"The occupational therapy profession is strong right now as far as opportunities for employment. The demand is high and our graduates are getting out and easily finding jobs within a relatively short amount of time," she adds.
Learn More
For more information about the OTD program in occupational therapy at the Texas Tech University Health Sciences Center School of Health Professions, you can reach the SHP Office of Admissions and Student Affairs at health.professions@ttuhsc.edu or by phone: 806-743-3220.
Related Stories
By QEP Committee
March 21, 2023
As spring approaches, some people's thoughts turn to gardening. Whether it's a flower garden they desire or a vegetable garden want to have, they begin planning what they'll plant and what they need to do to ensure a successful garden.
By QEP Committee
March 21, 2023
A "growth mindset" accepts that our intelligence and talents can develop over time, and a person with that mindset understands that intelligence and talents can improve through effort and learning.
By Melissa Whitfield
February 13, 2023
Abstaining from drug abuse and an early diagnosis of familial hypercholesterolemia (high cholesterol) can help prevent heart disease.
Recent Stories
Research
By Mark Hendricks
March 21, 2023
TTUHSC Cytogenetic Technologist Jasbir Bisht and a team from P. Hemachandra Reddy's internal medicine laboratory analyzed the impact of cancer in Hispanics in comparison to other ethnic groups.
Education
By School of Health Professions
March 21, 2023
World Down syndrome Day was established to raise awareness about Down syndrome and to promote inclusion and acceptance of people with Down syndrome in all aspects of society.
By QEP Committee
March 21, 2023
As spring approaches, some people's thoughts turn to gardening. Whether it's a flower garden they desire or a vegetable garden want to have, they begin planning what they'll plant and what they need to do to ensure a successful garden.