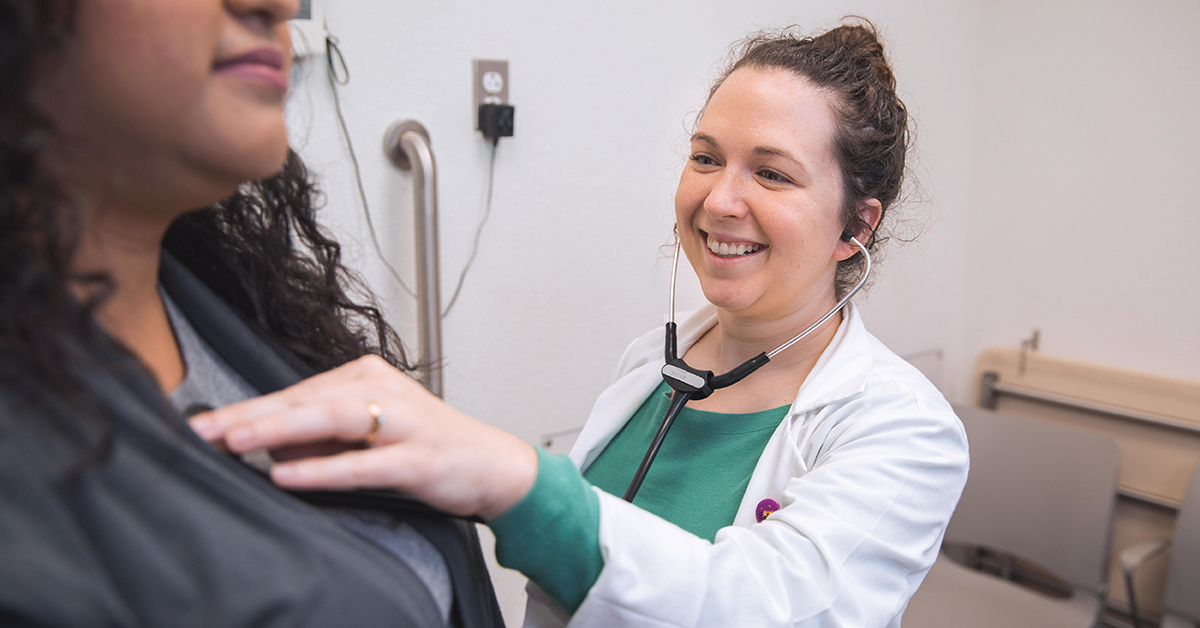 With a range of patient care skills from pediatrics to geriatrics, family physicians are on the front line of primary care and are often the first point of contact for patients seeking medical treatment. Family doctors treat members of the entire family, from newborn babies and teenagers to expectant mothers and elderly patients. As primary care providers, they also play an increasingly important role in the delivery of health care in rural areas.
What is Family Medicine?
According to the American Academy of Family Physicians (AAFP), family medicine is "the medical specialty which provides continuing, comprehensive health care for the individual and family. It is a specialty in breadth that integrates the biological, clinical and behavioral sciences. The scope of family medicine encompasses all ages, all genders, each organ system, and every disease entity."
Jamie Haynes, M.D., is a family physician and associate professor at the Texas Tech University Health Sciences Center (TTUHSC). She is also an associate director of the TTUHSC Family Medicine residency program in Lubbock. "Family medicine certainly is the broadest of our primary care fields because it incorporates basically all of primary care, including pediatrics, obstetrics, women's health, general internal medicine, and geriatrics. So family medicine is a very broad approach to primary care," she says. "There's always variety in what you see."
Rafael Rosalez, a third-year family medicine resident at TTUHSC, likes the diversity that family medicine offers. "We don't deal with a single population. It's not obstetrics where we're dealing only with pregnant women. It's not pediatrics where we're only dealing with children. It's not internal medicine where we're dealing only with adult patients. It's all of those things," he says. "I can go into one room and see a baby that I delivered two weeks ago and then I can go into the next room and see an 89-year-old grandmother."
With the broadest focus of all medical specialties, family physicians have more office visits and work in more health care settings than physicians in any other area of focus, according to the AAFP. Graduates of family medicine programs might work in hospitals, emergency rooms, outpatient clinics, urgent care centers, nursing homes, and community clinics. Family physicians can be involved with public health, inpatient medicine, emergency and urgent care medicine, sports medicine, and maternity care, among others. They also provide preventive care, help patients navigate the health care system, and manage chronic medical conditions, ensuring continuity of care. The AAFP notes that family medicine has been the most recruited specialty in the United States in the last decade.
What Do Family Physicians Do?
According to the AAFP, family physicians offer a wide variety of services to their patients as part of their primary care practice. In addition to serving as the first point of contact for medical issues, family physicians help coordinate care with specialists.
Eighty-two percent routinely perform procedures, including pregnancy evaluation and delivering babies, suturing lacerations, ultrasound imaging, joint injections, endoscopies, and vasectomies. Nearly half treat patients in a hospital setting, 31% deliver emergency care, 74% care for infants and children, 83% have hospital privileges, and 18% provide OB care.
One of the unique aspects that the specialty of family medicine offers is a higher degree of flexibility than many other medical specialties when it comes to location, work environment, and areas of focus. It also offers a good work-life balance and a strong sense of personal satisfaction. In 2017, more than three-quarters of AAFP members were satisfied or very satisfied with their careers, and nearly 80% reported having a good sense of well-being.
"Family medicine is an attractive option because you really get to pick and choose what you like since it's so broad spectrum. If you want to see more kids, if you want to do more outpatient medicine, or if you want to do more inpatient medicine, you can tailor your practice to what it is that you are interested in," Haynes explains.
Family Medicine is All About Relationships
Since family doctors work with every member of the family, Haynes says that an important aspect of the practice is building relationships with patients. "Family Medicine can be an attractive option for medical students because of the relationships you get to build with families — you are the first person most people come into contact with when they enter the health care system," she says.
"One of the qualities that makes a great family physician is their ability to communicate with patients and establish rapport with the families in an effort to help educate their patients and get their patients to a place of shared decision-making so that they can help them attain their health care goals," she adds.
Family doctors also play a role in seeing how family dynamics might impact a patient's health, as well as socio-economic and community factors. Rosalez says he was attracted to family medicine because "it's all about the patients."
"Family medicine is something that's appealing if you like the diversity of patients and the continuity of care that it offers," he adds.
What is the Job Outlook for Family Physicians?
Family medicine is a growing profession and graduates of family medicine residency programs are in demand. The Association of American Medical Colleges estimates that the United States will face a shortage of up to 122,000 physicians by 2032 as demand continues to increase due to a growing and aging population. Of those, there will be a shortage of 21,000 to 55,000 primary care physicians, which includes family medicine doctors.
According to the Bureau of Labor Statistics, overall employment of physicians and surgeons is projected to grow 7% from 2018 to 2028, faster than the average for all occupations. Health diagnosing and treating practitioners, which would include primary care providers such as family physicians, is expected to grow 13% over the same period. The median annual income for family physicians is $200,000, according to the AAFP 2018 Practice Profile Survey.
What Does It Take To Become a Family Physician?
Students interested in family medicine programs should follow a pre-med track during their undergraduate education, which includes coursework in biology, chemistry, physics, biochemistry, anatomy and physiology, and math.
Haynes recommends that prospective students shadow physicians or gain other health care experience to decide whether or not medical school is the right fit. "Prior shadowing experience is helpful so students can get to understand what it is physicians really do and decide if that's something they want to do before they necessarily step into the intense medical school training that proceeds to residency," she says.
After earning an undergraduate degree, students interested in becoming family physicians need to apply for medical school. Traditionally, medical students enter residency training, including family medicine residency programs, after four years of medical school. Family medicine residency programs include an additional three years of training, which allows graduates to become board-certified in family medicine. In addition to its traditional four-year program, the Texas Tech University Health Sciences Center offers the Family Medicine Accelerated Track (FMAT), an innovative three-year accelerated family medicine program where medical students earn an M.D. degree before completing a three-year family medicine residency in Lubbock, Amarillo or the Permian Basin.
According to Haynes, the FMAT program is designed for "students who know they have an interest in being a family physician." She says students need to decide whether or not to apply to the accelerated FMAT program by the middle of their first year of medical school. Medical students follow the same curriculum for the first three years of medical school as their traditional classmates, but they also complete a course in the summer between their first two years of medical school and a family medicine clerkship in their second year. The clerkship includes exposure to outpatient clinic and inpatient hospital service, geriatrics and palliative care. Their final course in the third year provides additional experiences in ICU and critical care and hospital medicine. "Students in the FMAT program actually get patient care exposure earlier than do those in our regular curriculum," Haynes says.
The accelerated track allows students to complete their medical school degree one year earlier than students in a standard curriculum, with about half as much debt. One less year in medical school translates into one less year of tuition and fees. The TTUHSC School of Medicine also provides scholarship support to FMAT students for at least one year of medical school, in addition to a guaranteed residency position in one the TTUHSC Family Medicine residency programs upon successful completion of their medical degree. "It shortens your training by a year, which is a year of money you're going to be making once you get out in practice," Haynes says.
Rosalez came back to medical school 15 years after he finished his undergraduate education. He worked as a teacher and then as a lab manager at a molecular genetics lab before returning to medical school. He was attracted to TTUHSC because of its accelerated track and because he saved a year of tuition and had the opportunity to transition directly into the Lubbock residency program; that was especially important because he wanted to stay in Texas. He adds that the FMAT program was intense because he started his clinical training in his second year of medical school. "The work involved is similar [to the four-year family medicine degree] but the timeline definitely adds some stress to the scenario just because it's truncated. While other people might just be going to lectures, we had clinical responsibilities," Rosalez says.
TTUHSC Has a Focus on Rural Health
All residents in the TTUHSC Lubbock Family Medicine program do a rural rotation as part of their residency training. "As family physicians in West Texas, we see such a broad spectrum of patients and diseases that our residents really are prepared for a rural practice, whether they do a rural rotation or not. The rural rotation lets them experience that environment more thoroughly to decide if that's exactly how they want to practice medicine," Haynes says.
Texas, in particular, faces a shortage of primary care physicians, ranking 47th out of 50 states for the number of primary care providers per 100,000 residents. The situation is particularly acute in rural areas that have seen a spate of hospital closures over the last several years. More than 30 counties in Texas lack a single primary care physician, according to the Texas Department of Health and Human Services. The agency also estimates that the state of Texas could see a shortage of 3,375 primary care physicians, which includes those practicing family medicine, by 2030.
Rosalez was also drawn to TTUHSC because of its focus on rural health. He says the family medicine program provides full-spectrum training to equip its graduates to go into practice in rural communities. When he finishes his residency next year, he wants to go into clinical medicine. "Essentially when we leave here, we are trained to be able to go to a small community and be the doctor in that town," he says. "We do a lot of clinical rotations where we have a lot of opportunities to do things that other residencies in more urban areas are not really set up to do."
Haynes says there are state and federal funding opportunities for students who want to practice rural medicine because of how badly rural areas need medical care providers. "A lot of the underserved areas do provide loan repayment once you finish residency and are out in practice," she says. "Family medicine is well-positioned to help positively impact the primary care shortage, especially in rural areas."
For More Information
To find out more about the Family Medicine Accelerated Track program at the Texas Tech University Health Sciences Center School of Medicine, email us at: somadm@ttuhsc.edu or call the School of Medicine Office of Admissions at: (806) 743-2297.