Clinical lab scientists are highly skilled professionals who help physicians accurately diagnose and treat patients. They run complex experiments on patient samples to identify pathogens and test patients' overall health. A Bachelor of Science in Clinical Laboratory Science is an excellent entry into a rewarding health care career offering a number of professional options. After students complete a preceptorship, similar to an apprenticeship, there are many career avenues they can explore. Clinical laboratory scientist jobs can be found at hospitals, doctor's offices, research labs, and even industry.
Career Opportunities for Clinical Laboratory Scientists
Hospital positions for this health profession mainly focus on completing and evaluating patient specimens. "Any kind of patient specimen, whether it's blood, serum, or sputum, gets sent to the laboratory for testing. Clinical lab scientists do the testing to provide accurate results in a timely manner," says Jessica Brashear, Assistant Professor of Clinical Laboratory Science at Texas Tech University Health Sciences Center (TTUHSC). "Some of our graduates will go on to be what's called a traveling technologist. You still work in hospital labs, but you go where you're needed so you can travel all over the country and field demands that way," explains Brashear.
Research positions also deal directly with patient samples. Brashear explains that clinical laboratory scientists can work in any kind of medical research. "After graduation, you can work on the clinical side in a hospital or any other setting. That's what makes our program so unique," explains Brashear.
Industry positions range from working with patient samples to developing new technologies to test those samples. Clinical lab science involves the use of a lot of complex instrumentation, and industry jobs offer the opportunity to develop new technologies and testing methods.
A bachelor's degree in clinical lab science also offers many opportunities for advancement. Clinical laboratory scientist jobs run the gamut from technician and supervisor to laboratory manager or lab director. "If you are interested in hospital administration, it's a really great place to start. You get to know all areas of the hospital because we service every single part of it. We have interactions with everybody, from the pediatric floors, all the way to geriatric centers," adds Brashear.
A Day In The Life Of a Clinical Lab Scientist
Brashear explains that many students choose to become generalists in hospitals after graduation. Their bachelor's degree prepares them to work in any section of the lab, and as a generalist, they will work in all departments — from hematology and microbiology to immunology. Generalists rotate through different departments and run panels and tests on patient samples in each department. They are also responsible for quality control, making sure all of the results are accurate before finally sending the results to physicians and other health care providers.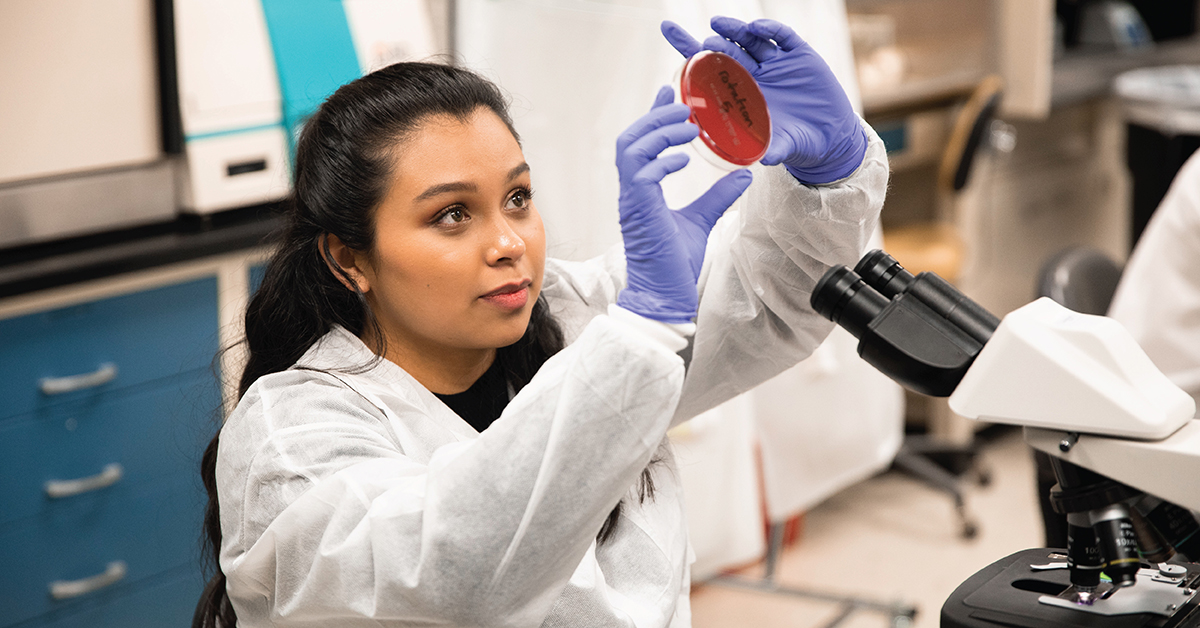 The tests they perform include hormone panels, blood serum tests, and even drug screenings. Brashear also states that a clinical lab science degree prepares students to provide health screenings and drug monitoring as well. "What we contribute is incredibly broad."
A clinical lab science degree affords many different choices when it comes to work schedules as well. "I used to work in a VA clinic where we worked eight to five, which was really nice," Brashear states. For others who prefer shift work, hospital labs run 24/7 and clinical lab professionals have the choice of day or night shifts.
Contributing to Patient Care
Although clinical lab scientists generally do not have direct patient contact, they do have a very direct impact on patient health. "Projections show from about 70% to 90% of a provider's diagnosis for patients comes directly from what we do," says Brashear. A clinical lab science degree prepares students to provide critical health care services in a professional setting that meets their personal career interests and preferences. "For somebody who wants to have a major impact on patient care, but limit their actual face-time with the patient, the lab is perfect. There are a lot of introverts drawn to lab work because the nature of the work demands that we work very independently on our own, which suits that kind of temperament. But even if we don't have much direct patient contact, we do have a very major role to play in patient care," states Brasher.
A bachelor's degree in clinical laboratory science can be a stepping stone to a meaningful and diverse career as a professional who is an essential part of the health care team.
If you would like to learn more about what it takes to become a clinical lab scientist, or how to apply for TTUHSC's program, please visit the program page. You can also email the SHP Office of Admissions and Student Affairs at health.professions@ttuhsc.edu or call 806-743-3220 to learn more.