What Makes a Great Nurse?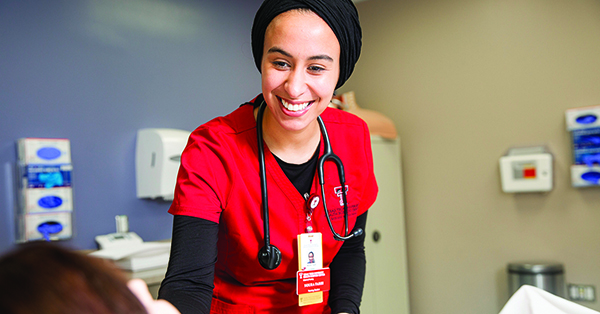 Nurses are a vital part of the health care team. But what makes a great nurse? To get a better idea of what employers are looking for in today's nursing professionals, we spoke with Terry Hill, DNP, RN, an assistant professor at Texas Tech University Health Sciences Center's (TTUHSC) School of Nursing.
At a Glance: Top Qualities for Nursing
The U.S. Department of Labor's Occupational Outlook Handbook (OOH) provides a list of essential qualities for each of the occupations it tracks. For a registered nurse, it suggests:
Critical-thinking skills.
Communication skills.
Compassion.
Detail-oriented.
Emotional stability.
Organizational skills.
Physical stamina.
But this bulleted list is just a start. We spoke with Hill about how these some of these most important qualities and characteristics transfer into the field as nurses work with patients, other providers, and each other.
Many Great Nurses Possess Certain Natural Characteristics and Abilities
Technical skills can be taught, and softer skills like communication and organization can be honed through experience. However, many nurses have natural abilities and personality traits that not only help them succeed but which may also have drawn them to this helping profession in the first place.
Hill, who teaches mostly in TTUHSC's traditional bachelor of science in nursing (BSN) program, says many of his students find their way to nursing school because a nurse impacted their life in some way.
"Talk about intrinsic drive," he says of the remarkable stories students tell him during the in-person interview portion of the application process. "They know what they want, and that is to help other people. There's no class to teach that."
Great Nurses Master Key "Soft Skills"
There's a reason the term "soft skills" has become a buzzword in employment-related news articles, TV and radio segments, blog posts, and podcasts. Today's companies are looking beyond position-specific skills as they hope to hire problem solvers, critical thinkers, and excellent communicators.
The nursing field has evolved, explains Hill. Traditionally, nursing education was task-oriented and focused on how to follow orders. He uses starting an IV as an example. "That's a skill anyone can learn," he explains. "But can you teach someone how to treat another human? Today, nurses need to know how to think and reason."
It's no surprise that quality nursing programs design their curriculum and outcomes with many of these soft skills in mind. For instance, if you compare the OOH what-makes-a great-nurse qualities list with TTUHSC academic program goals, they are well-aligned.
The program is designed so that graduates of TTUHSC's School of Nursing leave with core competencies such as:
Critical thinking skills.
Communication skills.
Empirical and quantitative skills.
Teamwork.
Personal responsibility.
Social responsibility.
The nursing school catalog breaks those goals down even further. For example, critical thinking includes innovation, inquiry, and evaluation. Teamwork involves seeing other points of view, and quantitative skills mean using available data to make informed decisions.
Let's look into a few of these soft skills in more detail, including why they matter and how nursing programs address them.
Great Nurses Communicate Well
Communication is at the heart of all human interaction. Ironically, the technology we use today to facilitate human communication can have just the opposite effect. Hill is likely not alone in thinking that we, as humans, have forgotten how to communicate with people.
"I blame that on text messages and Tweets," he explains. "Believing we can convey our thoughts appropriately in a Tweet is not communication. It's just talking at people. We need to talk with people again."
This is true in our personal and professional lives. No matter the industry, miscommunication is a common root cause of workplace mishaps and it is no less true of health care. Hill says that an analysis of medical errors "pinpoints poor communication as a factor in nearly every situation." Especially since nurses perform critical tasks within the continuum of care, it's crucial they know how to interact with others.
"You've got to be able to communicate not just with other nurses, but also with other providers," says Hill. "It's an essential thing."
Communication, especially today, comes in many forms and involves much more than words. For example, nonverbal language (such as body language) can send signals that we're paying attention, understand, and care. In nursing, it can be especially critical.
In fact, listening is a key communication skill. According to "Communication in Nursing Practice," published in 2014 by the U.S. National Institutes of Health (NIH), "The patient conveys their fears and concerns to their nurse and helps make them a correct nursing diagnosis… Effective communication requires an understanding of the patient and the experiences they express."
Communicating well with colleagues also requires an understanding of everyone's role, whether it's other service providers and caregivers or other nurses.
"Good nurses understand the objectives of an emergency department nurse vary widely from those in a surgical intensive care unit," Hill explains. "They also know there's a synergy between the two roles that makes them uniquely dependent on one another."
Great Nurses Are Self-Aware
Emotional intelligence (EQ) — the ability to recognize, understand, and manage emotions — is another sought-after soft skill in many fields, nursing included.
"We are intimately interacting with people who need us," says Hill. "Sometimes, you will find yourself in situations that make you question what you believe in."
How we react in those moments can make a difference in the patient experience. Hill advises approaching these situations — and, really, all patients and family members — in a "non-judgemental way, no matter what." Treating everyone with kindness and dignity takes emotional intelligence, and more specifically, self-awareness.
Emotional intelligence is often cited as crucial to patient-centered care, and it also can impact the bottom line. The American Journal of Nursing reported in 2017 that EQ leads to better communication, teamwork, and conflict resolution. The result? Fewer medical errors and enhanced patient safety.
Another example of how emotional intelligence can impact or improve communication skills is instances where you need to deliver complicated information or difficult or sensitive news. The NIH article cited earlier also states, "Another important requirement for proper and successful communication between nurses and patients is frankness and honesty."
Along with emotional intelligence, personal integrity is another factor in what makes a great nurse. As Hill explains, "Our personal values guide us through how we choose to interact with patients, their family members, and other providers."
It's important to understand how your values fit with values embraced by your employer or the profession at large. Nursing schools often work core institutional beliefs into their curriculum; this allows students to develop professional integrity and understand how values can impact clinical practices. TTUHSC School of Nursing's value statement encourages students to:
Seek transparency through open communication, respect, and clarity.
Advance a work ethic of excellence, accountability, and integrity.
Promote a spirit of teamwork, trust, and compassion.
Hill believes this value-based initiative results in better nursing education: "You have to know your key values if you're going to take care of another human being," he says.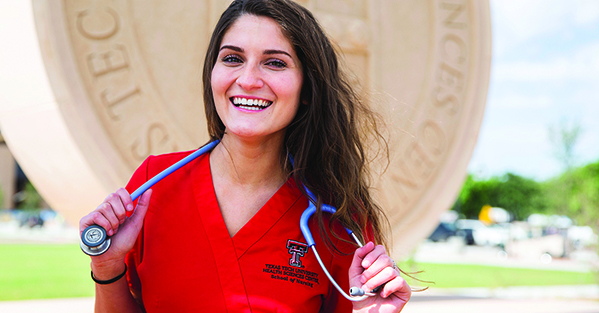 Great Nurses Find Work-Life Balance
Hill says nursing degree students quickly discover that caring for people can take an emotional toll on them.
"I use the word 'people' to not only include patients but also caring for families and even coworkers," Hill says. "Every encounter takes a little piece of you, and you're going to have to decide how much you are willing to give. If it's too much, soon there's nothing left."
Burn-out is a very real thing in the health care profession. In fact, a recent report from the National Academy of Medicine found that one-third to one-half of nurses and doctors in the U.S. suffer from burnout. According to the report, health care professionals are particularly vulnerable as a result of their workloads and the pressures and high-stress situations they deal with every day. Hill stresses the absolute necessity of finding balance if you wish for longevity in your nursing career.
"You have to be able to balance your emotions, reactions, actions, and feelings to arrive at the best outcome for everyone involved, including yourself," he says. "That's probably very idealistic thinking, but it doesn't mean balance can't be a goal."
How Nursing Programs Can Develop Soft Skills
Nursing programs at Texas Tech University Health Sciences Center incorporate soft skills training in several ways.
Communication in Nursing is one of the prerequisite courses in the BSN program — one of the classes you take before moving into the more advanced nursing classes. According to the official catalog description, this class "prepares nurses to become competent communicators with patients and physicians, and to navigate health care teams, patient education, and workplace conflict."
You can look to a required leadership course for an example of how TTUHSC's BSN and other nursing programs help students build self-awareness. Hill says this class has evolved to focus more on emotional intelligence. In-class scenarios allow students to get an idea of how they'd react in a situation, and how that might differ from how their classmates respond.
"It's interactive. It's fun. It makes them think," he says of the situational learning experiences. "They can see how they might come across or how their actions might impact others. They learn when to speak and when to listen."
You'll encounter many other required and elective classes that will help you build soft skills, like communication and emotional intelligence, or nurture (or uncover) your innate abilities, like empathy and compassion. These classes could include Health Promotion Across the Lifespan, Nursing Care of Families with Children, and Holistic Nursing Practice.
A large part of your nursing degree program is your clinical experience; you'll have the opportunity to further develop technical and soft skills in professional medical settings.
Career Advancement: What Makes a Great Nurse Leader or Educator?
Many existing nurses look to advance into leadership roles, expand into advanced nursing practice, or pursue teaching or research. This usually means returning to nursing school for a master of science in nursing (MSN) or a doctor of nursing practice (DNP).
These graduate nursing degree programs build off the foundation of the BSN education while preparing students for more advanced health care roles. Often, these roles require additional skills and characteristics. For instance, if you're interested in nursing administration, management and leadership skills are crucial. For some positions, budgeting and finance knowledge is necessary.
What Makes a Great Nursing Student?
Before you can become a nurse, you first must be a nursing student. We also asked Hill what makes a great nurse-in-training. How can a high school student or working professional prepare for success in nursing school and, ultimately, in their career?
If someone is still in high school when they discover they'd like to get into the nursing field, Hill suggests that students take advantage of any entry-level nursing programs their school district might offer. For example, many vocational-technical high schools offer a CNA — certified nursing assistant — program. According to Hill, this helps make for a smooth transition into nursing school.
"The best education is experience," Hill says. "Taking a CNA course is good. Working as a CNA is even better."
Many nursing students, especially those interested in an RN to BSN program, are looking to advance in their existing medical careers. The hands-on experience they'd bring to the program will benefit not just their own academic success, but also could help their classmates.
If a high school student or returning adult student hasn't had hands-on experience yet, Hill suggests shadowing a nurse to experience what it might be like to take care of another person.
Aside from previous education or work experience, the right mindset is also key to success in nursing degree programs. Hill says the best students "understand what nursing school isn't," that it's more than mastering a skill or cramming information.
"You can't memorize your way through nursing school," he says. "Successful nursing students will embrace the fact that they are learning how to think. They're always asking questions, and they're not afraid to ask for help if they're struggling."
Once you have an understanding of what makes a great nurse, the next step is to look further into the career field and the educational programs that can help you get there. Texas Tech University Health Sciences Center is home to the only nursing school in West Texas to offer bachelor's, master's, and doctoral education in a variety of formats. Explore our flexible nursing programs on our program page.
Related Stories
By QEP Committee
March 21, 2023
As spring approaches, some people's thoughts turn to gardening. Whether it's a flower garden they desire or a vegetable garden want to have, they begin planning what they'll plant and what they need to do to ensure a successful garden.
By QEP Committee
March 21, 2023
A "growth mindset" accepts that our intelligence and talents can develop over time, and a person with that mindset understands that intelligence and talents can improve through effort and learning.
By Melissa Whitfield
February 13, 2023
Abstaining from drug abuse and an early diagnosis of familial hypercholesterolemia (high cholesterol) can help prevent heart disease.
Recent Stories
Research
By Mark Hendricks
November 16, 2023
Ninh (Irene) La-Beck, Pharm.D., with the TTUHSC Jerry H. Hodge School of Pharmacy, received a five-year, $2.49 million grant to investigate how nanoparticles interact with the immune system and cancer.
Research
By Mark Hendricks
November 10, 2023
To help investigate the influence basal sex hormone alterations may have on chronic post-op pain, the NIH recently awarded a grant to Jenny Wilkerson, Ph.D., from the Jerry H. Hodge School of Pharmacy.
Health
By Tyler White
November 09, 2023
Scott Shurmur, M.D., a cardiologist at the Texas Tech Physicians Center for Cardiovascular Health, shared his expertise and his experience as a former collegiate athlete.