TTUHSC Amarillo Employees Honored as Texans Caring for Texans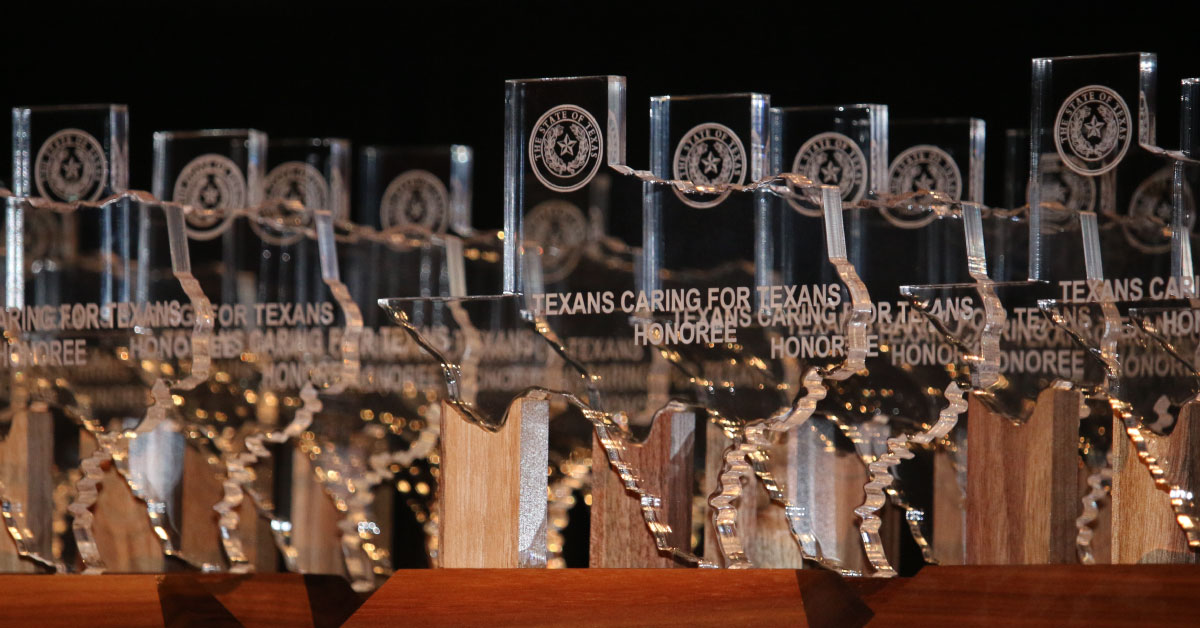 Each year state agencies from the upper 26 counties in the Texas Panhandle are invited to select an employee or team of employees to receive a Texans Caring for Texans award. The award program, created in 1996 by former State Representative David Swinford, recognizes these state employees for the effort they put forth to positively impact their communities.
The 2020 Texans Caring for Texans recipients were recognized Aug. 27 in a virtual ceremony. The TTUHSC campus in Amarillo honored Misty Miller, PT, DPT, from the TTUHSC School of Health Professions Doctor of Physical Therapy Program.
The TTUHSC School of Medicine honored its COVID Warriors: Manish Patel, M.D., Mark Sigler, M.D., Thien Vo, M.D., Kishore Yalamanchili, M.D., Tarek Naguib, M.D., Evelyn Sbar, M.D., Scott Milton, M.D., Whit Walker, M.D., Todd Bell, M.D., Shanna James, Pharm.D., John Slaton, M.O., Sean Anderson, M.D., Jerry Kirkland, M.D., Paula Winkleblack, Aaliya Thompson, Felicia Lopez, Gloria Gonzalez, Craig Perrien and Mary Ibarra.
The TTUHSC Jerry H. Hodge School of Pharmacy recognized Eric MacLughlin, Pharm.D., Mikala Conatser, Pharm.D, Ulrich Bickel, M.D., Jill Frost, Pharm.D., Maegan Whitworth, Pharm.D., Heather Houser, Desmon Dunn and Kim Akins.
The TTUHSC-Amarillo traffic, facilities and custodial teams were also recognized at the event. Members include Robert Griffin, Noah Vandagriff, David Browning, Jason Hesse, Hunter Corona. Casey Shore, Mike Frost, Dustin Quebedeaux, Michael Corona, Amador Villasenor Charles Kilborn, Kendall Harris, Racheal Barron, Ray Turman, Joe Olivera, Ramon Martinez Maria Martinez and Paul Hernandez.
Texans Caring for Texans Video Ceremony
Related Stories
By Lori Rice-Spearman, Ph.D., Steven L. Berk, M.D.
March 22, 2022
TTUHSC Celebration of Life Service was held March 25th in remembrance of Tom McGovern, Ed.D.
By Suzanna Cisneros
March 18, 2022
TTUHSC has been named as a Military Friendly® School for 2022-2023. Among graduate schools, TTUHSC ranked fourth in the nation, achieving Gold award status.
By Meaghan Collier
March 17, 2022
On March 16, fourth-year TTUHSC Jerry H. Hodge School of Pharmacy students interested in completing a residency after they graduate in May, learned where they would spend the next stage of their training during the Pharmacy Residency Match Day.
Recent Stories
Health
By School of Health Professions
February 02, 2023
Moumita Choudhury Au.D., CCC-A, spoke about the present and future of social media's impact on healthcare in general and on hearing healthcare specifically.
Research
By Mark Hendricks
January 31, 2023
Gail Cornwall, Ph.D., professor in the Department of Cell Biology and Biochemistry at the TTUHSC, has been named a member of the American Association for the Advancement of Science Fellowship Class of 2022.
Research
By Mark Hendricks
January 27, 2023
To help address communication hurdles, the Patient-Centered Outcomes Research Institute (PCORI) has awarded a $438,756 subcontract to Tetyana L. Vasylyeva, M.D., Ph.D., from the TTUHSC School of Medicine.