Glenna Goodacre's Legacy Lives on in West Texas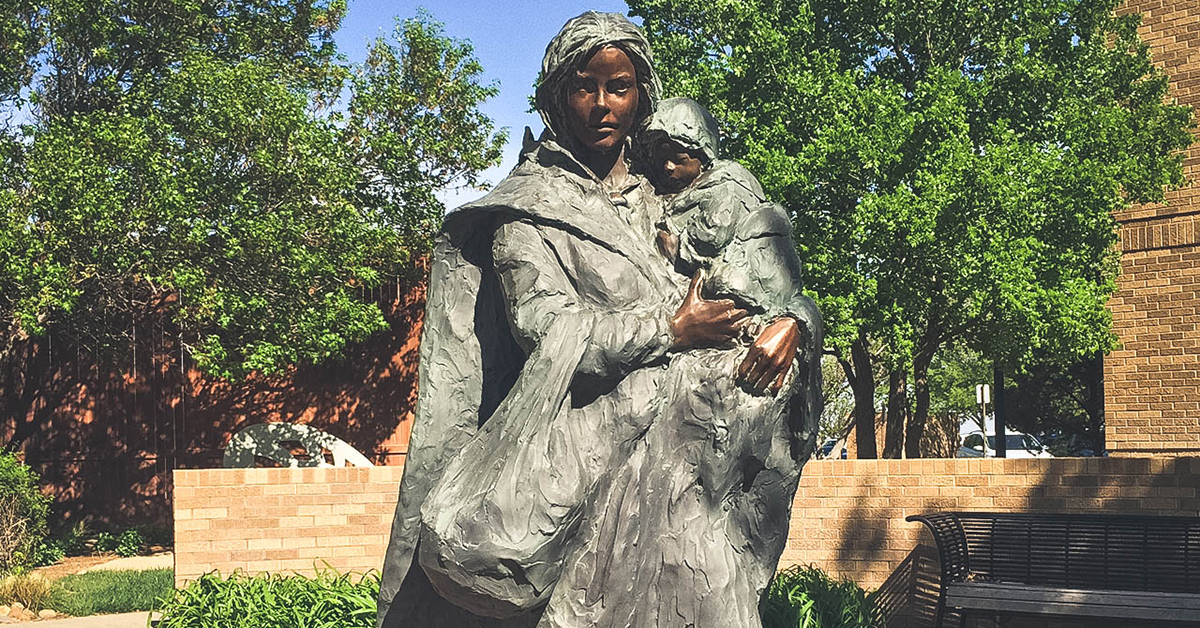 "Crossing the Prairie," by Glenna Goodacre - TTUHSC Amarillo Campus
Glenna Goodacre, a West Texas native and renowned sculptor, died on Monday, April 13. She was 80. While the region mourns the loss of a gifted, trailblazing artist, people also cherish the wonderful art she created throughout her life, and the legacy and inspiration she leaves behind.
Indisputably, Glenna Goodacre left a mark on West Texas that stays behind, even after her passing.
"It would be hard to imagine our campus without 'Preston Smith' greeting you from the Administration Building, or the 'Park Place' sculptures and benches at the campus entrance," says Emily Wilkinson, the director for public art for the Texas Tech University System (TTUS).
To younger locals and current students, the name might bring to mind the stretch of Eighth Street in Lubbock that was renamed in her honor in 2008. To those observant of the arts, her name brings to mind iconic bronze pieces that can be found all across the region. But she was more than just a familiar name: Goodacre's life was full of hard work and spirit, and the evidence remains in her awe-inspiring works of art and the loving memories she leaves with her family.
Born in Lubbock, Goodacre's father was his own form of local legend. Homer Glen Maxey was a civic leader on the Lubbock City Council and the first president of the Red Raider Club. Goodacre attended Monterey High School in Lubbock before branching out to other parts of the country for her continued education. After completing her studies at Colorado College and taking classes at Art Students League in New York, Goodacre settled down in Sante Fe, New Mexico.
Goodacre's work is viewed widely by citizens across America, not just those close to West Texas. To many, she is known for the Vietnam Women's Memorial on the National Mall in Washington, D.C. Some know her for her creation of the Irish Memorial in Philadelphia, or the Sacagawea Dollar Coin. Glenna Goodacre's work can be seen in museums, public memorials, municipal collections and private spaces all across the nation.
To individuals in West Texas, however, she was a local legend who contributed to our community by turning public spaces into masterpieces. These sculptures are more than just ways to liven up a public space—Goodacre worked hard to create real art that was interactive and relatable.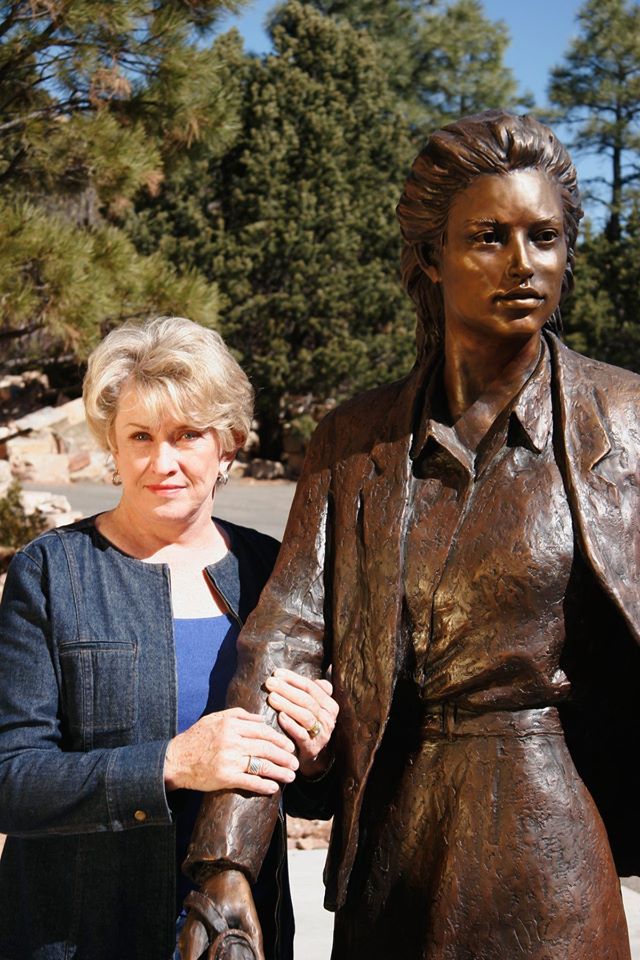 Glenna Goodacre and "CEO"
As a native to the region, Goodacre contributed generously to the TTUS public art program, where her work can be found across multiple campuses. There are several pieces of her work on display through the Texas Tech Public Art Collection, including "Crossing the Prairie," a striking depiction of a pioneer mother and her child located on Amarillo's Texas Tech University Health Sciences Center campus (TTUHSC).
"She created art that was accessible to the general public," says Wilkinson. "She wanted to create interactive spaces like 'Park Place' by inviting people to come and sit with the art."
Through her desire for interactive art, Goodacre turned community spaces into unique, unforgettable areas that are now part of the student body's shared experiences.
"It is rare that a public art piece is universally beloved," says Wilkinson, "but hers seem to be some of the few that are."

As she connected with hundreds through her work, she also paved a path for future artists, especially female artists, to follow in her footsteps.
"She was a trailblazer in the art world in many ways," Wilkinson says. "She helped to bring attention to female sculptors and to business owners, since she ran her own studio. She was also visionary by creating the 'CEO' sculpture as a female figure."
Upon her retirement in 2016, Goodacre gifted Rawls College of Business with an astonishing 6-foot 4-inch sculpture of a business woman, entitled "CEO." The woman depicted in this art piece appears determined, ready to take on any challenge. It is a message that speaks directly to aspiring students, and shows her own passionate character within her work.
Goodacre's contributions to Texas Tech campuses have inspired students, faculty and staff for decades, earning her a place in the West Texas Hall of Fame.
She was no stranger to awards and tributes: Goodacre's work and talent is sought after that she has been acknowledged by educational programs, art programs, and cities across the country, including many awards for her New York exhibits, the James Earl Fraser Sculpture Award and the Texas Medal of Arts. In addition to the West Texas Hall of Fame, she was also named a "Notable New Mexican" and inducted into the National Cowgirl Museum and Hall of Fame.
Goodacre's daughter, actress and former model Jill Goodacre, spoke of Goodacre's love of family.
"She was one of the most celebrated artists of all time, and yet she always said that her greatest pieces were her two children," Jill said through a statement made by her husband on social media. "I will miss her love, laughter, and humor."
Goodacre's commitment to her art, her business and her family will continue to inspire others for years to come. West Texas is proud to be the source of her roots.
Related Stories
By Lori Rice-Spearman, Ph.D., Steven L. Berk, M.D.
March 22, 2022
TTUHSC Celebration of Life Service was held March 25th in remembrance of Tom McGovern, Ed.D.
By Suzanna Cisneros
March 18, 2022
TTUHSC has been named as a Military Friendly® School for 2022-2023. Among graduate schools, TTUHSC ranked fourth in the nation, achieving Gold award status.
By Meaghan Collier
March 17, 2022
On March 16, fourth-year TTUHSC Jerry H. Hodge School of Pharmacy students interested in completing a residency after they graduate in May, learned where they would spend the next stage of their training during the Pharmacy Residency Match Day.
Recent Stories
Health
By School of Health Professions
February 02, 2023
Moumita Choudhury Au.D., CCC-A, spoke about the present and future of social media's impact on healthcare in general and on hearing healthcare specifically.
Research
By Mark Hendricks
January 31, 2023
Gail Cornwall, Ph.D., professor in the Department of Cell Biology and Biochemistry at the TTUHSC, has been named a member of the American Association for the Advancement of Science Fellowship Class of 2022.
Research
By Mark Hendricks
January 27, 2023
To help address communication hurdles, the Patient-Centered Outcomes Research Institute (PCORI) has awarded a $438,756 subcontract to Tetyana L. Vasylyeva, M.D., Ph.D., from the TTUHSC School of Medicine.