What is a Substance Abuse Counselor?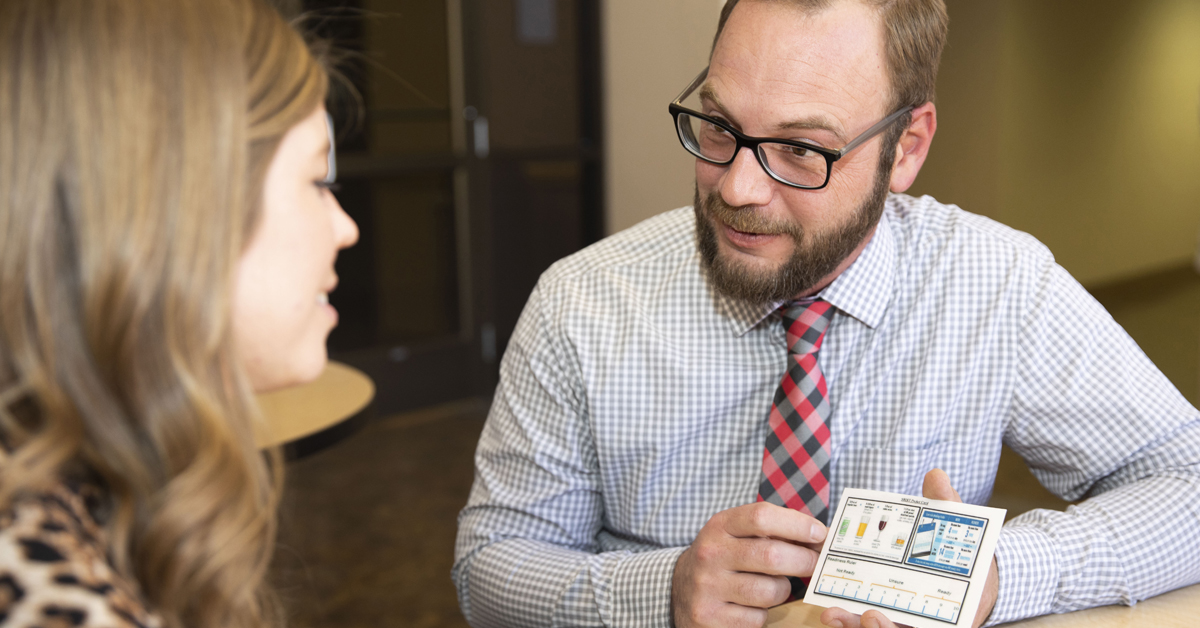 We've all heard the grim statistics: Since 2000, opioid use has been a factor in more than 430,000 deaths in the United States, according to the Centers for Disease Control and Prevention (CDC). In 2016, the CDC reported that more people died from drug overdoses — 64,070 — than the number of American soldiers killed in the Vietnam War (58,200).
And that is just the opioid crisis that's been capturing headlines. Other drugs, alcohol, and even tobacco fall under the umbrella of substance use disorders. According to the Substance Abuse and Mental Health Services Administration, substance use disorders strike 1 in 10 Americans over the age of 12. That's more than 20 million Americans.
As chilling as these numbers are, they underscore two important facts: Addiction is one of the nation's leading health problems, and the need for well-trained substance abuse counselors to help people with addiction is greater than ever.
What Is a Substance Abuse Counselor?
Because substance use disorders can involve cycles of relapse and remission, people struggling with addiction simply can't do it alone. In much the same way a medical doctor helps a person manage a chronic condition like hypertension or diabetes, a substance abuse counselor, also called an addiction counselor, is needed to help a person manage and overcome a drug or alcohol dependency.
Trained in scientifically proven therapies and interventions, a professional substance abuse counselor operates as a support system, in essence, teaching individuals how to modify their behavior so they can reclaim their lives. Because clients frequently relapse, many addiction counselors work with clients on an ongoing basis.
What Does an Addiction / Substance Abuse Counselor Do?
Substance abuse counselors work with individuals in an advocacy and mentoring capacity. From helping a client see the emotional underpinnings of their dependency to helping them find or maintain employment, the counselor works with the client to help them recover from their drug and alcohol dependency and meet all their life goals.
Some of the day-to-day duties of an addiction counselor might include:
Meeting with clients to evaluate their health and substance problems
Identifying issues and creating goals and treatment plans.
Teaching clients coping mechanisms.
Leading group therapy sessions.
Providing guidance and support to family members.
Providing updates and progress reports to courts.
Referring clients to support groups.
Helping clients find jobs or reestablish their career.
Setting up aftercare plans.
Employment Options as a Substance Abuse Counselor
Where addiction counselors practice can run the gamut from outpatient mental health and substance abuse centers — currently the largest employer, according to the U.S. Bureau of Labor Statistics — to hospitals, residential treatment centers, individual and family services, and the government.
The types of clients an addiction counselor works with also can vary. Most addiction counselors work with people who are seeking to make changes in their lives to improve their health, relationships, and happiness. Often, they work with people in group settings, but also see patients in individual therapy. Family involvement in addiction counseling is common.
Some substance abuse counselors work with specific populations, such as teenagers, veterans, or people with disabilities, or in prevention programming. A small cohort specialize in crisis intervention, when someone is endangering his or her own life or the lives of others, while others specialize in non-crisis interventions, which are usually requested by friends and family to encourage a loved one to get help with their addiction. Some work with clients who have been ordered by a judge to receive treatment for addiction in lieu of further incarceration.
In some facilities, addiction counselors will be part of a team of health care and behavioral health professionals, such as psychologists, psychiatrists, social workers, physicians, and registered nurses, working to develop treatment plans and coordinate care for patients.
What Qualities Does a Substance Abuse Counselor Need?
As with other behavioral health counselors, people who enter the field are usually extroverted and enjoy people. "Having a general optimism about people is the premise, since you're working with people at their lowest points and need to help them believe in their ability to recover," says Zachery Sneed, Ph.D., Assistant Professor of Clinical Counseling and Mental Health, and Program Director of the Master of Science in Addiction Counseling Program (MSAC) at Texas Tech University Health Sciences Center (TTUHSC).
According to the U.S. Bureau of Labor Statistics, other qualities that are beneficial for an addiction counselor to have include:
Compassion. You need the ability to be compassionate and empathize with clients who are dealing with stressful and difficult situations.
Interpersonal skills. Developing and nurturing good relationships is key since substance abuse counselors work with different types of people, including other health care professionals.
Listening skills. To fully understand a client's problems and values, it's important to know how to effectively listen with your full attention.
Patience. Clients can become distressed or angry and it is important for a counselor to remain calm in those situations.
Communications skills. It is essential to convey information and ideas in a way that clients and family members can easily understand.
Many people in the field of drug and alcohol counseling choose this career path after overcoming their own addictions. Although having personally struggled with substance abuse or other behavioral and process addictions is by no means a requirement to enter the field, what can be important is having had some exposure to individuals — be they close friends or family members — who have experienced addiction.
"Having some familiarity with people who have had addictions does go a long way," says Sneed. "It allows you to see things differently, and shows you that everyone can change, everyone can get better."
Job Prospects for Addiction / Substance Abuse Counselors
In terms of employment, the good news is that the field of drug and alcohol counseling is growing rapidly. Increased access to health insurance brought about by the implementation of the Affordable Care Act (ACA) has increased the demand for qualified addiction counselors as more individuals now have health insurance that covers treatment. Also, there has been a growth in the number of court-ordered referrals to treatment programs for many individuals arrested on drug charges, highlighting the preference for treatment over punishment.
The U.S. Bureau of Labor Statistics projects employment trends for substance abuse counselors, along with behavior disorder and mental health counselors, to grow by 23% from 2016 to 2026, much faster than the average for all occupations.
Given these employment trends and the current shortage of addiction counselors, the likelihood of finding employment is strong. "After the ACA passed, counseling is seen a legitimate option for many more people, and we now have an increasing shortage of addiction counselors," says Sneed. "It's unlikely that a student in our MSAC program would not be able to get a job."
As for salary, the national median annual wage for substance abuse counselors, and behavioral disorder and mental health counselors, was $44,630 in May 2018, according to the U.S. Bureau of Labor Statistics. The median wage is the wage at which half the workers in an occupation earned more than that amount and half earned less. Among the highest salaries in 2018, the Bureau reported, were for counselors working in government positions with an average salary of $51,690, followed by state, local, and private hospitals at $48,310.
How to Become a Substance Abuse Counselor
Begin your career journey by finding out your state's requirements for becoming an addiction counselor. Each state has a unique set of requirements that includes exams, fees, and the education needed for specific levels of licensure and certification. Consult the National Board for Certified Counselors (NBCC) to learn about each state's license and required examinations.
The addiction counseling field is moving decidedly in the direction of requiring a master's degree for professional practice. The Council for Accreditation of Counseling and Related Educational Programs, also known as CACREP, sets standards for masters-level counselor training programs. CACREP describes addiction counseling programs as preparing graduates to work with persons and families affected by substance use disorders involving alcohol, drugs, and tobacco, as well as behavioral and process addictions involving gambling, shopping, and food, to name but a few. Consult the Council for Accreditation of Counseling and Related Educational Programs (CACREP) to learn about different types of masters-level counseling programs.
A master's degree also allows students to pursue certification as a national certified counselor (NCC) and to apply for licensure as a professional counselor (LPC) in many states.
Once you decide on getting a master's degree, you'll then have to decide on the type of program that fits your career goals. Three typical options are:
Choose a program that can simultaneously prepare you for licensure (and independent practice) as a professional addiction counselor.
Choose a program that specializes in addiction studies while focusing on a different behavioral health discipline.
Choose a program in another discipline, say counseling psychology or social work that offers training in addiction studies.
Programs should address how they prepare you for licensure and certification, as well as address licensure eligibility related to the potential degree.
The Master of Science in Addiction Counseling (MSAC) program offered by TTUHSC was recently established in Spring 2017 to meet the growing demand for addiction counselors; the program offers all classes online and is available to individuals throughout Texas and the nation.
The program is the first fully online addiction counseling program to be offered in Texas and only the third in the United States, and it adheres to the highest standards in counselor education. The MSAC program is designed for students who are currently working or who may have family and other commitments that prevent them from taking graduate classes in a traditional on-campus setting. Students are not required to attend a physical classroom to complete the 60-hour semester credit program.
Bridging the Distance in Addiction Counseling: The TTUHSC MSAC Degree Program
Distance learning is also represented front and center in the MSAC program's curriculum, which emphasizes distance-based counseling services, or telehealth as it's also known. In fact, the MSAC program is one of the first counseling degree programs in the United States to specialize in telehealth. All MSAC program graduates received a certificate in telehealth.
Telehealth, or "telemental health" as it's often called in the behavioral health professions, also aligns with the TTUHSC's focus on addressing the unique needs of rural communities.
Consider that in rural counties in a state as vast as Texas, towns could be 100 miles apart. A person seeking treatment might not be able to afford to take two hours off from work to travel to an appointment with a substance abuse counselor. Instead, telehealth brings drug and alcohol counseling services straight to the individual. Sessions can be conducted using a person's smartphone or laptop.
"In addiction counseling, remote access to care makes services accessible to everyone who needs it," explains Sneed.
Applying to the TTUHSC MSAC Program
Students interested in applying for the TTUHSC MSAC degree program should hold a bachelor's degree from an accredited college or university, preferably in a related area such as psychology, sociology, rehabilitation, occupational therapy, social work, special education, or nursing. However, degrees in other areas will be considered.
The curriculum at TTUHSC consists of 60 semester credit hours. In addition to core courses such as human growth and development and multicultural counseling, specialty courses such as the neurobiology of addiction and foundations of addiction counseling and ethical development are required. Actual clinical experience in the form of an internship and practicum will give students a chance to work with real clients and real cases in a professional setting.
Given that the MSAC program is an online program, and open to students nationwide, the school works with prospective students to review their state's licensure guidelines, to see if the program is a good fit or not. "Some states, for instance, might require the degree to have a specific name," explains Sneed, who works directly with applicants. "We want them to find the right program before they come in."
For more information on applying to the TTUHSC MSAC degree program, email us at health.professions@ttuhsc.edu, call (806) 743-3220, or visit the Master of Science in Addiction Counseling program page.
Related Stories
By QEP Committee
March 21, 2023
As spring approaches, some people's thoughts turn to gardening. Whether it's a flower garden they desire or a vegetable garden want to have, they begin planning what they'll plant and what they need to do to ensure a successful garden.
By QEP Committee
March 21, 2023
A "growth mindset" accepts that our intelligence and talents can develop over time, and a person with that mindset understands that intelligence and talents can improve through effort and learning.
By Melissa Whitfield
February 13, 2023
Abstaining from drug abuse and an early diagnosis of familial hypercholesterolemia (high cholesterol) can help prevent heart disease.
Recent Stories
Research
By Mark Hendricks
March 21, 2023
TTUHSC Cytogenetic Technologist Jasbir Bisht and a team from P. Hemachandra Reddy's internal medicine laboratory analyzed the impact of cancer in Hispanics in comparison to other ethnic groups.
Education
By School of Health Professions
March 21, 2023
World Down syndrome Day was established to raise awareness about Down syndrome and to promote inclusion and acceptance of people with Down syndrome in all aspects of society.
By QEP Committee
March 21, 2023
As spring approaches, some people's thoughts turn to gardening. Whether it's a flower garden they desire or a vegetable garden want to have, they begin planning what they'll plant and what they need to do to ensure a successful garden.