The Importance of Physician Assistants for Rural Health Care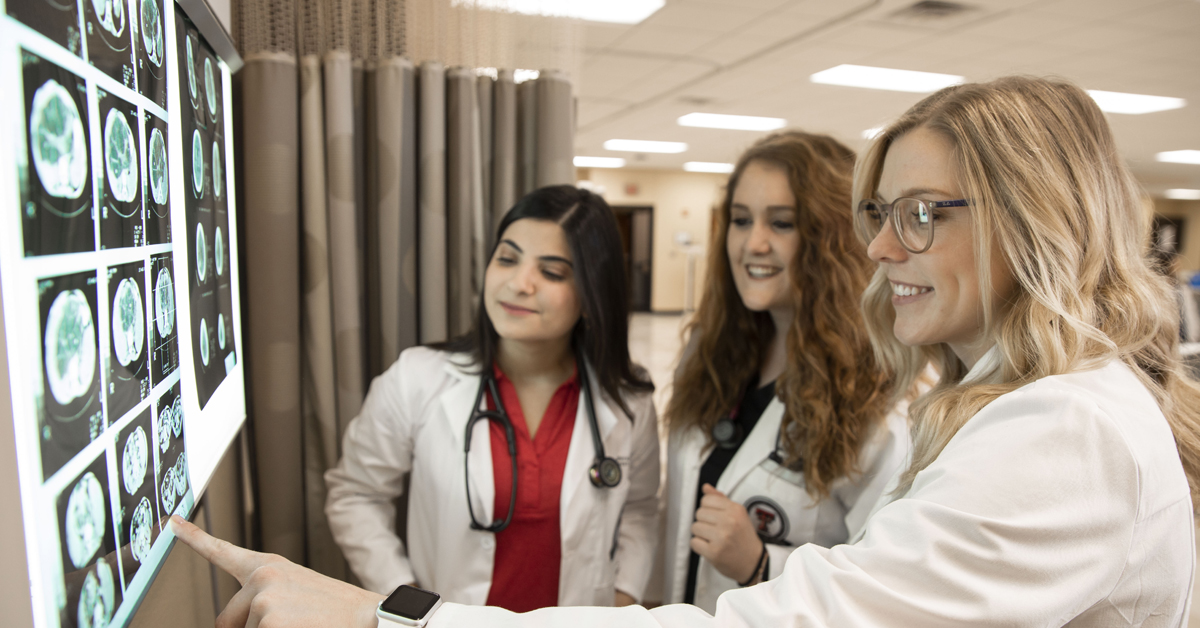 In a state where some residents have to drive hours to get to the nearest hospital, Texas faces a rural health care crisis. Physician assistants, also known as PAs, can play an important role in providing rural health care to remote and underserved communities. Located at Midland College, the Master of Physician Assistant Studies Program at the Texas Tech University Health Sciences Center School of Health Professions (TTUHSC SHP) offers the only physician assistant training program in West Texas, the Texas Panhandle, and eastern New Mexico.
Texas Faces an Acute Rural Health Care Shortage
More than three million Texans live in rural parts of the largest state in the continental United States. In the wake of hospital closures across the state, access to rural health care is increasingly challenging for residents of the Lone Star State. Since 2010, 17 hospitals in Texas have been shut down, the most of any state.
Every year, the F. Marie Hall Institute for Rural and Community Health at TTUHSC publishes a Rural Health Report Card in Rural Health Quarterly. The report card ranks 47 states with rural counties based on outcomes related to mortality, quality of life, and access to care. In 2018, Texas ranked 36th in the nation for rural health care and was one of three states to receive a grade of "D-" for rural health access and outcomes in 2018. The state also faces challenges in terms of primary care access, mental health access, and dental care access.
The lack of access to rural health care is related to a shortage of physicians who practice medicine outside of urban areas. The Association of American Medical Colleges (AAMC) estimates Texas ranks 41 out of the 50 states with 219.4 physicians per 100,000 residents. Some counties don't have a doctor at all.
With more people moving to Texas and a population that's aging overall, demand for experts in the health professions will only grow. Texas could have a shortage of 3,375 primary care physicians by 2030, a 67% increase, according to the Texas Department of Health and Human Services.
Associate professor Christina Robohm-Leavitt, MS, PA-C, who serves as regional dean and director of the PA master's program at TTUHSC SHP, says that on a per capita basis, West Texas has fewer health care providers than the five most populous counties in the state. "Within the region, there are higher rates of death from Alzheimer's disease, colon cancer, diabetes, heart disease, and liver disease than the statewide average," she says. "Optimal health outcomes for West Texas require a regional approach to health care delivery with an emphasis on access to treatment, education, and prevention."
PAs Can Help Provide Rural Health Care
Professor Robohm-Leavitt says that West Texas needs more health care providers — and physician assistants who can help fill the health care delivery shortage there and in other rural areas are part of the solution to the problem. The region is expecting an influx of between 60,000 to 80,000 more workers just in the oil and gas industry alone. "For every one of those workers, you're going to need three to four people who are the support people including teachers, health care providers, public safety and other service professions to ensure that the infrastructure can handle this," she explains.
The physician assistant field, along with other health professions such as nursing, is one of the fastest-growing in the country. It was the fifth fastest-growing occupation in the United States in 2018, according to the Bureau of Labor Statistics (BLS). The BLS predicts that the PA profession will grow by 37% through 2026. Texas employs nearly 8,000 physician assistants, who earn an annual mean wage of $109,590.
The profession dates back to the 1960s when physician assistants began to help fill a shortage of primary care doctors and provide health care and services in rural areas and other underserved communities. Today, there are more than 131,000 practicing PAs and 238 accredited physician assistant programs in the United States, according to the American Association of Physician Assistants (AAPA).
What Does a Physician Assistant Do?
A PA is a medical provider certified and licensed to practice medicine as part of the health care team. "PAs take medical histories, perform physical examinations, order and interpret diagnostic tests, diagnose and treat illnesses, write prescriptions, counsel patients, perform procedures, and assist in surgery," Robohm-Leavitt says.
PAs also provide preventative care, help coordinate care across health care teams, educate patients and families, and make referrals to specialists. Robohm-Leavitt says that PAs work in all areas of medicine, with patients of all ages, and in a variety of medical settings. PAs practice in primary care, emergency medicine, general surgery, and all medical and surgical subspecialties.
Although physician assistants must work in collaboration with a licensed medical doctor, they often have a lot of autonomy in their day-to-day work. "We can do all office procedures, we can prescribe medications, treat patients, order all the tests," Robohm-Leavitt explains.
One study found that 85% of a family medicine doctor's work could be managed by a single physician assistant. In rural areas, PAs are often on their own, as collaborating physicians might be serving multiple clinics and communities and only be on-site one or two days a week. Half of clinically-practicing PAs in rural areas reported that their collaborating physician was on site 60% of the time or less, according to the AAPA.
"Physician assistants are shown to be versatile, cost-effective medical providers, improving delivery and access to care in underserved populations," Robohm-Leavitt explains.
How Do You Become a Physician Assistant?
Prospective PA students are required to earn a bachelor's degree prior to admission to physician assistant programs, which are highly competitive. Many undergraduate students follow a pre-med track, with coursework in natural and behavioral sciences, such as chemistry, physiology, anatomy, microbiology, and biology. Quite a number of students also have prior experience in the health professions in positions such as paramedics, emergency medical technicians (EMTs), nurses, certified nursing assistants, and lab assistants.
Students who chose to pursue physician assistant training rather than medical school have a much shorter time-to-degree and less student debt overall. Those who are interested in delivering rural health care can apply for scholarships and loan repayment through the National Health Service Corps.
After graduating from an accredited program, prospective PAs have to pass the national certifying exam, the NCCPA PANCE. Then they need to attain state licensure. A higher percentage of graduates from the PA master's program at TTUHSC SHP pass the PANCE exam on the first try than the national average.
Graduates are ready to go to work as soon as they pass the national certifying exam and attain their state licensure. In Texas, this is done through the Physician Assistant Board under the Texas Medical Board. Three-quarters of PAs receive multiple employment offers after graduation, according to the AAPA.
What Will You Learn in a Physician Assistant Program?
Admission to the Master of Physician Assistant Studies Program at TTUHSC SHP is highly competitive. The physician assistant program averages over 1700 applications each year and admits up to 60 students per year, according to Robohm-Leavitt. "We look holistically at all of the prospective students' background experiences as well as any experience with patient populations similar to the ones we're serving here in West Texas. Many of our students also have significant medical experience and shadowing experience," she adds. To date, the program has graduated over 800 students.
The rigorous curriculum of a physician assistant program is based on the medical school model. The first 15 months of the TTUHSC School of Health Professions Master of Physician Assistant Studies Program encompasses academic courses in applied basic sciences, clinical medicine, and professional practice. Coursework includes 125 semester hours, including pharmacology, physiology, human anatomy, neuroscience, medical psychology, pediatrics, and cardiology.
The academic courses are followed by 12 months of clinical rotations in family medicine, internal medicine, pediatrics, women's health, psychiatry, emergency medicine, general surgery, and a specialty rotation.
Most students have the opportunity to do a rural rotation in an underserved community and many clinical rotation sites are located away from the Midland-Odessa area, where students take classes. Students stay in touch with program faculty virtually and a day at the end of rotations and are supervised by an on-site preceptor. Students also write an evidence-based medicine paper as part of the final project required for graduation.
Training for a Future With Telemedicine
The physician assistant training program at TTUHSC SHP has launched a telemedicine pilot to help provide rural health care in remote locations. Telemedicine, also called telehealth, allows for the remote delivery of health care services to patients using telecommunications technologies. It also facilitates collaboration across the health care team no matter where they may be located. For instance, telemedicine allows PAs to do remote consultations with other health care professionals.
"We are starting to pilot telemedicine within our curriculum so that our graduates are prepared to work with specialists and other professionals via telemedicine if they are in a rural area," Robohm-Leavitt says.
A small group of students is participating in the Frontiers in Telemedicine training at TTUHSC's main campus in Lubbock. They will then be observing and working with the telemedicine clinics for one of their rotations.
A PA Program — and Program Graduates — Committed to Health Care in Texas
Professor Robohm-Leavitt says that almost 30% of graduates of the PA program stay in West Texas. Elesea Villegas, MPAS, PA-C, who finished the master's program in 2015, gravitated to the TTUHSC SHP physician assistant training because of its focus on rural health care. She grew up in Crane, a small town of 3,000 in West Texas and wanted a graduate program that would train her to work in a similar community.
Villegas, who now works as an assistant professor and director of clinical education in the TTUHSC SHP physician assistant master program, says that rural rotations allow students to hone their skills because they get to do a little bit of everything. "The program really focuses on primary care," she says. "It's very broad, which is exactly what you need whenever you're going into primary care. You need to know a little bit about everything. You need to have a good understanding of clinical medicine. And I feel like we do a really good job of preparing our students in that."
Villegas did a clinical rotation in obstetrics and gynecology in Big Spring, Texas. "I really liked that rotation because it serves people within that community. The women there don't have to travel forty-five minutes to an hour to get to Midland so that they can see a provider."
After completing the physician assistant program at the School of Health Professions, graduates can choose an area of specialization, which can include family medicine, surgical subspecialties, emergency medicine, internal medicine, pediatrics, psychiatry, obstetrics, and gynecology, among others.
Miguel Najera earned his undergraduate degree at Texas Tech and decided to continue his graduate education there after working for a few years in a hospital laboratory. After graduating from the PA program, Najera did a year-long post-grad training program in psychiatry at the Health Sciences Center in Lubbock. "I've done inpatient psychiatry. I've done outpatient psychiatry. I've done community clinics, and now I do consults in the hospital," he says.
He also appreciates the focus on rural health care. "A big part of our patient population comes from the surrounding rural areas because we're basically a hub for the people in all these little towns to come in and receive health care," he says.
Najera decided to apply for the PA program because he missed working one-on-one with people. "I like the interaction with patients," he says. "That's kind of what the PA program has given me. I get to meet new people, work hands-on with patients every single day, and really get to help."
For more information on becoming part of one of the fastest-growing health care professions and to learn more about the Master of Physician Assistant Studies Program at the TTUHSC School of Health Professions, please email us at health.professions@ttuhsc.edu or call, (806) 743-3220.
You can also follow the Texas Tech University Health Sciences Center and the School of Health Professions using the Twitter hashtag #SHPRedRaider or find us on Facebook and Instagram.
Related Stories
By Mark Hendricks
March 25, 2022
The Texas Tech University Health Sciences Center (TTUHSC) Graduate School of Biomedical Sciences hosted its 34th Annual Student Research Week March 8-11.
By Mark Hendricks
March 25, 2022
The National Cancer Institute awarded a five-year, $1.9 million grant to C. Patrick Reynolds, M.D., Ph.D., director for the School of Medicine Cancer Center at TTUHSC.
By School of Health Professions
March 24, 2022
Richard Greenhill, DHA, FISQua, FACHE, discusses the hype and reality surrounding AI in healthcare.
Recent Stories
Education
By Kate Gollahon
June 28, 2022
On June 29, the opening celebration event for the Julia Jones Matthews School of Population and Public Health will recognize many years of hard work and look ahead to the start of a new and exciting journey.
Education
By Melissa Whitfield
June 23, 2022
The GSA awarded fellow status to Alyce S. Ashcraft, Ph.D., RN, professor and associate dean for research and scholarship at TTUHSC.
Research
By Laura W. Bush Institute Scientific Council
June 22, 2022
Cancer experts are ringing alarm bells due to the rise in uterine cancer. Numbers of uterine cancer annually are now equal to ovarian cancer.