Up, Up and Away!
Governor Preston Smith Leaves a Legacy Celebrating Fifty Years Strong
Fifty years ago on May 27th, 1969, Preston Smith signed the establishment of Texas Tech University School of Medicine.
Early in his childhood Gov. Preston Smith recognized he would spend his life making a difference. He came from a family of poor farmers who led a life of long hours and hard work. Although his father pushed for a life working in the fields, Gov. Smith, one of 13 children, knew he wanted an education.
"He came from a very poor family," recalled Jan Taylor, Gov. Smith's daughter. "He wanted to go into high school, but his father didn't want him to. One day when he was about 10 years old, Daddy was reading the newspaper while he was out plowing the fields and read about the governor of Texas. He later told us it just hit him that he wanted to be the governor of Texas. But he knew he would need an education. My grandmother, who was an advocate of education, packed him off with a pillow and some clothes and sent him into Lamesa to finish high school. While he was a senior in high school, he wrote a paper about his future and wanting to be governor. His teacher wrote, if anyone can do it, you can. He was always very proud of that."

To say Gov. Smith worked hard to make that goal a reality is an understatement. During the Great Depression, he attended Texas Technological College (now Texas Tech University) and worked at numerous jobs before graduating with a business degree in 1934. He later married Ima Smith, and together they opened a chain of movie theatres.
"My mother worked selling tickets and candy, and he ran the projections and the business, Taylor said. "Once she had children, she stayed home. I remember him singing all these country western songs, laughing and reading the comics every Sunday. He was a very hands-on dad."

Gov. Smith's dream of a life of service would come true when in 1944, he was elected to the Texas House of Representatives and to the Texas Senate in 1956. He won the first-of-three consecutive terms as lieutenant governor in 1962. The voters of Texas then elected him in 1968 as the governor of Texas, one he would hold for two terms.
Preston Smith envisioned a life of service and gave back immensely to higher education in the state of Texas. He advocated for a school of medicine in West Texas.
"He was so self-made," said Robert Schmid, M.D., Gov. Smith's grandson. "I mean he was the son of a sharecropper who would pick cotton, and he got the inspiration to become governor. He's amazing. Legend has it, he worked as the janitor in Snead Hall at Texas Tech and that's how he was able to get his room and board. My grandfather had worked through every position in life to get to his life of service. Our family, now three generations later, is so thankful for him and what he did. He did that for us and led by incredible example."

Taylor remembers a life in public office as normal and didn't realize they were in the public eye growing up.
"The legislature meets every other year in Austin, and the springs that we were in Austin, our closest friends were other legislators' children," Taylor said. "There were picnics at the Governor's Mansion, birthday parties at the state capitol, etc. That seemed very normal to me, but I now realize how privileged I was to have those experiences."

Taylor and her brother Mickey would walk after school to the senate office in the capitol. Back in those days there wasn't as much security. They would explore every nook and cranny of that historic building, but her favorite activity was to climb the spiral staircase going from the rotunda all the way to the dome of the capitol.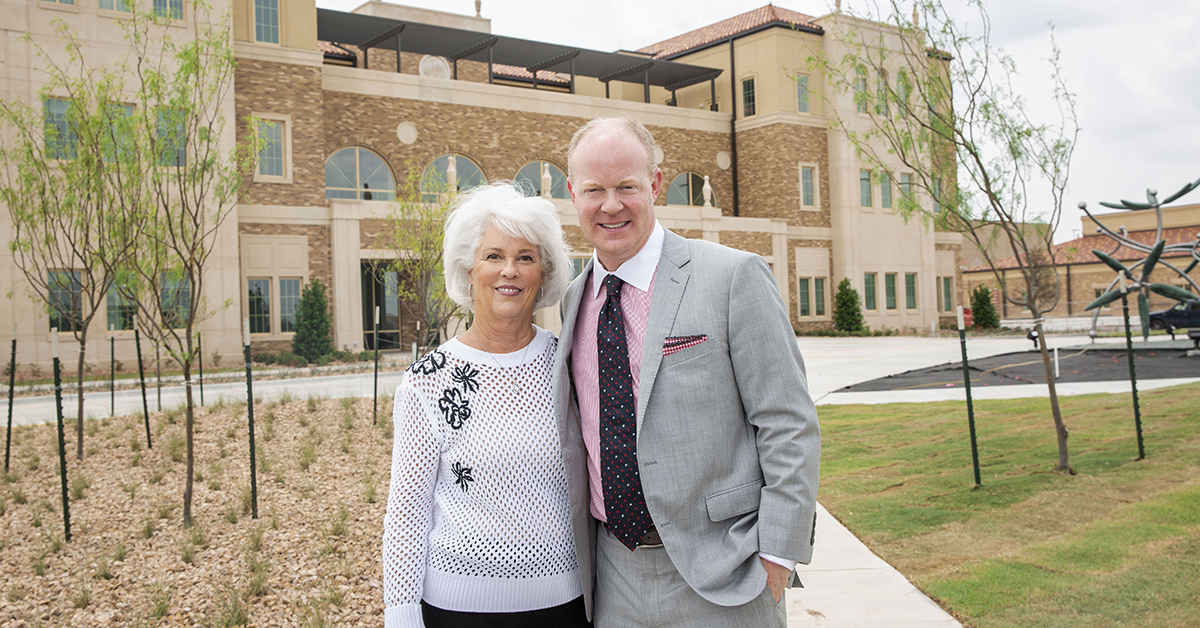 Governor Preston Smith's daughter, Jan Taylor, and grandson, Robert Schmid, M.D., continue his legacy. They stand in front of the new University Center building at TTUHSC.
The primary election in May 1962 was the first time Taylor realized her family was unique.

"I was a sophomore in high school and was getting ready to go on a date to a dance. I looked out my front bedroom window and saw several trucks from multiple TV stations. I knew it was election night, but I think that's the first time I really realized that my life was a bit different than other teenagers. I stayed a short time at the dance but had my date bring me home, because for the first time, I wanted to be a part of election night," Taylor said.
When her father was sworn in as Lieutenant Governor, Taylor's family moved into the Lieutenant Governor's apartment on the second floor of the east side of the capitol, just behind the senate chamber. She remembers her father's office was there, as well as a living room, dining room, kitchen, three bedrooms, three bathrooms and a study. Taylor said it was quite a treat having her bedroom in the capitol building.

"It never occurred to me that it might be intimidating for my dates to have to check in with the DPS before they picked me up at the state capitol," Taylor said.
During Gov. Smith's reign in politics, he was dedicated to improving higher education, signing into law new universities and establishing dental, medical and law schools. But it was the establishment of one new West Texas medical school that he battled for the most.
"I was in the sixth grade, and we were sitting around the dinner table at our home in Austin, and I remember him saying we need a medical school in West Texas," Taylor said. "I remember people in his office talking about it. And there were all kinds of different opinions. Years later when Daddy received an award, Dolph Briscoe spoke and said if Daddy ever got something in his mind, he was not going to give it up."

Gov. Smith's tenacity was needed for the establishment of the Texas Tech medical school since he would encounter huge opposition.
"I just remember Daddy terribly disappointed and a little bit angry because he just couldn't understand why no one could see that it would benefit this whole area."

Schmid said his grandfather spoke to him about how Texas politics worked back in his day.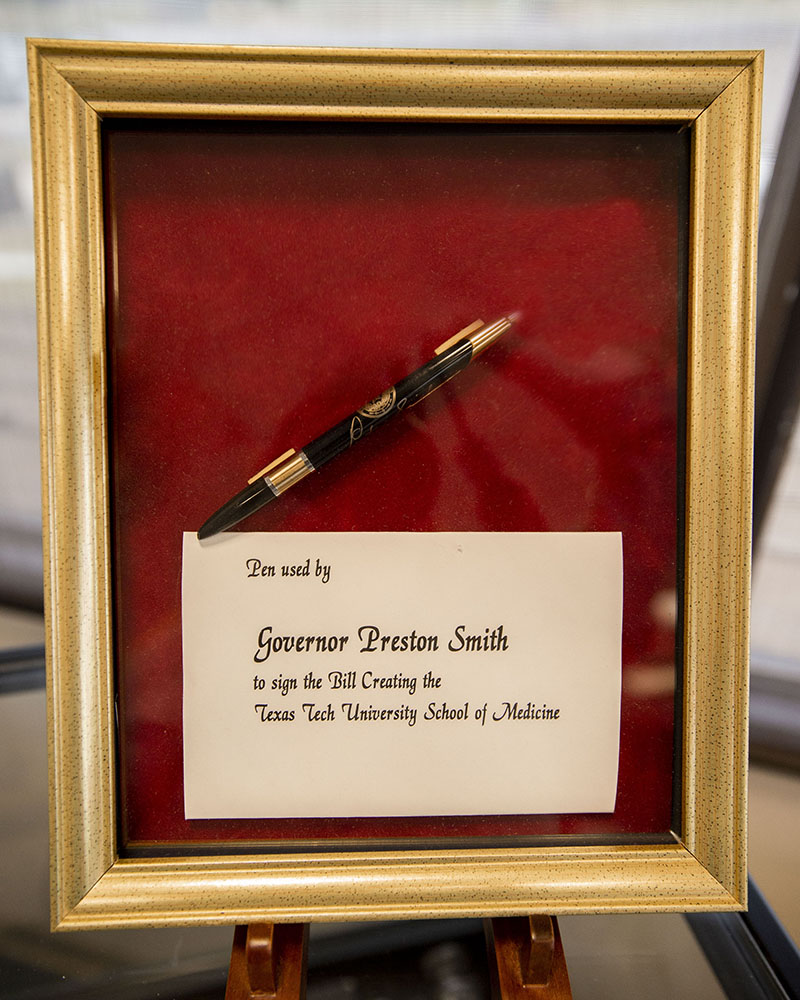 The pen Governor Smith used to sign the establishment of TTUHSC on May 27, 1969.
"There was so much effective legislation because there was so much room for compromise," Schmid said. "My grandfather felt like half of all the bills he ever got through the legislature were done in the back of the Austin Club. He recounted how they would get both sides all together and knock out what was needed. But when he was governor, he kept trying to get the Texas Tech medical school up, and others kept blocking it. The compromise was, if his school wasn't approved, he would veto the other UT medical school every year it was brought up. And unless we get our school in Lubbock, you're not going to get your school in Houston."

Gov. Smith's vision of providing more physicians to the West Texas area became a reality. On May 27, 1969, Gov. Smith signed House Bill 498 creating the Texas Tech University School of Medicine as a multi-campus institution with Lubbock as the administrative center and campuses in Amarillo, El Paso and Odessa. At that time professionals and hospitals were scarce: 19 of the counties surrounding Lubbock had no physicians; the area had only one-third of the national physicians-to-patients ratio and 23 of the surrounding counties had no hospital.

Governor Smith's vision of providing more physicians to the West Texas area became a reality; the first class of the TTUHSC School of Medicine.
Ten years later, the state expanded the charter forming Texas Tech University Health Sciences Center. Through the years, the university has expanded to include the Schools of Health Professions, Nursing, Pharmacy and Graduate School of Biomedical Sciences as well as added campuses in Abilene, Midland and Dallas-Fort Worth.

Now 50 years later, the university has graduated more than 28,000 health care professionals. Of those, 24 percent remain in the 108-county service area of West Texas.


The Father, Grandfather and Family Man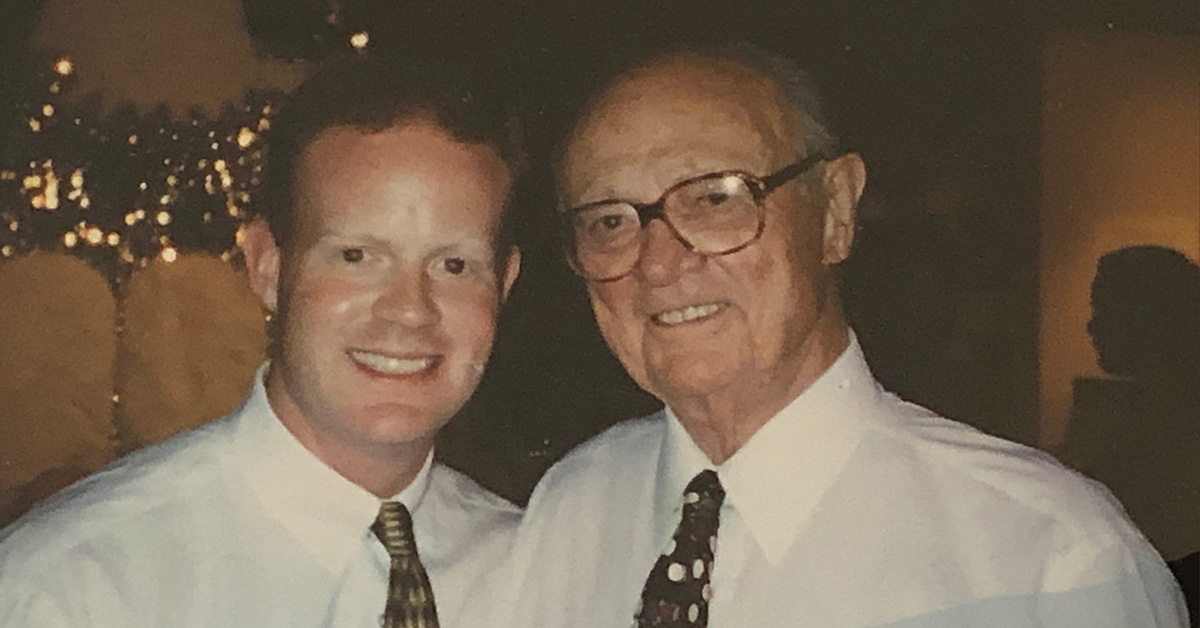 Governor Smith with grandson, Robert Schmid, M.D.
Schmid said it is important to note that Gov. Smith was an icon and great legacy to the public, but his grandchildren don't lose sight of the fact that he was a wonderful man and grandfather.

"He was more than this legendary figure," Schmid said. "We looked up to him. He always took time for family. He took me on fishing trips all over Texas and Colorado bass fishing, red fish fishing, flounder and trout fishing. He was a huge angler and fisherman. The grandkids all called him Way. When I was about two years old he would sit us all on his lap in the Texas State plane, and he'd say we're going up, up and away! So, Way was his nickname for all of his grandkids."

Schmid reminisces as he sits in his grandfather's chair that he sat in as the governor of Texas. The chair was put into storage and years later in 2002, Gov. Smith received a call asking if he wanted it returned. The chair now has a scratch on the top where in his excitement, he used a box cutter to open it once it was delivered back to him. Schmid sits among memorabilia items from his grandfather's time as governor. At his clinical practice, the coffee marble table in the lobby was a gift from Mexico in 1969 for becoming governor of Texas. He and his family also have Apollo mission memorabilia since he served as governor during that time.

When Schmid moved back to Lubbock in 2002, he and Gov. Smith would have lunch once a week. Many times, he would visit his grandfather who years later still had an office at Texas Tech University and Texas Tech University Health Sciences Center. He was known to walk the halls of both universities through his later years visiting with students, faculty and staff.

Governor Smith with Schmid at his medical school graduation. Gov. Smith was always proud of Schmid for going into medicine.
"He was really proud I was interested in medicine from an early age, and he was always really proud of me," Schmid said. "When I was a a senior in medical school, I went with him to Austin, to see all of the glory of his time at the State Capital and the governor's mansion. And that was really special to experience one of the greatest days of my life."

When he was in college and medical school, Schmid said when he traveled with his grandfather, he would carry a cassette recorder and would record his conversations.

"They were just amazing stories of his day-to-day life in Austin and how very proud he was of Texas Tech."

Taylor said what she fondly remembers most about her father was the impact he had on so many people. She, her husband Robert Taylor and her father were at a restaurant when a young man approached their table. He had burns all over his body.

"He came up to Daddy and said, 'I just want to tell you thank you.' And daddy said 'Why?'
He went on to tell him he was on a gurney at UMC in the burn unit when Daddy was walking through the hall. He said, 'You saw me and said I hope you feel better. But, told you I hurt so bad. I just wanted to die.' According to the man, Daddy said 'Your life is so worth living. There are people who love you and you need to fight hard and get better.' The young man said, 'I listened to you, and I got better, got out of the hospital and I met a young woman and married. I wouldn't be alive without you.' Still gives me chills to remember that moment. But that was my Daddy. He loved Texas Tech, loved the medical school and loved the people of this state."

Although Gov. Smith's style was one of hard work and ethics, he was known for one particular fashion sense — polka dot ties. Taylor tells the story of Gov. Smith staying at a hotel in downtown Dallas. In need of a tie, he went into the shop, saw the polka-dot ties and liked them, buying a few. From that point, the polka-dot tie became his fashion trademark. Taylor said he would receive polka-dot ties as gifts from people all over the world.

Taylor stressed her father was a kind-hearted and generous man who also was resilient and determined.

Despite serving as the governor, family time was always a priority for Governor Smith.
"He was a pretty tough guy," Taylor said. "I remember a camping trip we took where we slept outside and went river rafting. Daddy was 88 years old at the time, but that was his spirit, awesome and adventurous. We just thought he could do anything, and he pretty much did."

When Gov. Smith was 91 years old, he came down with pneumonia following a car accident.

"I feel very humbled. I feel very proud. I feel very responsible. I love that I am Gov. Preston Smith's grandson and with everything that I do I'm always thinking about my grandfather
and try to honor him and his legacy," Schmid said. "He would be so excited and amazed at how much the medical school has grown and most importantly the impact it has had on health care and people from all over."
Gov. Smith's final days were among the very health care professionals he fought so hard many years before to educate, train and find a West Texas home for.

"I always thought it was so ironic that Daddy died in the medical school's partnering hospital that he basically established," Taylor said. "He asked me when he was so sick, 'Who's house are we in?' I said, 'Daddy this is your house.' He was very comfortable."
Related Stories
By QEP Committee
March 21, 2023
As spring approaches, some people's thoughts turn to gardening. Whether it's a flower garden they desire or a vegetable garden want to have, they begin planning what they'll plant and what they need to do to ensure a successful garden.
By QEP Committee
March 21, 2023
A "growth mindset" accepts that our intelligence and talents can develop over time, and a person with that mindset understands that intelligence and talents can improve through effort and learning.
By Melissa Whitfield
February 13, 2023
Abstaining from drug abuse and an early diagnosis of familial hypercholesterolemia (high cholesterol) can help prevent heart disease.
Recent Stories
Research
By Mark Hendricks
March 21, 2023
TTUHSC Cytogenetic Technologist Jasbir Bisht and a team from P. Hemachandra Reddy's internal medicine laboratory analyzed the impact of cancer in Hispanics in comparison to other ethnic groups.
Education
By School of Health Professions
March 21, 2023
World Down syndrome Day was established to raise awareness about Down syndrome and to promote inclusion and acceptance of people with Down syndrome in all aspects of society.
By QEP Committee
March 21, 2023
As spring approaches, some people's thoughts turn to gardening. Whether it's a flower garden they desire or a vegetable garden want to have, they begin planning what they'll plant and what they need to do to ensure a successful garden.