Reid Moore was working on his clinicals at the Larry Combest Community Health & Wellness Center last summer when he was struck by a comment from a nurse who mentioned that many of the lower socioeconomic young patients don't have an opportunity to grow up to be healthy.

"By the time they're eight or nine, they're obese because they're eating junk food," Moore said. "So I just really wanted to change that and do my part by changing the narrative a little bit."

Moore, a spring 2019 graduate of the TTUHSC School of Nursing traditional BSN program, has done more than change "the narrative." He challenged himself, nursing students, school administrators and young children by starting a nutrition and exercise program called "Pick and Chews."

He recruited Maura Mangan, also a graduate of the School of Nursing traditional BSN program, to help him organize volunteers and create the slide shows.

Mangan, who had cancer when she was a child, said she basically grew up in a hospital and was always surrounded by nurses.

"That made me want to help others," Mangan said. "After listening to the nurses [at the Larry Combest Community Health and Wellness Center] talk about these students getting to a certain point in their lives and not being able to change their physical health because of the lack of nutrition, we went to Harwell Elementary, which is right across the street from the clinic."

According to "The State of Obesity," a Robert Wood Johnson Foundation study, nearly one in five children from ages 10 to 17 in Texas was considered obese in 2017.

Moore approached Lubbock Independent School District's Harwell Elementary School Principal Jorge Sanchez about launching the pilot program at the east-side school.

"I was motivated to learn about the information shared with students about nutritional eating habits that are convenient and affordable," said Sanchez. "We always emphasize healthy eating; however, this is the first time in my 24-year career where the presenters were young, aspiring health professionals young enough to relate to the audience but old enough to speak professionally."

Moore spoke to his fellow nursing students and asked for volunteers. Because it was not an official TTUHSC organization, volunteers would not get any community service hours credit.

"Reid went to each class and told the students that there were no benefits to joining; it's done on a voluntary basis," Mangan said.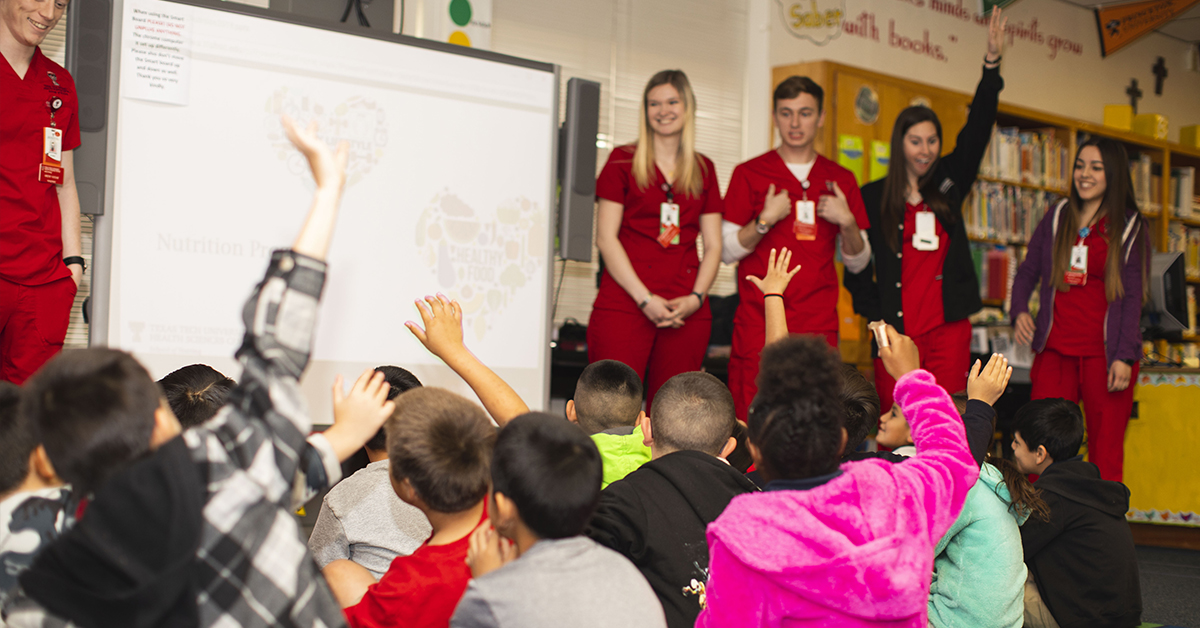 "I walked into the classrooms to recruit and told them I couldn't offer them anything. But if they wanted to help, we could take all the help we could get," Moore said.

They had nearly 30 volunteers for the fall presentations.

"It was really fun to see the reaction from us as nursing students about how it was fun because it was the first time a lot of us have ever presented something like this. Yes, we've had school projects, but to stand in front of a poster explaining to professors is easier than trying to get knowledge across [to young children]. That's what we really did this first time—trying to implement knowledge on ways to a healthy life," Mangan said.

During the 10-minute presentation, nursing students stressed the importance of good nutrition, handwashing, brushing their teeth and watching their calorie intake.

"The presentation is modern and relevant to our students' lives. The School of Nursing students are very invested in their presentation and have meaningful information which makes a difference in living a healthy lifestyle and everyone in the presentation is aware of this need in our community," Sanchez said.
The next challenge for Moore and Mangan is to expand the program to other elementary schools or even just at Harwell

"Once we have a good foundation and we know exactly what to tell other schools, we'd like to present it to see if it sparks anyone's interest. What's cool about being at TTUHSC is that we have so many campuses in different areas. So we have the opportunity to implement the program there once we figure it out and get sponsors," added Moore.

He and Mangan traveled to Austin to speak about the program at the Texas Undergraduate Research Day at the State Capitol. The response to "Pick and Chews" has been positive.
"I am very impressed with Reid Moore for sharing his vision and presentation ideas about nutrition with me and for taking the steps to reach out to our community. I cannot wait to see the number of students that benefit from this presentation in years to come," Sanchez said.