Research Explores New Ways to Teach Using Simulation, Observation
Combine a career in nursing and a passion for technology and education and you'll understand what brought Kyle Johnson, Ph.D., R.N., to the TTUHSC School of Nursing. Johnson, assistant professor/clinical and simulation director, Traditional Undergraduate Program, drew from his experience and interests to conduct research on the use of simulation and debriefing in prelicensure nursing education.

"Debriefing and simulation isn't really to only teach knowledge about caring for patients. It's to teach a new way of thinking," Johnson said.

While working on his master's degree at Lubbock Christian University, Johnson started looking into simulation. He remembered from his time as an undergraduate student that the TTUHSC School of Nursing had a strong simulation program, so he applied for a position as a faculty associate to run simulations.

"I very quickly realized that this was the place for me to come and teach with the people who taught me and also begin looking into increasing the use of simulation in the [School of Nursing] Traditional Undergraduate Program. Once they gave me the green light to do that, I decided this is where I want to be and where I want to stay," Johnson said.

Initially, Johnson said it was the simulation manikin that fascinated him because of his passion for technology. He added that as he learned more about simulation and the pedagogy that supported it, he realized simulation was more about teaching health care education students how to "think."

"In simulation, one of the things you're supposed to do at the end of every simulation is a debriefing. When I conducted my first debriefing, I was really focused on what went well and what could you change, but while working with Dr. Sharon Decker, TTUHSC Simulation Program executive director and professor, I learned that that debriefing was much more complex than that and that the desired outcome is reflection. Reflection is one of the characteristics of the best health care providers. What we're trying to teach students is this way of thinking so that next time they encounter a simulation or a situation that's different, they're dedicated to make a change for the better," Johnson explained.

Given his experience in teaching and in simulation, Johnson completed his Ph.D. in nursing science at Indiana University in 2018. He adapted and tested a theoretical framework initially discussed by faculty at Texas Tech University Rawls College of Business for how observational and experiential learning frameworks merge together based on brain-based education literature, as well as from the fields of exercise science, gaming, neuroscience and advertising.

"It merges two major educational theorists: David Kolb and Albert Bandura, and it places it directly in the context of simulation education in health care. It allows educators to test a framework in simulation for observational learning," Johnson said. "While there were no differences across five points in time between those who participate in simulation and those who observe simulation, the knowledge decay piece from my research indicated that in complex situations, knowledge declined as quickly as four weeks after an intervention (simulation and debriefing) that significantly increased knowledge in simulation. Knowledge significantly declined at four weeks, which has numerous implications for educators in health care professions and facilities that train new nurses."

Johnson's research questions the claims that some people are strictly hands-on learners and others, visual learners. His studies showed that students who sat and watched a screen while their peers (student nurses) executed care gained just as much knowledge as the people who were actually participating in the simulation.

"People learn when they're interested in learning," Johnson said. "The literature from gaming says that because an average student has spent over 10,000 hours gaming, they are more prone to visually learn from TV, from technology and from visual sources. Their brains are fundamentally different."

With nearly 5 million videos on YouTube being watched every single day and with the number of "how-to" videos uploaded at more than 100 million hours and "how-to" searches growing every year, it's clear that more people are comfortable turning to visual sources to learn.

According to a report by Growing Leaders, 69 percent of millennials said they learn more from technology than from people.

"We are all primed to learn visually," Johnson said.

Literature from coaching, Olympic training and neuroscience say that to learn something new, observe a novice and an expert.

"We don't do this in simulation much. At least, not yet. Largely, the outcomes in simulation are based on students observing their peers, or novices. This is likely one way to improve knowledge decay which I hope to further test here at TTUHSC," Johnson said.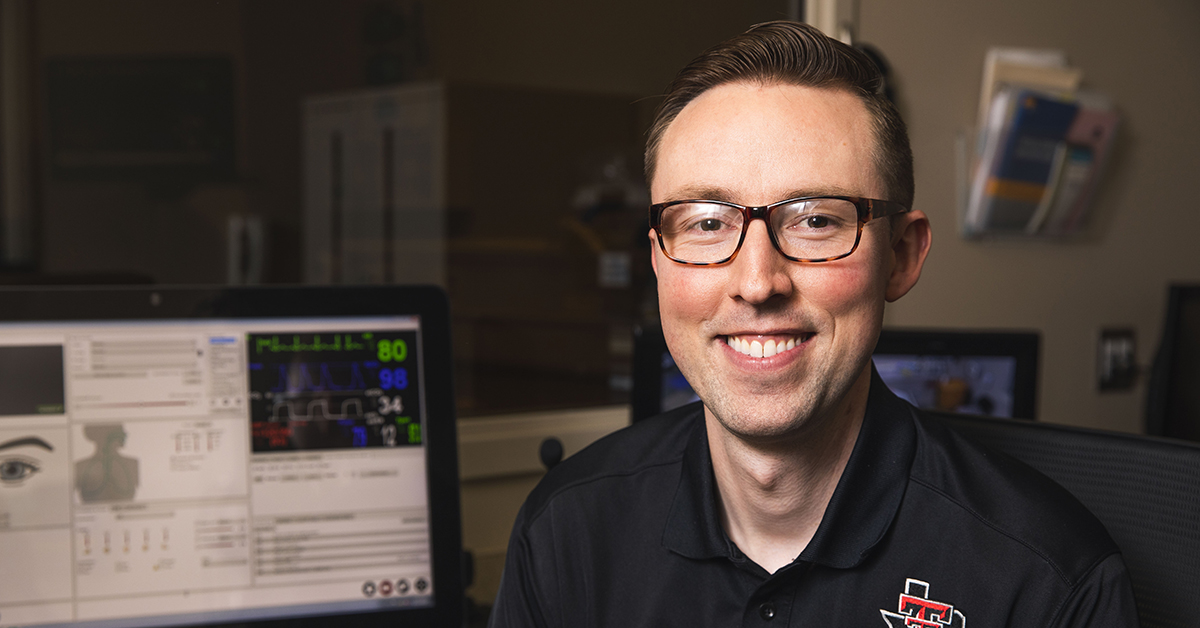 "If you were to enroll in golf lessons, you would find that they have really mastered how to teach complex motor behaviors and knowledge through observation. They will record you, let you watch yourself and then let you watch an expert who has a similar shape and build as you. When they do that, there are two areas in the brain that fire up. As you're watching the novice—yourself—make errors, there's an area in the brain that says, 'Don't do this.' When watching an expert, another area fires and says, 'Mimic this next time.' When you mix these two together, the research shows that currently, this is one of the most evidence-based approaches for people to learn in an observational environment.

"I hope during my time at TTUHSC, I can advance research in health care education using simulation using many of these methods."
Related Stories
By Melissa Whitfield
February 13, 2023
Abstaining from drug abuse and an early diagnosis of familial hypercholesterolemia (high cholesterol) can help prevent heart disease.
By Lori Rice-Spearman, Ph.D., Steven L. Berk, M.D.
March 22, 2022
TTUHSC Celebration of Life Service was held March 25th in remembrance of Tom McGovern, Ed.D.
By Suzanna Cisneros
March 18, 2022
TTUHSC has been named as a Military Friendly® School for 2022-2023. Among graduate schools, TTUHSC ranked fourth in the nation, achieving Gold award status.
Recent Stories
Education
By Meaghan Collier
March 17, 2023
TTUHSC Amarillo medical students participated in Match Day Friday, March 17.
Education
By Suzanna Cisneros
March 17, 2023
TTUHSC medical students participated in Match Day Friday, March 17.
Education
By Meaghan Collier
March 16, 2023
On March 15, TTUHSC Jerry H. Hodge School of Pharmacy students interested in completing a residency after they graduate learned where they would spend the next stage of their training.