The Perfect Match — Research and Patient Care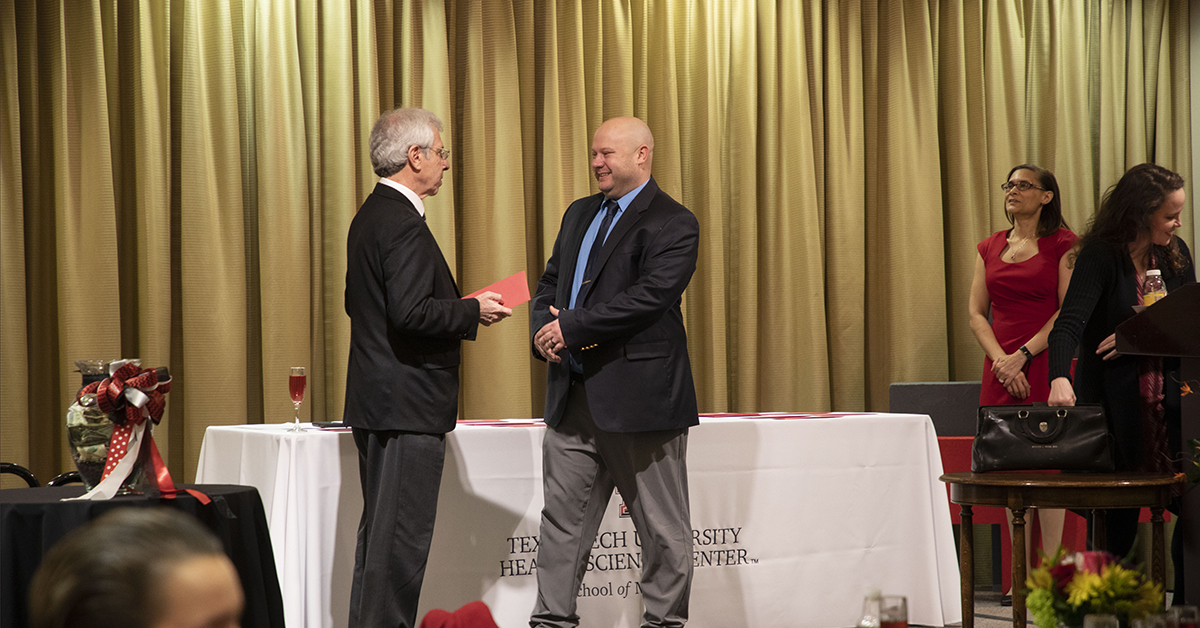 Born and raised in Canyon, Texas, Ty Whisenant knew he wanted to go into the medical field, but he was sidetracked along the way. After graduating from Texas Tech University with a degree in biochemistry, he worked at a number of jobs including yard work, research and development at an orthodontics supply company and as a chemist for a cement plant.

"One of the plants I worked at, they laid off half the company, so I moved to Austin and did some military contracting work for the Defense Advanced Research Projects Agency for a bit," Whisenant said. "I also did contract work with the Texas Department of State Health Services during the swine flu pandemic. Getting back to the biochemistry and the urge to want to help people who are sick is what got me back on that track."
Whisenant went on to receive his master's degree in Biochemistry at Texas State University where he researched sodium channels in the kidney and their influence on hypertension. During that time, he mentioned to his mentor, Rachell Booth, Ph.D., about his wish to get into medical school.
"She said, 'Have you ever thought about an M.D./Ph.D.?' and I responded that I had never even heard about that combination of a degree," Whisenant said. "But it sounded like the perfect match. I love the science, working in the lab and to also work in medicine with patients. I would get to do both things I love the most. I have a lot of nurses in my family, Freda and Debbie Whisenant of Lamesa, who told me stories of the ER and surgery, as well as encouragement from my mom and dad. Medicine was always in my mind to do one day."

Whisenant applied to Texas Tech University Health Sciences Center (TTUHSC) and was accepted to the M.D./Ph.D. program. For his Ph.D. in Molecular Biophysics, he researched ion channels within the heart with Luis G. Cuello, Ph.D., an associate professor in the TTUHSC Department of Cell Physiology and Molecular Biophysics.

"Working on this research, I learned how these ion channels within the heart help regulate conduction of the electrical signal through the heart, and that lead me to want to do cardiac electrophysiology which deals with the heart's rhythm pathologies."

Now that he is about to complete his M.D./Ph.D., he said he would like to work in an academic setting where he hopes to continue work in a research lab with a heavy concentration of patient care.

Whisenant will move on to complete three years of residency in Lubbock at TTUHSC in internal medicine, another three years in cardiology and a two-year residency specialty in cardiac electrophysiology.

Whisenant credits Olusegun Oyenuga, M.D., co-director of Cardiac Electrophysiology at the Texas Tech Physicians Center for Cardiovascular Health and a TTUHSC assistant professor, for mentoring him.
"He loves to teach," Whisenant said. "He's is a perfect example of how a person can do both research and practice medicine successfully. That is why I would love to stay in an academic setting. Hopefully, I could look into research that is more translational. I would love to take someone who has certain genetic predispositions to getting arrhythmias and see how this their genetics influences the proteins responsible for electrical activity within the heart."

Whisenant, along with his wife Allison and two daughters, hope to stay in Texas.

"I'm not sure you could beat the faculty and the environment we have here at our Department of Internal Medicine," Whisenant said. "I told my wife that every day here at TTUHSC is the happiest I've ever been. It's a perfect match."
All About the Brain

Ben Elberson sat at the back of a college classroom at the age of 10. His mother would take him to her math classes while she worked on her master's degree. Later when she was an adjunct professor, he continued to sit in on her classes and remembers as a 12-year-old taking her statistics exams and doing well.

Elberson was homeschooled and grew up in Frisco, Texas. He always would gravitate towards biology and anatomy and later went on to complete his biochemistry degree with a minor in religious studies at Austin College.

"As far back as I can remember, I knew that I was going to do medicine, but once I did research at Austin College, I knew that I wanted to enter the M.D./Ph.D. dual degree program," Elberson said. "I thought being a physician with that level of knowledge would certainly bridge the gap between basic science research and clinical practice."

Elberson was accepted to the Texas Tech University Health Sciences Center (TTUHSC) M.D./Ph.D. program in 2012 and worked with Luis G. Cuello, Ph.D., an associate professor in the TTUHSC Department of Cell Physiology and Molecular Biophysics,working on protein structure and function for his doctoral research.

He knew he wanted to study a field revolving around psychiatry, neurosurgery or neurology. Halfway through his third year of medical school Elberson decided to focus on neurology, until he met Benedicto Baronia, M.D., a TTUHSC neurosurgeon, who strongly suggested Elberson look at neurosurgery.

Working in surgery with Baronia gave Elberson what he calls his aha moment — neurosurgery was his passion and the only field that would make him truly happy.

"He's one of the surgeons who allows the most student participation in surgeries because of how much experience he has," Elberson said. "The time I spent in the operating room and the ICU I have loved that more than any time that I've ever spent in this hospital and it's the only thing that could keep me working here for those hours and not being home." After working with Dr. Baronia, Elberson reached out to another local neurosurgeon, Dr. Laszlo Nagy. With Dr. Nagy, he explored the field of pediatric neurosurgery and participated in neurosurgical research.

Elberson gravitated towards functional neurosurgery, which can involve deep brain stimulation for Parkinson's disease, but also can include surgery for psychiatric conditions, such as new targets for depression or OCD. He will have eight plus years in residency and fellowships to complete. A new experience he, along with his wife Jill and 5-month-old son Owen, will begin in Little Rock, Arkansas. Elberson matched in neurological surgery at the University of Arkansas College of Medicine.

"Being able to directly impact so many people is really important to me," Elberson said. "That's why I like surgical medicine. It's much more immediate. You can diagnose a condition and act to physically change the course of that person's life."
Related Stories
By QEP Committee
March 21, 2023
As spring approaches, some people's thoughts turn to gardening. Whether it's a flower garden they desire or a vegetable garden want to have, they begin planning what they'll plant and what they need to do to ensure a successful garden.
By QEP Committee
March 21, 2023
A "growth mindset" accepts that our intelligence and talents can develop over time, and a person with that mindset understands that intelligence and talents can improve through effort and learning.
By Melissa Whitfield
February 13, 2023
Abstaining from drug abuse and an early diagnosis of familial hypercholesterolemia (high cholesterol) can help prevent heart disease.
Recent Stories
Research
By Mark Hendricks
November 16, 2023
Ninh (Irene) La-Beck, Pharm.D., with the TTUHSC Jerry H. Hodge School of Pharmacy, received a five-year, $2.49 million grant to investigate how nanoparticles interact with the immune system and cancer.
Research
By Mark Hendricks
November 10, 2023
To help investigate the influence basal sex hormone alterations may have on chronic post-op pain, the NIH recently awarded a grant to Jenny Wilkerson, Ph.D., from the Jerry H. Hodge School of Pharmacy.
Health
By Tyler White
November 09, 2023
Scott Shurmur, M.D., a cardiologist at the Texas Tech Physicians Center for Cardiovascular Health, shared his expertise and his experience as a former collegiate athlete.