A Passion for Teaching
Ganapathy's career centered on research & educating medical students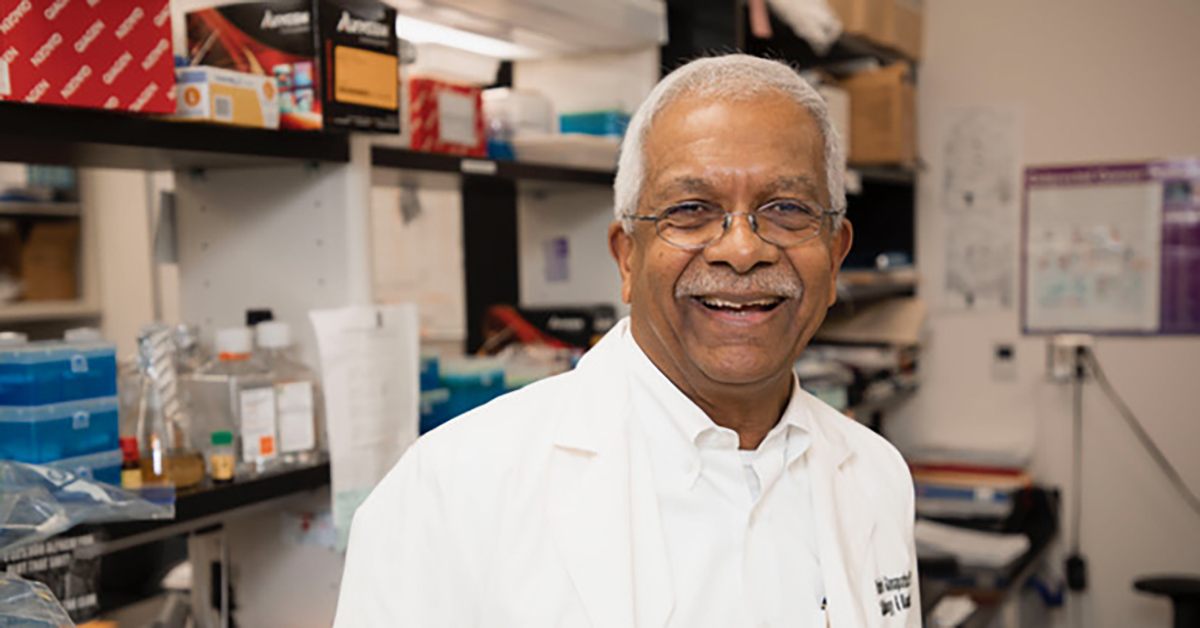 After spending the first 35 years of his career at Georgia Regents University (GRU), since renamed Augusta University, Vadivel Ganapathy, Ph.D., arrived at TTUHSC in 2014 as the Graduate School of Biomedical Sciences chair and professor for the Department of Cell Biology and Biochemistry. His journey to Lubbock, however, began in the 1970s when he earned his Ph.D. in biochemistry from Madras University in India.
"My parents did not even have a high school education, so I got my inspiration to excel in academics, not from my parents, but from my school teachers," Ganapathy says. "I had wonderful teachers all through my education."
For his Ph. D. research, Ganapathy investigated transport proteins in the plasma membrane. It was a research interest that became the primary focus of his academic career. Because every body cell and tissue depend upon transporters to supply the nutrients that are key to their function, Ganapathy was able to expand his research to any tissue, working at various times on the intestines, colon, kidney, heart, retina, placenta, brain and liver. The versatility of his research helped him land more than 45 research grants, including more than 30 from the various institutes and centers that comprise the National Institutes of Health.
"The transporters that I study are not involved just in health, but also in disease processes," Ganapathy says. "Gut microbes influence the expression of these transporters in colon; this is why I was successful in getting funding from numerous institutes at NIH to support my research over the years."
Ganapathy served as interim chair for GRU's Department of Biochemistry and Molecular Biology from 2001 until 2004 when he was officially named to the position. He remained with the school in that capacity until he left for TTUHSC in 2014.
"My wife and I decided to leave the institution and try some other place for a few years before finally retiring from academics," Ganapathy says.
At that time, the chair position for the Department of Cell Biology and Biochemistry at TTUHSC was open. Ganapathy applied for the position and liked what he saw when he travelled to Lubbock for the interview.
"TTUHSC, with its primary focus on medical education, was a big attraction because I am passionate about teaching medical students," Ganapathy says. "When I talked with the dean, Dr. Steven Berk, during my first and second interviews, it was clear that medical student education was the single most important thing he cared about. I wanted to be a part of his vision and contribute as best as I could to the teaching mission at the TTUHSC School of Medicine."
Ganapathy continued to shine in the classroom and laboratory after moving to TTUHSC. In addition to his department chair position, he currently serves as the Welch Endowed Chair in Biochemistry. He also has received numerous teaching awards, including the University Distinguished Faculty designation in 2016. In 2017, Ganapathy was named the eleventh recipient of the Grover E. Murray Professorship, the highest honor TTUHSC bestows upon faculty who attain national and international distinction for their outstanding research, scholarly activities and creative achievement.
"Most people would be surprised, or even alarmed to know that I was never interested in or studied biology," Ganapathy says. "I was studying only STEM subjects — Science, Technology, Engineering and Mathematics — until I joined the master program in biochemistry. I often joke to my students and colleagues that I am a fake biochemist with no formal exposure to biology."
Thoughout all of his achievements, Ganapathy has enjoyed unwaivering support from his family. His wife of 36 years, Malliga, is an internist and infectious diseases specialist who works for the Veteran's Administration. His daughter is an ophthalmologist with an M.D./Ph.D., who works at the State University of New York-Upstate Medical University and his son-in-law is a bone biologist and a faculty member at the same medical school. His son is currently a medical student at Washington University in St. Louis.
Like his own children, there are undoubtedly many other medical students who have looked to Ganapathy for guidance and mentorship. For Ganapathy, that is better than all of the awards and accolades he has received during his career.
"There is nothing like the teaching profession; it is so rewarding," he says. "When you see the students' faces light up during your lecture, indicating they have learned and understood what you taught, nothing could be more fulfilling in any profession."
Related Stories
By QEP Committee
March 21, 2023
As spring approaches, some people's thoughts turn to gardening. Whether it's a flower garden they desire or a vegetable garden want to have, they begin planning what they'll plant and what they need to do to ensure a successful garden.
By QEP Committee
March 21, 2023
A "growth mindset" accepts that our intelligence and talents can develop over time, and a person with that mindset understands that intelligence and talents can improve through effort and learning.
By Melissa Whitfield
February 13, 2023
Abstaining from drug abuse and an early diagnosis of familial hypercholesterolemia (high cholesterol) can help prevent heart disease.
Recent Stories
Research
By Mark Hendricks
November 16, 2023
Ninh (Irene) La-Beck, Pharm.D., with the TTUHSC Jerry H. Hodge School of Pharmacy, received a five-year, $2.49 million grant to investigate how nanoparticles interact with the immune system and cancer.
Research
By Mark Hendricks
November 10, 2023
To help investigate the influence basal sex hormone alterations may have on chronic post-op pain, the NIH recently awarded a grant to Jenny Wilkerson, Ph.D., from the Jerry H. Hodge School of Pharmacy.
Health
By Tyler White
November 09, 2023
Scott Shurmur, M.D., a cardiologist at the Texas Tech Physicians Center for Cardiovascular Health, shared his expertise and his experience as a former collegiate athlete.