Pharmacy Researcher Finds Her Niche in Medicinal Chemistry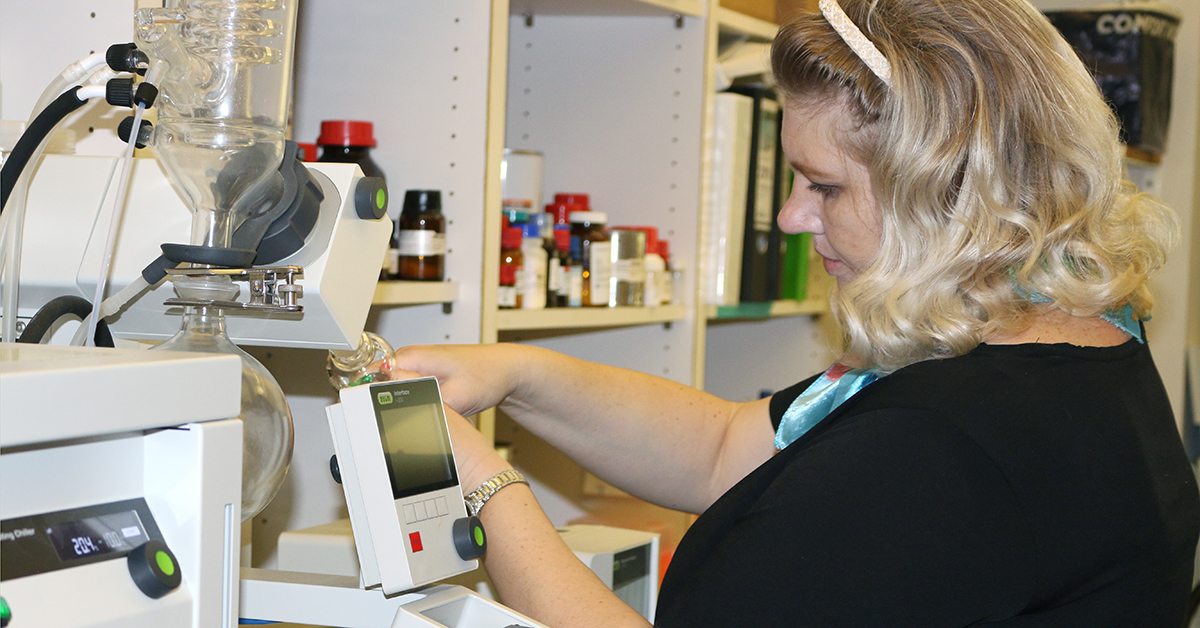 When Nadia German, Ph.D., earned her master's degree in chemistry and chemistry education, she was prepared to make a career related to that field. However, an invitation from a former professor altered her plans.
"In 2000, I had participated in the exchange program with the University of Northern Iowa," German recalls. "One of the professors I worked with at that time invited me in 2003 to join his Ph.D. program at the University of Iowa. And this is how I joined the field of medicinal chemistry, something I have enjoyed ever since."
German, who was born and raised in St. Petersburg, Russia, eventually earned her Ph.D. in medicinal and natural products chemistry. While at the University of Iowa, she worked on the synthesis of chemical probes designed to overcome bacterial resistance to antibiotics. The work resulted in the discovery of novel inhibitor NorA and MepA efflux pumps, one of the most potent compounds to date.
With her Ph.D. in hand, German landed a postdoctoral training position in 2007 at Virginia Commonwealth University and continued her medicinal chemistry-based research into the allosteric modulation of nicotinic receptors. She worked at the school until 2010, when she accepted a similar position at RTI International, an independent nonprofit institute that provides research, development and technical services worldwide to government and commercial clients. At RTI, German worked on thedesign and synthesis of various ligands for central nervous system receptors.
In 2014, German accepted an assistant professor position in the Department of Pharmaceutical Sciences at TTUHSC's Jerry H. Hodge School of Pharmacy. She says her interview experience at TTUHSC, especially with Department of Pharmaceutical Sciences Chair Thomas Abbruscato, Ph.D., convinced her to make the move to Amarillo.
"Among all the places I interviewed at, I really enjoyed the atmosphere at TTUHSC," German says. "Dr. Abbruscato and his team made me feel so welcomed I was happy to accept the offer. I am very thankful to have an opportunity to work at TTUHSC and hope that our school will continue to develop."
German's research group is currently focused upon three areas, including examining the mechanisms of the cell-to-cell signaling underlying bacteria-host interaction to better understand these mechanisms in normal and pathological states. For this research, her group is specifically interested in modulating such processes by developing chemical probes capable of initiating and inhibiting certain aspects of quorum sensing in different types of bacteria.
"Another focus area for us is anticancer research, where I have received NIH R15 funding in collaboration with Dr. Constantinos Mikelis, who also is an assistant professor for the Department of Pharmaceutical Sciences," German says. "We focus on developing anticancer agents with the ability to fight metastatic form of the triple-negative breast cancer."
Her third focus area involves developing kappa antagonists discovered by her lab into treatments for neuropathic pain. For this research, German works with Abbruscato and Volker Neugebauer, M.D., Ph.D., professor and chair for the Department of Pharmacology and Neuroscience at TTUHSC's School of Medicine.
Because she can work on multiple projects, German says the best part of being a medicinal chemistry researcher is the possibility to use theories and practical techniques from many fields, including biology, chemistry and pharmacology.
"The hardest part is to keep up with all of the new hypothesis, projects and innovations in all those fields," she adds.
Like many of her research colleagues, German says spare time is a precious commodity, so she tries to make the most of any that comes her way.
"My work is like gas; it expands and takes all the free time I have," she explains. "Therefore, in my free time I usually am trying to catch up with my family and see all the soccer games and competitions where my kids participate. If there is some room after that, then I'm reading."
Related Stories
By QEP Committee
March 21, 2023
As spring approaches, some people's thoughts turn to gardening. Whether it's a flower garden they desire or a vegetable garden want to have, they begin planning what they'll plant and what they need to do to ensure a successful garden.
By QEP Committee
March 21, 2023
A "growth mindset" accepts that our intelligence and talents can develop over time, and a person with that mindset understands that intelligence and talents can improve through effort and learning.
By Melissa Whitfield
February 13, 2023
Abstaining from drug abuse and an early diagnosis of familial hypercholesterolemia (high cholesterol) can help prevent heart disease.
Recent Stories
Education
By Suzanna Cisneros
March 24, 2023
Recognizing academic excellence, the honors are the most prestigious awards granted to faculty throughout the TTU System. The awards are funded by gifts to the Chancellor's Council, a giving society that supports the chancellor's priorities across the TTU System.
Campus Life
By Suzanna Cisneros
March 23, 2023
TTUHSC School of Medicine students will host a Women's Health Day free clinic from 10 a.m. to 1 p.m. April 15 at The Free Clinic
Research
By Mark Hendricks
March 21, 2023
TTUHSC Cytogenetic Technologist Jasbir Bisht and a team from P. Hemachandra Reddy's internal medicine laboratory analyzed the impact of cancer in Hispanics in comparison to other ethnic groups.