Brain-Centered Pharmacology & Pathophysiology
Luca Cucullo, Ph.D., TTUHSC 50th Anniversary Profile School of Pharmacy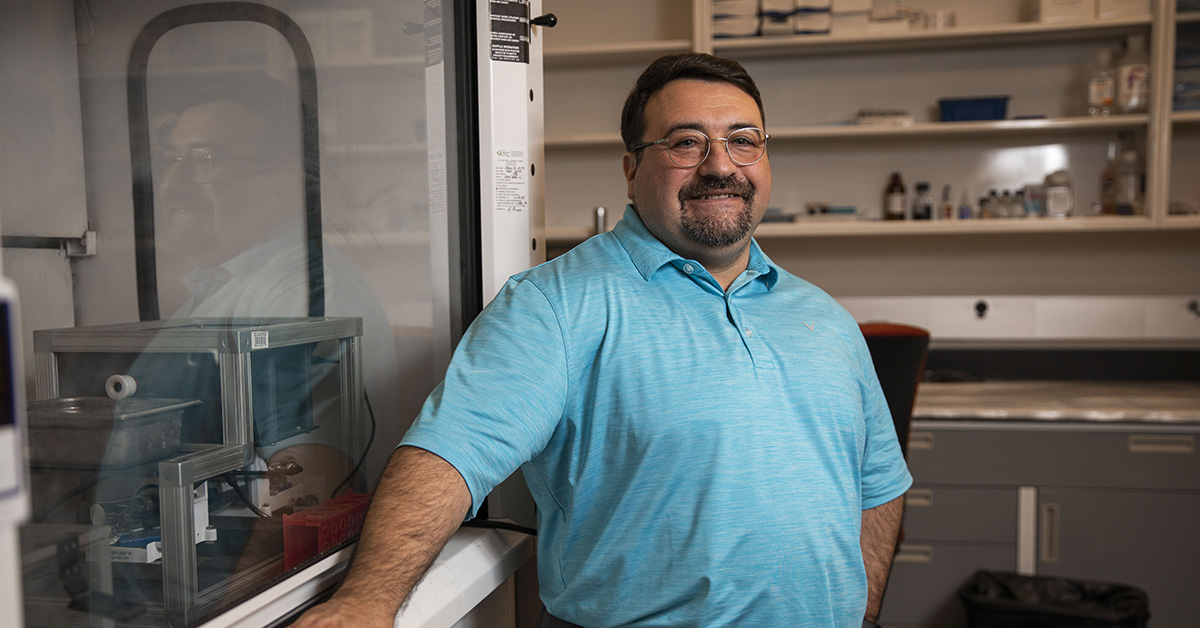 There are many reasons why scientists are drawn to their particular fields of research. For some, it may start with a child's curiosity to learn more about the world in which they live. Others may have been influenced by a family member or friend whose individual circumstances lit a motivational fuse. For Luca Cucullo, Ph.D., it was a series of seeing-is-believing moments that sparked his passion for investigating brain-centered pharmacology/pathophysiology research.
"Probably the strongest input and motivation to pursue my research endeavors as a career path came from my working experience at the Cleveland Clinic's Department of Neurosurgery because I was directly exposed to the cumbersome challenges patients and care physicians have to deal with," Cucullo recalls.
As he spent more time at the clinic, Cucullo became acutely aware of the paucity of treatment options available for patients—including children—afflicted with various neurological disorders like drug refractory epilepsy, multiple sclerosis, vascular dementia, stroke and many others. That awareness only added to his desire to help alleviate those health burdens to the best of his ability.
"It is one thing to read from a pathophysiology book about the toll these brain disorders take upon a patient and another to see it happening with your own eyes and realize how bad they can impact someone's life," he added.
Cucullo was born and raised in Chieti, a city in southern Italy 124 miles east by northeast of Rome According to mythology, Chieti—Theate or Teate in Latin—was founded in 1181 B.C. by the Homeric Greek hero Achilles and was named in honor of his mother, Thetis.
While preparing his doctoral thesis at the University of Pisa School of Pharmacy, Cucullo was selected from among the school's best performing graduate students to complete his project at the prestigious Cleveland Clinic.
When his doctoral studies in pharmaceutical technology and biotechnology were completed in 2000, Cucullo was recruited back to the Cleveland Clinic later that same year to conduct research as a post-doctoral research fellow at the hospital's Cerebrovascular Research Center and began specializing in neuropharmacology and brain vascular modeling.
In 2007, Cucullo accepted a position as a non-tenure track assistant professor at Case Western Reserve University and the Cleveland Clinic Lerner College of Medicine. In 2011, he made his way to the Texas Panhandle by accepting an assistant professor position for the Department of Pharmaceutical Sciences at the TTUHSC School of Pharmacy in Amarillo. In 2018, he was named vice chair of research for the department. He also was granted tenure and promoted to associate professor.
In recent years, Cucullo has started investigating what he describes as an underestimated and often overlooked area relevant to public health: the effect of tobacco smoke exposure on the cerebrovascular system.
"I am focusing primarily on the neurovascular toxicity of various tobacco products and their effects as prodromal agents (early symptoms) to the pathogenesis and progression of major neurological disorders such as stroke, vascular dementia, Alzheimer's disease and more recently type-2 diabetes."
Cucullo's research interest also includes developing models of the microvasculature — the large network of arterioles, capillaries and venules in the body — to enhance scientists' ability to assess the potential contributions drugs and procedures can make in treating cerebrovascular disease, specific when applied the blood-brain-barrier (BBB).
"Functional and structural impairment of the BBB have been well correlated in recent years as a major prodromal factor for the onset of neurological disorders," Cucullo explains. "Thus, studies on BBB function are relevant to the pharmacological treatment of central nervous system disorders since the BBB often acts as an impediment to successful drug delivery to neurons. Conversely, it is important to understand BBB function to prevent entry of pathogens or toxins into the brain."
When he's not in the classroom or the lab, Cucullo enjoys trail trekking and snorkeling, especially during the summer when he returns to Italy. He also likes to lift weights, tinker with computers and spend time with his family.
"I was blessed to marry a wonderful woman who not only encourages me constantly in my career path, but complements me as a person with her kindness, patience and support," he says with a smile. "I also have two adorable and talented little mess makers named Luciana and Silvia. They are extremely inquisitive about science—I never thought I would find myself explaining how a black hole is formed to a kindergartener, though it surely did put a big smile on my face. They both make me proud of them every single day."
Related Stories
By Lori Rice-Spearman, Ph.D., Steven L. Berk, M.D.
March 22, 2022
TTUHSC Celebration of Life Service was held March 25th in remembrance of Tom McGovern, Ed.D.
By Suzanna Cisneros
March 18, 2022
TTUHSC has been named as a Military Friendly® School for 2022-2023. Among graduate schools, TTUHSC ranked fourth in the nation, achieving Gold award status.
By Meaghan Collier
March 17, 2022
On March 16, fourth-year TTUHSC Jerry H. Hodge School of Pharmacy students interested in completing a residency after they graduate in May, learned where they would spend the next stage of their training during the Pharmacy Residency Match Day.
Recent Stories
Health
By School of Health Professions
February 02, 2023
Moumita Choudhury Au.D., CCC-A, spoke about the present and future of social media's impact on healthcare in general and on hearing healthcare specifically.
Research
By Mark Hendricks
January 31, 2023
Gail Cornwall, Ph.D., professor in the Department of Cell Biology and Biochemistry at the TTUHSC, has been named a member of the American Association for the Advancement of Science Fellowship Class of 2022.
Research
By Mark Hendricks
January 27, 2023
To help address communication hurdles, the Patient-Centered Outcomes Research Institute (PCORI) has awarded a $438,756 subcontract to Tetyana L. Vasylyeva, M.D., Ph.D., from the TTUHSC School of Medicine.