School of Pharmacy Shines Spotlight on Research
Grants Awarded to School Top $9.2 Million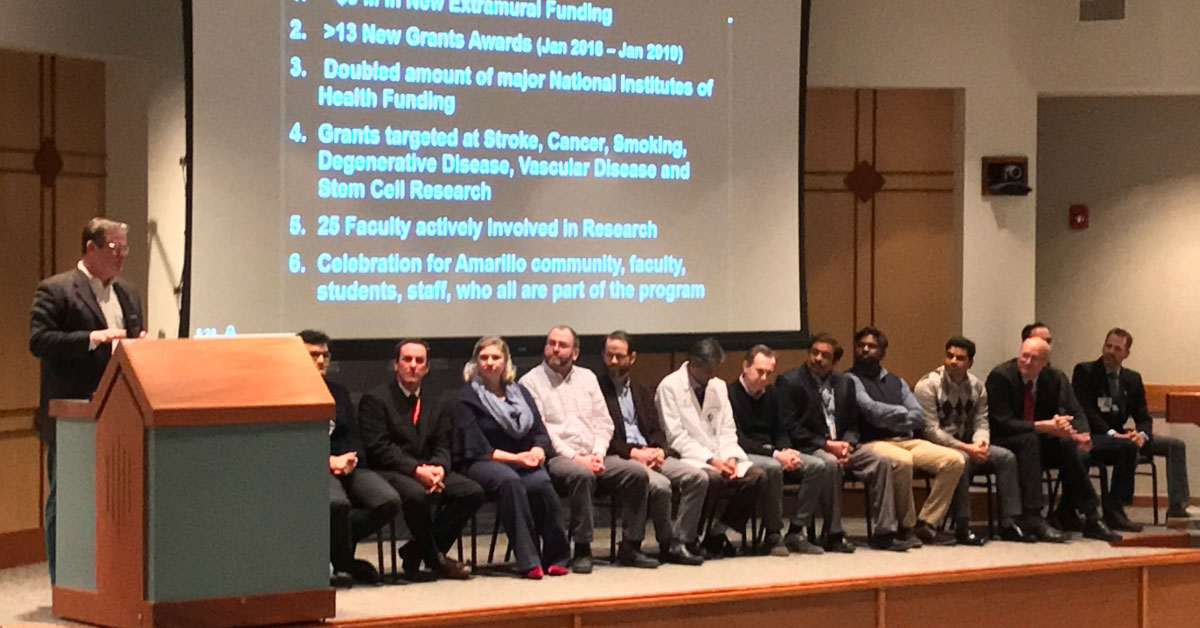 The Texas Tech University Health Sciences Center (TTUHSC) School of Pharmacy on Jan. 29 announced its researchers received more than $9.2 million in new research funding from January 2018 through January 2019.
More than $8.4 million of the school's new research funding came from the National Institutes of Health (NIH), including the National Cancer Institute (NCI), the National Heart, Lung and Blood Institute (NHLBI) and the National Institute for Neurological Disorders and Stroke (NINDS). Researchers also received funding from the U.S. Department of Defense (DOD), the Society of Toxicology (SOT) and others.
Quentin Smith, Ph.D., TTUHSC senior vice president for research and School of Pharmacy dean, said the grants focus on research areas related to cancer, cardiovascular health, neuroscience, drug development and women's health.
"The School of Pharmacy is known for its Pharm.D. program that emphasizes clinical training, but we are equally proud of our science faculty who conduct biomedical and pharmaceutical research focused upon disease mechanisms, drug formulation and delivery, drug synthesis, drug action and clinical practice," Smith said.
Texas Tech University System Chancellor and TTUHSC President Tedd L. Mitchell, M.D., said the discovery of new knowledge through cutting edge research is a core mission for TTUHSC.
"The School of Pharmacy's externally funded peer-reviewed research is truly excellent and it is growing rapidly, just as it is throughout TTUHSC," Mitchell said. "This celebration recognizes the outstanding work of our School of Pharmacy investigators who are committed to making our state and country are healthier through research in various types of drug development. Dean Smith's leadership will ensure that we continually foster innovation."
School of Pharmacy researchers who received new grants include:
Fakhrul Ahsan, Ph.D., $2,366,265 (NIH), "Recapitulation of Sex Disparity in PAH on a Microfluidic Device and Elucidation of the Differences and Similarities"
Ahsan, $108,537 (Cardiovascular Medical Research and Education Fund), "PAH-Mimicking Chip to Elucidate Sex-Based Pathogenesis to Develop Gender-Specific Therapy"
Ulrich Bickel, Dr.Med., $28,636 (Therachon), "Pharmacokinetics and Brain Uptake of Recombinant SFGFR3"
Hiranmoy Das, Ph.D., $224,999 (NIH), "Development of Nanofiber Expanded CD34+ Stem Cells for Osteoporosis Therapy"
Nadezhda German, Ph.D., and Constantinos Mikelis, Ph.D., $458,847 (NIH/NCI), "Novel Class of Chemotherapeutic Agents for Treatment of Metastatic Triple-Negative Breast Cancer"
Rahul Jayant, Ph.D., $153,000 (NIH), "Intranasal Nanodelivery of Oxytocin to Treat Morphine Addiction in HIV Patients by Gene Editing"
Jayant, $18,981 (The Campbell Foundation), "Sustained Release of Nano-Medicine Up to One-Month for Treatment of HIV Infection."
Vardan Karamyan, Ph.D., Thomas Abbruscato, Ph.D., and Paul Trippier, Ph.D., $2,915,893 (NIH/NINDS), "Development and Characterization of Peptidomimetic Small Molecule Activators of Peptidase Neurolysin for Stroke Therapy"
Ali Keshavarz, $12,500 (International Foundation for Ethical Research), "A Micropattern-Engraved Two-Compartment Tissue-Chip as a Non-Animal Model for Studying Right-Ventricular Hypertrophy Induced by Pulmonary Arterial Hypertension"
Devin Lowe, Ph.D., $453,079 (NIH/NCI), "Immunotherapeutic Targeting of Colon Cancer Vascularization to Achieve Long-Term Protective Immunity"
Lowe, $542,982 (DOD), "Immunotherapeutic Targeting of Colon Cancer Vascularization to Achieve Long-Term Immunity Against Primary and Metastatic Disease"
Eric MacLaughlin, Pharm.D., $7,642 (NIH/NHLBI sub-award), "Dissemination of the Cardiovascular Risk Service (CVRS Live)"
Sharavan Ramachadran, M.S., $15,000 (SOT Syngenta Fellowship), "Discovery of Anti-Cancer Effects of Pimavanserin Tartrate in Pancreatic Cancer"
Sanjay Srivastava, Ph.D., $23,706 (BePharBel), "Evaluation of Anti-Tumorigenic Effects of Catechin-Lysine Complex in Pancreatic, Breast, Colon, and Lung Cancer in Mice Models"
Paul Trippier, Ph.D., $1,876,974 (NIH), "AKR1C3 Inhibitors as Chemotherapeutic Potentiators"
Related Stories
By Mark Hendricks
March 25, 2022
The Texas Tech University Health Sciences Center (TTUHSC) Graduate School of Biomedical Sciences hosted its 34th Annual Student Research Week March 8-11.
By Mark Hendricks
March 25, 2022
The National Cancer Institute awarded a five-year, $1.9 million grant to C. Patrick Reynolds, M.D., Ph.D., director for the School of Medicine Cancer Center at TTUHSC.
By School of Health Professions
March 24, 2022
Richard Greenhill, DHA, FISQua, FACHE, discusses the hype and reality surrounding AI in healthcare.
Recent Stories
Education
By School of Health Professions
June 30, 2022
Ericka Hendrix, PhD, MB(ASCP)cm, spoke about the training and education involved for diagnostic molecular scientists and how the pandemic has affected the role.
Education
By Suzanna Cisneros
June 29, 2022
TTUHSC and members of the Abilene community today (June 29) celebrated the official unveiling the new Julia Jones Matthews School of Population and Public Health.
Education
By Kate Gollahon
June 28, 2022
On June 29, the opening celebration event for the Julia Jones Matthews School of Population and Public Health will recognize many years of hard work and look ahead to the start of a new and exciting journey.