Educating the Next Generation of Physicians
Training physicians and having a positive impact on people is what motivates Simon Williams, Ph.D., associate dean for Academic Affairs, at Texas Tech University Health Sciences Center School of Medicine.

Williams, originally from Dublin, Ireland, moved to Lubbock, Texas, as an assistant professor in 1995 after completing postdoctoral training in the area of gene regulation and cancer at the National Cancer Institute in Frederick, Maryland. He was promoted to associate professor in 2001 and served as Director of Research at the Southwest Cancer Research and Treatment Center until 2005.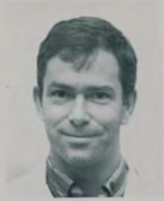 Dr. Williams as an associate professor of microbiology & immunology in 1996.
"I was in the Department of Biology and Biochemistry for 12 or 13 year and was pretty successful—got research grants," said Williams. "In 2006 I started getting involved in curricuar activities in the School of Medicine and served on committees. I realized my research career had the potential to eventually have some significant impact, but for the most part, was not going to change the world that week. What I began to realize was the if we did a better job of training physicians that I could actually have a positive impact on many, many more people."

Williams was chair of the curriculum committee in charge of redesigning the School of Medicine's curriculum in 2002 when he was named associate dean for Academic Affairs.

"My career now, which is very different from what it was before, is how do we educate future physicians and how do we ensure that we're educating future physicians to work with other health professionals? It's fantastic that we have all the schools here and that we can train them together. Also how do we ensure that we meet the mission of this institution, which is to ensure that we're providing excellent health care to the people of West Texas?" Williams said.

Part of training physicians includes making sure students are prepared for their future by reexamining traditional teaching methods.

Dr. Williams has worked at TTUHSC School of Medicine since 1995.
"I think the future of education is going to be very different from what it has been. I have a lot of interest in technology, so I've been working with [School of Medicine Dean] Dr. [Steven] Berk as part of a team that have introduced lots of innovative ways to educate by incorporating external resources into our curriculum. Also, the idea that we can train our physicians quicker and just as well is an important innovation that we've been trying. I've also been involved in our sex and gender curriculum to make sure that our students are aware that women are different and we need to think about them differently when we're considering their health," Williams said.

Williams acknowledges that the School of Medicine is a very "tough program" and that students are under even more pressure than they were before.

"We attract brilliant, young people," he said. "I think we have absolutely phenomenal students who come to medical school and I think that we and the students need to work together to make sure that we all achieve the goals that we've set for ourselves—training them to be able to look after the people of West Texas, Texas and beyond."

His commitment to helping educate physicians comes not only from his role at TTUHSC. He is a member of the Lubbock, Texas, community.

"I've loved living here for the past 24 years. I met my wife [Kendra Rumbaugh, Ph.D., professor, Department of Surgery] here and we had our kids here. This institution is an amazing place to work. It's a much more amazing place now than it was when I got here, and that's partly because of the leadership we have. What I think is so exciting about being here at this time is that we're finally getting to the stage where it doesn't matter whether you're in medicine, nursing, pharmacy or graduate school, we're all talking to each other about how we're going to make sure that this institution is a flagship pioneer institution for education in the future. We're training the best health professionals for our people around here and ourselves.

"It's still the best place to work in that I've ever been and I'm delighted to still be here."
Related Stories
By Mark Hendricks
March 25, 2022
The Texas Tech University Health Sciences Center (TTUHSC) Graduate School of Biomedical Sciences hosted its 34th Annual Student Research Week March 8-11.
By Mark Hendricks
March 25, 2022
The National Cancer Institute awarded a five-year, $1.9 million grant to C. Patrick Reynolds, M.D., Ph.D., director for the School of Medicine Cancer Center at TTUHSC.
By School of Health Professions
March 24, 2022
Richard Greenhill, DHA, FISQua, FACHE, discusses the hype and reality surrounding AI in healthcare.
Recent Stories
Education
By Suzanna Cisneros
May 24, 2022
The school, which is the sixth at the university, aims to train future health care leaders in population and public health.
Education
By Meaghan Collier
May 21, 2022
The TTUHSC Jerry H. Hodge School of Pharmacy celebrated the Class of 2022 May 21 with its annual commencement ceremony.
Health
By School of Health Professions
May 19, 2022
Dysphagia is a swallowing disorder that affects a person's ability to eat or drink, affecting between 300,000 and 700,000 people in the United States each year.