Top Five Reasons for Pursuing a Pharmacy Career
Health care in the U.S. is transforming at unprecedented rates — a growth that is spurred, in large part, by the field's continued transition to value-based care.
Defined by the New England Journal of Medicine as "a healthcare delivery model in which providers, including hospitals and physicians, are paid based on patient health outcomes," value-based care is an evidence-based approach that ultimately offers benefits for providers, patients, and the health of the entire community by achieving better outcomes at a lower price-point. This is in contrast to the more traditional fee-for-service model, in which reimbursement is based primarily on the quantity of services provided.
With health outcomes front-and-center in medicine today, health care organizations are relying on a variety of professionals, from nurse practitioners to physician assistants, to supplement the ranks of physicians in order to ensure that patients receive the highest level of services for every dollar spent. A role that is growing in importance in line with this trend is that of the pharmacist. In rural communities, in particular, pharmacy professionals are playing an increasingly active role as part of health care teams that aim to help patients access quality care at every point of their medical journey.
Wondering if a pharmacy career is right for you? Consider these five reasons to further your education by enrolling in pharmacy school:
1. You'll Benefit From Diverse Career Options
The role of the pharmacist is fairly familiar in the U.S. but many people do not realize that pharmacy is a diverse field that offers a wide variety of career opportunities. While there are certainly opportunities to dispense prescriptions behind a counter, that is far from the only responsibility performed by professionals working in this exciting facet of health care.

Wondering what jobs can you get with a pharmacy degree? According to Professor Eric MacLaughlin, Pharm.D., Chair of the Department of Pharmacy Practice at Texas Tech University Health Sciences Center Jerry H. Hodge School of Pharmacy, students who graduate from pharmacy school are equipped for a number of interesting positions.

"There is a wide variety of areas that you can actually go into with a pharmacy degree," MacLaughlin says. "When it comes to pharmacy careers, people usually think about community pharmacy and they may even think of the hospital setting, but what they may not realize is that there are a lot of diverse opportunities out there, ranging from business management to nuclear pharmacy. If you are more interested in working directly with patients, a pharmacy degree can also qualify you to work as a clinical specialist."

Clinical specialists work directly with other health care providers in a variety of settings to ensure optimized prescription and use of medications. The responsibilities of these professionals typically relate to the assessment and monitoring of patients and their prescribed drugs. Clinical specialist roles are available in many areas of health care, including cardiology, infectious disease, oncology, psychiatry, and transplant.

Looking for something else for your pharmacy career? With a pharmacy degree, you are not limited to working in a hospital or similar clinical setting. According to MacLaughlin, professionals with pharmacy backgrounds also sometimes go into regulatory work with the U.S. Food and Drug Administration or other areas of public health service.

"Personally, I think the fact that there is such variety is one of the top reasons to pursue a pharmacy career," MacLaughlin says. "There are so many areas that you can go into."
2. You Can Help Shape an Evolving Role
As health care professionals struggle to match the rising demand for health care services, the role of the pharmacist is evolving to fill critical care gaps. Across the U.S., this need is driving a significant provider shortage in the area of primary care. In fact, by the year 2032, the Association of American Medical Colleges estimates that the country will experience a shortage of up to nearly 122,000 physicians.

This lack of providers is being felt in Texas, where, according to the Fort Worth Star-Telegram, there are only 63,871 practicing doctors serving the state's 28 million residents — a ratio that is far below industry standards.

Despite the lack of qualified health care professionals, demand continues to rise with the shift toward value-based care, which tends to require additional oversight at most every stage of a patient's health care journey. As reported in Becker's Hospital Review, many hospitals and health systems are turning to pharmacy professionals to help meet gaps. The result is that many pharmacists are playing a more hands-on role in improving patient outcomes and achieving strategic goals. This is especially true in rural communities, where local pharmacists may be the only health care provider available for miles.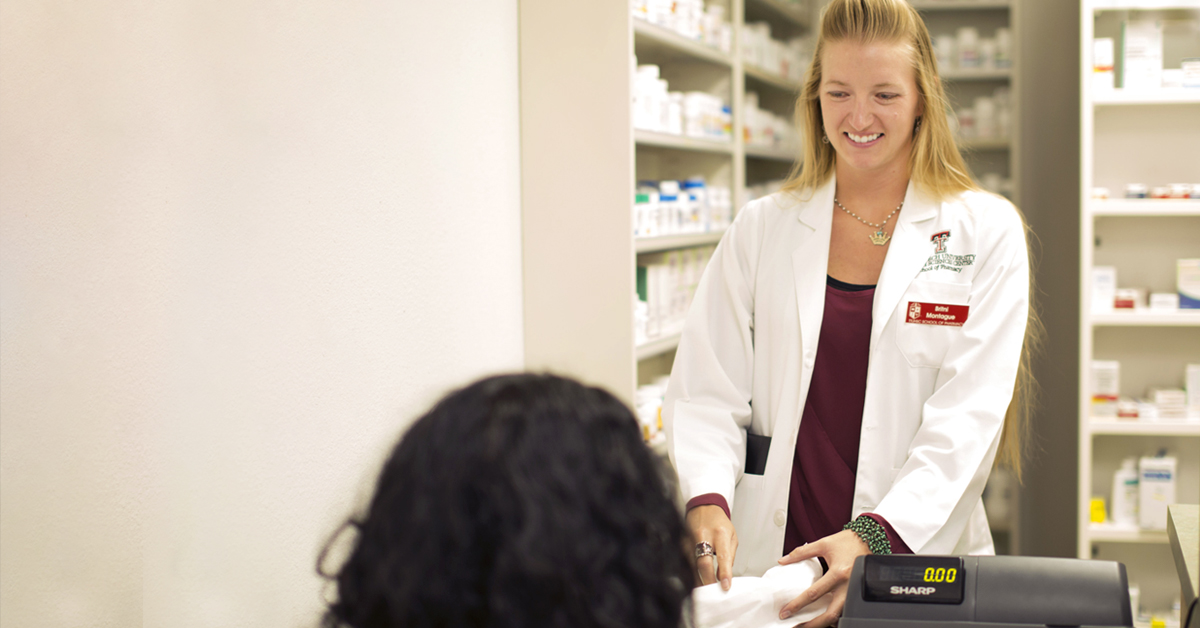 By entering into a pharmacy career today, you could play a part in shaping the responsibilities and expectations of the pharmacy role.

"A lot of private offices and other large groups such as Kaiser Permanente and Veteran Affairs have had pharmacists with them for years as part of their patient care teams," MacLaughlin said. "But in the coming years, I believe that the role of pharmacists is going to be even more commonplace. You're going to see them embedded into other practice areas, working as part of the team with physician colleagues."

MacLaughlin reports that this shift could enable pharmacists to play a very important role in helping patients manage chronic diseases like diabetes, hypertension, and high cholesterol. By performing more hands-on responsibilities, pharmacists can additionally free up the physicians who would otherwise perform these tasks, enabling the providers to focus their attention on other more complex issues.
3. You'll Work With Patients to Improve Outcomes
One of the major perks of a pharmacy career is the impact that you can have on the health outcomes of the patients with whom you interact — an extremely rewarding component of the role.

For instance, clinical specialists can play an important part in preventing drug interactions that could have harmful — or potentially fatal — consequences, says MacLaughlin. That involves educating patients on the medications which they are prescribed, in order to ensure that they are taking them correctly — or that they are actually taking them to begin with.

Comprehensive medication management is also an important part of the pharmacist's role which can influence patient outcomes. According to MacLaughlin, in comprehensive medication management, pharmacists work as part of a team responsible for prescription selection, dosing, and monitoring.

"They are working with physicians and other health care providers, including nurses, to optimize medication outcomes," MacLaughlin says. "There are a lot of studies out there that demonstrate patient outcomes can be improved when pharmacists work as part of the care team. That includes areas of practice such as cardiology, oncology, and infectious diseases, and includes markers such as blood pressure or serious adverse events."

Because of their involvement with prescriptions, pharmacists often serve as the first line of defense when it comes to identifying a problem with a person's medication. However, they can also identify other health concerns simply because of their regular interactions with patients. This is particularly true in rural communities, where people may have little access to physicians and other providers.

"Our students make a difference in the lives of patients," MacLaughlin says. "We've even had students catch serious conditions that could have led to significantly adverse outcomes if not identified and treated."
4. You Can Create Positive Impact in Your Community
As a pharmacist, you do not impact the lives only of individuals. You can have a positive impact on an entire community. The educational component of a pharmacist's role can extend beyond individual prescriptions to community-wide campaigns. Pharmacists have been involved in improving vaccination rates, particularly in rural communities, as well as in addressing a number of other pressing public health concerns, such as the opioid epidemic.

Some pharmacists even work with teachers and students in middle schools, junior highs and high schools to address common drug abuse threats, such as inhalants. If you are looking for a role in which you can have a tangible impact on both individuals and your greater community, a pharmacy career could be the answer.
5. You'll be Well Compensated for Your Efforts
When it comes to job opportunities after attending pharmacy school, the variety of roles is not the only perk. Like many positions in health care, pharmacists are well compensated for their expertise. According to U.S. News and World Report, pharmacists are ranked #21 for best paying jobs in the U.S.
"There can be a lot of security when you work in the health care field," MacLaughlin says. "People are always going to need health care services — especially considering the aging of the U.S. population, which is going to increase that demand even further."
As life expectancy increases and the frequency of chronic conditions, like diabetes, rises in the U.S., demand for health care services is growing, which creates many opportunities for professionals who work in the field — including pharmacists.
Launch Your Pharmacy Career at the TTUHSC Jerry H. Hodge School of Pharmacy
Wondering how to start a career in pharmacy? Consider jumpstarting your career by earning a degree at Texas Tech University Health Sciences Center Jerry H. Hodge School of Pharmacy. With a 92% first-time pass rate (class of 2018) and 88% on-time graduation rate (class of 2019), TTUHSC's programs offer the support and guidance you need to succeed in the classroom — and out in the field.
You can launch or advance your pharmacy career in one of three graduate-level pharmacy school programs offered:
The Jerry H. Hodge School of Pharmacy is also home to a host of other graduate-level and continuing education options, including M.S. and Ph.D. programs in pharmaceutical sciences and biotechnology, as well as a graduate pharmacy residency program.
"Our pharmacy school is about 25 years old now, and since its inception, we have been extremely cutting-edge, both in terms of education and clinical practice," MacLaughlin says. "If you look at our curriculum, we have more advanced training than most other schools, including required clerkships in pediatrics and geriatrics. That is something that most schools in the country do not have."
Because of the practical, clinical emphasis, you will gain valuable hands-on experience during the course of your degree program.
"Our students really enjoy talking with patients. Sometimes they're even able to spend more time with the patients than a normal physician would because we are not under the gun from a billing standpoint," MacLaughlin says. "They're able to spend more time educating people on their medications and following-up with them. Students get to see patients' blood pressure improve, their diabetes improve — just overall improvement in their quality of life — which is really rewarding."
In addition to clinical skills, the graduate-level curriculum places strong emphasis on the management aspect of pharmacy, which provides exposure to the critical business side of the role. According to MacLaughlin, the management aspect is particularly critical if you are interested in exploring or developing new innovative services and methods for delivery.
No matter which area of pharmacy you are interested in — from clinical specialties to management to public health — TTUHSC pharmacy programs offer a broad scope of training centered on cutting-edge education with a clinical focus. Upon completion, you will have the baseline skills to be successful and pursue a pharmacy career in the era of value-based care.
"I would put our students up against anyone in the country," MacLaughlin says proudly.
Ready to get started? For more information on TTUHSC, visit our website. To speak with one of our admissions representatives, please call (806) 414-9393 or email us at sopadmissions@ttuhsc.edu.
Related Stories
By QEP Committee
March 21, 2023
As spring approaches, some people's thoughts turn to gardening. Whether it's a flower garden they desire or a vegetable garden want to have, they begin planning what they'll plant and what they need to do to ensure a successful garden.
By QEP Committee
March 21, 2023
A "growth mindset" accepts that our intelligence and talents can develop over time, and a person with that mindset understands that intelligence and talents can improve through effort and learning.
By Melissa Whitfield
February 13, 2023
Abstaining from drug abuse and an early diagnosis of familial hypercholesterolemia (high cholesterol) can help prevent heart disease.
Recent Stories
Campus Life
By Meaghan Collier
March 31, 2023
TTUHSC School of Nursing honored its first class of Bachelor of Science in Nursing (BSN) graduates with a lamp lighting ceremony on Thursday, March 30.
Health
By Melissa Whitfield
March 30, 2023
Texas Tech Physicians primary and specialty clinics across West Texas have completed more than 160,000 telehealth visits since the start of the pandemic.
Education
By Suzanna Cisneros
March 24, 2023
Recognizing academic excellence, the honors are the most prestigious awards granted to faculty throughout the TTU System. The awards are funded by gifts to the Chancellor's Council, a giving society that supports the chancellor's priorities across the TTU System.