Medical and Health Services Managers: Top Five Skills You Need
The medical and health care arena is as expansive as it is dynamic and constantly evolving. One of the most opportunity-rich areas in all of health care for individuals looking to advance their careers is in health care administration.
Health care administrators, also commonly referred to as medical and health services managers, fill a vital role in the successful operation of any health care organization. They're responsible for managing everything from human resources and billing to legal and ethical compliance, along with many other essential aspects of day-to-day operations of any health care organization.
"You're going to find health care administrators in pretty much every type of medical setting — from hospitals and major clinical centers, to individual departments within a larger organization, to small private practice offices, to nursing homes and many others," says Morgan House, Ph.D., director of the Master of Science in Healthcare Administration program at the Texas Tech University Health Sciences Center School of Health Professions (TTUHSC SHP).
"It's a very rewarding and fulfilling career," House adds. "It's also constantly changing and will present you with daily challenges."
Across the country, as well as throughout the state of Texas, the availability of health care administration jobs is expected to grow well into the future. Between 2016 and 2026, the need for medical and health services managers is expected to increase by 20% nationwide, according to the U.S. Department of Education, Bureau of Labor Statistics.
And in Texas, the U.S.Department of Labor's O*NET Online projects an even greater need for those in the profession, with available positions growing by 30% between 2016 and 2026.
If you're currently working in the health care industry and are looking to advance your career, or if you're in another field altogether and are interested in changing professions, this could be an ideal career path to consider.
The Top Five Skills Needed to be a Medical and Health Services Manager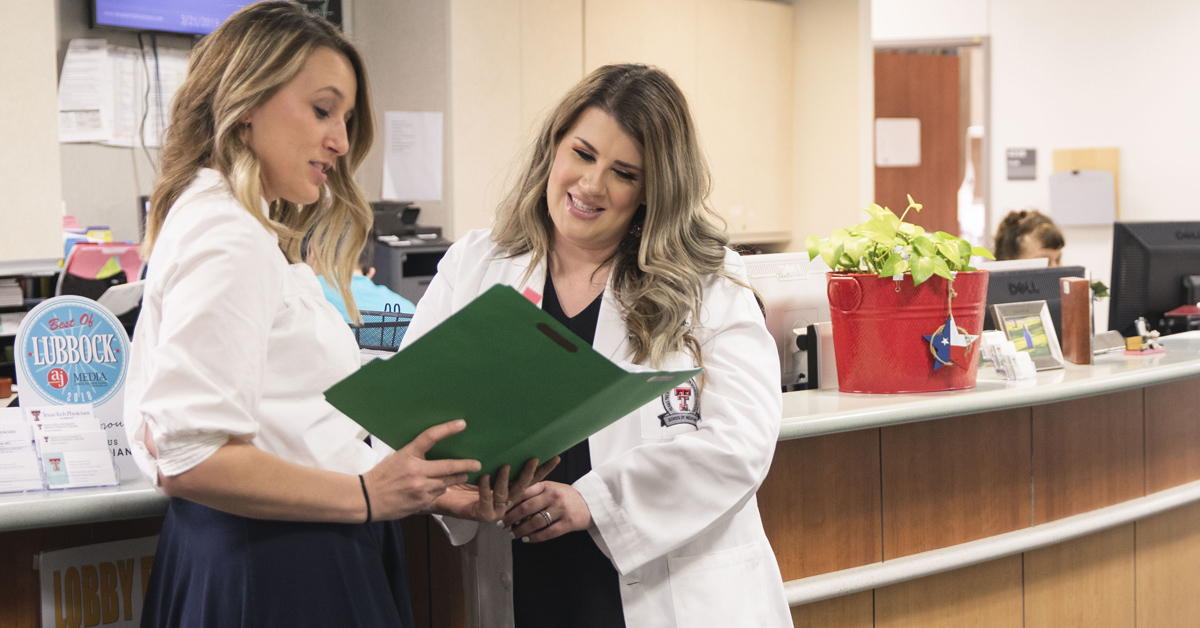 The field of health care administration is fulfilling and has a lot to offer. But what qualities make for a great health care administrator? Here are five common characteristics and skills that are typically needed to be a successful medical and health services manager.
Adaptability. Medical and health services managers can wear a lot of different hats, especially in West Texas where there are many small, rural health centers. In addition to the typical responsibilities, you may find yourself interacting with patients and handling the upkeep of your facility.
Leadership. In most cases, as a health care administrator, you'll have a team working under you. So it's important to bring solid leadership skills and abilities as a way to effectively motivate your team, inspire them to do their best work, and ensure the success of the organization.
Communication. Medical and health services managers lead communication efforts on many fronts. You'll need to communicate clearly and effectively to members of your team, physicians and other members of the patient care team, outside entities such as insurance representatives, vendors, and sometimes patients.
Business Acumen. You'll be responsible for a number of tasks that will require sound business acumen and training. This could include organizational management; budgeting, accounting, and bookkeeping; working with insurance companies; supervising patient billing services; staffing and human resources; and strategizing for future growth, among other responsibilities.
Empathy and Compassion. It's important for medical and health services managers to never lose sight of the fact that at the core of their organization's mission is delivering high-quality care to patients. So while your main role is ensuring efficient day-to-day operations, you'll also need to treat others with respect and kindness.
"One of the big things we teach in our program is the importance of relationships and relationship building," House says. "As a health care administrator, you need to exhibit ethical values, teamwork, and integrity as the foundation for the relationships you build with members of your team."
TTUHSC SHP Master's Degree in Healthcare Administration: Transforming Potential to Professional Success
If a career in health care leadership seems like an ideal fit for you, the first step is finding the best possible master's degree program.
The TTUHSC SHP Master's Degree in Healthcare Administration is a program designed to meet the needs of working adults. It's offered entirely online so that students can mold the experience around the demands of daily life; at the same time, the program is personalized and engaging, offering many opportunities for interaction with fellow students and faculty. Classes are taught by faculty who are accomplished experts and professionals in the field of health care administration.
If you're ready to take a closer look at what a master's degree in health care administration from TTUHSC SHP can do for your career, contact the Office of Admissions and Student Affairs at 806-743-3220 or email us at health.professions@ttuhsc.edu.
Related Stories
By Lori Rice-Spearman, Ph.D., Steven L. Berk, M.D.
March 22, 2022
TTUHSC Celebration of Life Service was held March 25th in remembrance of Tom McGovern, Ed.D.
By Suzanna Cisneros
March 18, 2022
TTUHSC has been named as a Military Friendly® School for 2022-2023. Among graduate schools, TTUHSC ranked fourth in the nation, achieving Gold award status.
By Meaghan Collier
March 17, 2022
On March 16, fourth-year TTUHSC Jerry H. Hodge School of Pharmacy students interested in completing a residency after they graduate in May, learned where they would spend the next stage of their training during the Pharmacy Residency Match Day.
Recent Stories
Health
By Mark Hendricks
September 29, 2022
CPRIT recently awarded a $1 million prevention grant to Rakhshanda Rahman, M.D., Rebeccah Baucom, M.D., and John Kidwell, M.D., from the TTUHSC School of Medicine.
Research
By Kathryn Dankesreiter (TTU)
September 26, 2022
The Innovation Hub at Research Park today (September 26, 2022) announced the winners of its annual Presidents' Innovative Startup Awards. The award recognizes startups that have a high potential for growth and an economic impact in West Texas.
Education
By Suzanna Cisneros
September 23, 2022
Fifth graders from Bean Elementary School became doctors for a day. The Texas Tech University Health Sciences Center (TTUHSC) Student National Medical Association (SNMA) hosted the Doctors for a Day Minicamp on Sept. 23.