Student Organizations Recognized at State, National Meetings
The first weekend in August was one of achievement for student organizations representing the TTUHSC Jerry H. Hodge School of Pharmacy.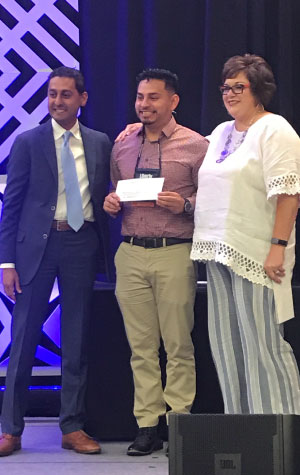 Alvarez
At the Texas Pharmacy Association (TPA) meeting in Irving, Texas, a student from each of the state's pharmacy schools received a $1,000 general scholarship from TPA's Texas Pharmacy Foundation (TPF). Irvin Alvarez, a third-year pharmacy student, was the 2019 TTUHSC recipient.
TTUHSC students also took home three other annual TPF scholarships: fourth-year pharmacy student Kelsie Basso won the Robert Clayton Scholarship; second-year pharmacy student Laith Ghonim won the Ladies Auxiliary Scholarship; and Susie Park, a fourth-year student, won the Luther and Mary Ann Parker Scholarship.
Park
Ghonim
Basso
In addition, fourth-year pharmacy student Jarrad Fischer won the TPA student counseling competition, and the team of Basso, Alvarez, fourth-year student Viktoria Guttenberg and third-year student Ashutosh Kulkarni placed third in the Self-Care Competition. Finally, fourth-year student Lucas Cannon was installed as chair of the TPA Academy of Student Pharmacists and Alvarez was voted chair-elect.
The same weekend at the Phi Delta Chi (PDC) Grand Council meeting in Anaheim, California, the School of Pharmacy's Gamma Eta Chapter from Abilene finished in third place nationally in PDC's Emory W. Thurston Grand President's Award rankings, also known as the Thurston Cup. The Thurston Cup rankings use the results from five reports to calculate each chapter's standing based upon their work throughout the year. The reports include the Ralph L. Saroyan Brotherhood Report, the John D. Grabenstein Leadership Report, the Annual Chapter Publication, the Nancy A. Alvarez Professional and Service Projects Report and the Prescott Scholarship Report.
For the individual report sections, Gamma Eta placed second in the Prescott Scholarship report and the Beta Rho chapter in Amarillo placed fourth in the Nancy A. Alvarez Professional and Service Projects report.
Related Stories
By Mark Hendricks
March 25, 2022
The Texas Tech University Health Sciences Center (TTUHSC) Graduate School of Biomedical Sciences hosted its 34th Annual Student Research Week March 8-11.
By Mark Hendricks
March 25, 2022
The National Cancer Institute awarded a five-year, $1.9 million grant to C. Patrick Reynolds, M.D., Ph.D., director for the School of Medicine Cancer Center at TTUHSC.
By School of Health Professions
March 24, 2022
Richard Greenhill, DHA, FISQua, FACHE, discusses the hype and reality surrounding AI in healthcare.
Recent Stories
Health
By School of Health Professions
May 19, 2022
Dysphagia is a swallowing disorder that affects a person's ability to eat or drink, affecting between 300,000 and 700,000 people in the United States each year.
Health
By Suzanna Cisneros
May 18, 2022
Brittany Bankhead, M.D., an assistant professor of surgery for the Division of Trauma, Burns and Critical Care at the Texas Tech University Health Sciences Center, said life-threatening bleeding can happen in everyday scenarios.
Education
By Clarissa Sanchez
May 16, 2022
TTUHSC celebrated the completion of the School of Health Professions Physician Assistant Program expansion May 16 with a ceremonial ribbon cutting.