Student Organizations Recognized at State, National Meetings
The first weekend in August was one of achievement for student organizations representing the TTUHSC Jerry H. Hodge School of Pharmacy.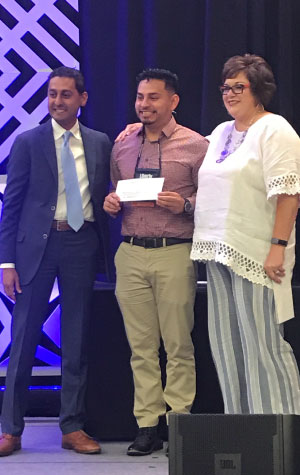 Alvarez
At the Texas Pharmacy Association (TPA) meeting in Irving, Texas, a student from each of the state's pharmacy schools received a $1,000 general scholarship from TPA's Texas Pharmacy Foundation (TPF). Irvin Alvarez, a third-year pharmacy student, was the 2019 TTUHSC recipient.
TTUHSC students also took home three other annual TPF scholarships: fourth-year pharmacy student Kelsie Basso won the Robert Clayton Scholarship; second-year pharmacy student Laith Ghonim won the Ladies Auxiliary Scholarship; and Susie Park, a fourth-year student, won the Luther and Mary Ann Parker Scholarship.
Park
Ghonim
Basso
In addition, fourth-year pharmacy student Jarrad Fischer won the TPA student counseling competition, and the team of Basso, Alvarez, fourth-year student Viktoria Guttenberg and third-year student Ashutosh Kulkarni placed third in the Self-Care Competition. Finally, fourth-year student Lucas Cannon was installed as chair of the TPA Academy of Student Pharmacists and Alvarez was voted chair-elect.
The same weekend at the Phi Delta Chi (PDC) Grand Council meeting in Anaheim, California, the School of Pharmacy's Gamma Eta Chapter from Abilene finished in third place nationally in PDC's Emory W. Thurston Grand President's Award rankings, also known as the Thurston Cup. The Thurston Cup rankings use the results from five reports to calculate each chapter's standing based upon their work throughout the year. The reports include the Ralph L. Saroyan Brotherhood Report, the John D. Grabenstein Leadership Report, the Annual Chapter Publication, the Nancy A. Alvarez Professional and Service Projects Report and the Prescott Scholarship Report.
For the individual report sections, Gamma Eta placed second in the Prescott Scholarship report and the Beta Rho chapter in Amarillo placed fourth in the Nancy A. Alvarez Professional and Service Projects report.
Related Stories
By Lori Rice-Spearman, Ph.D., Steven L. Berk, M.D.
March 22, 2022
TTUHSC Celebration of Life Service was held March 25th in remembrance of Tom McGovern, Ed.D.
By Suzanna Cisneros
March 18, 2022
TTUHSC has been named as a Military Friendly® School for 2022-2023. Among graduate schools, TTUHSC ranked fourth in the nation, achieving Gold award status.
By Meaghan Collier
March 17, 2022
On March 16, fourth-year TTUHSC Jerry H. Hodge School of Pharmacy students interested in completing a residency after they graduate in May, learned where they would spend the next stage of their training during the Pharmacy Residency Match Day.
Recent Stories
Research
By Kathryn Dankesreiter (TTU)
September 26, 2022
The Innovation Hub at Research Park today (September 26, 2022) announced the winners of its annual Presidents' Innovative Startup Awards. The award recognizes startups that have a high potential for growth and an economic impact in West Texas.
Education
By Mark Hendricks
September 23, 2022
Fifth graders from Bean Elementary School became doctors for a day. The Texas Tech University Health Sciences Center (TTUHSC) Student National Medical Association (SNMA) hosted the Doctors for a Day Minicamp on Sept. 23.
Research
By Mark Hendricks
September 22, 2022
Pablo Artigas, Ph.D., from TTHSC's School of Medicine's Department of Cell Physiology and Molecular Biophysics, published a study with his team of collaborators in Nature Communications.