Cancer Prevention and Research Institute of Texas Awards Texas Tech University Health Sciences Center Grants
Texas Tech University Health Sciences Center (TTUHSC) researchers were awarded more than $3.1 million in grants from the Cancer Prevention and Research Institute of Texas (CPRIT). The funds were awarded to support new scientific research projects and recruits to help fight cancer in Texas. TTUHSC's grants are part of over $6 million that was awarded to the Texas Tech University System.
"The world-class institutions of the Texas Tech University System are conducting important work in cancer research and prevention, addressing cancers of importance and delivering vital services directly to Texans," said Wayne Roberts, CPRIT chief executive officer.
TTUHSC received a $3.1 million Core Facility award that will support a Cancer Animal Facility. This grant will update the current animal facility in Lubbock, under the leadership of Scott L. Trasti, DVM, director of the TTUHSC Laboratory Animal Resources Center. These facility updates will enhance the capabilities for cancer research in animal models by including advanced imaging and slide scanning, clinical and anatomic pathology and updated equipment that supports animal care. A major user of the core will be The Children's Oncology Group Cell Childhood Cancer Repository, which establishes, banks, and characterizes patient-derived xenografts from childhood cancers and provides them to greater than 600 research laboratories across Texas, nationwide, and 26 countries world-wide.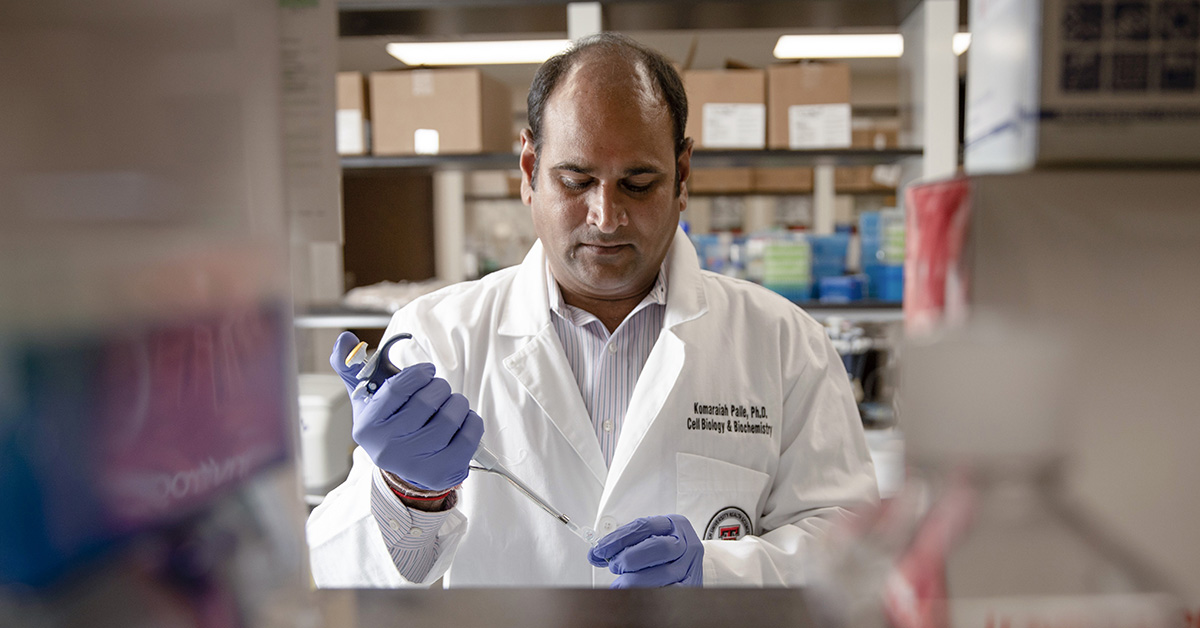 Komaraiah Palle, Ph.D., associate professor in the TTUHSC Department of Cell Biology and Biochemistry, also received a $200,000 High-Impact/High-Risk Research award to study the recurrence of ovarian cancer and treating the disease's resistance to chemoprevention. This award mechanism provides short-term funding to explore the feasibility of high-risk projects that, if successful, would contribute major new insights into the etiology, diagnosis, treatment or prevention of cancers.
"We are extremely grateful to CPRIT for these grants that will allow our faculty to continue their fight against cancer," said Texas Tech University System Chancellor and TTUHSC President Tedd L. Mitchell, M.D. "This research is vital in the prevention of cancer and in providing life-saving treatments."
Related Stories
By Lori Rice-Spearman, Ph.D., Steven L. Berk, M.D.
March 22, 2022
TTUHSC Celebration of Life Service was held March 25th in remembrance of Tom McGovern, Ed.D.
By Suzanna Cisneros
March 18, 2022
TTUHSC has been named as a Military Friendly® School for 2022-2023. Among graduate schools, TTUHSC ranked fourth in the nation, achieving Gold award status.
By Meaghan Collier
March 17, 2022
On March 16, fourth-year TTUHSC Jerry H. Hodge School of Pharmacy students interested in completing a residency after they graduate in May, learned where they would spend the next stage of their training during the Pharmacy Residency Match Day.
Recent Stories
Health
By Mark Hendricks
September 29, 2022
CPRIT recently awarded a $1 million prevention grant to Rakhshanda Rahman, M.D., Rebeccah Baucom, M.D., and John Kidwell, M.D., from the TTUHSC School of Medicine.
Research
By Kathryn Dankesreiter (TTU)
September 26, 2022
The Innovation Hub at Research Park today (September 26, 2022) announced the winners of its annual Presidents' Innovative Startup Awards. The award recognizes startups that have a high potential for growth and an economic impact in West Texas.
Education
By Suzanna Cisneros
September 23, 2022
Fifth graders from Bean Elementary School became doctors for a day. The Texas Tech University Health Sciences Center (TTUHSC) Student National Medical Association (SNMA) hosted the Doctors for a Day Minicamp on Sept. 23.