As a school that studies the causes and cures for diseases, the Graduate School of Biomedical Sciences works to inspire research and demonstrate what Texas Tech University Health Sciences Center (TTUHSC) is doing for the future of medicine. Student Research Week is an integral part of these efforts with week-long activities with prestigious keynote speakers, student presentations and more.
"With 261 abstracts, and representation from every school and nearly every campus, this was our biggest Student Research week to date." Graduate School of Biomedical Sciences Dean, Brandt L. Schneider, Ph.D., stated. "It was an outstanding, week-long display of excellent scientific presentations by our students. I was extremely impressed by their accomplishments, enthusiasm and creativity."
For Jessica Smith, Ph.D. candidate and one of the winners during Student Research Week, the event is an opportunity "to know more about how the world works." Smith studies aging and the role of a cell size in the aging process.
"I'm always asking "why?" Smith said. "The little world of cells is still so unexplored, and we still don't know so much about how pathways interact and cells communicate to get a functioning human being."
"My research looked at the role of cell size and growth in yeast aging, as well as combinations of anti-aging compounds or genetic manipulations. I was watching for a good combination effect - something additive between two treatments. But I found the opposite: no lifespan benefit from combining anti-aging treatments."
"In fact, several of my combinations were shorter-lived than the single treatments! I conclude that anti-aging drugs and treatments need more research before we can combine lots of them to get better overall anti-aging results."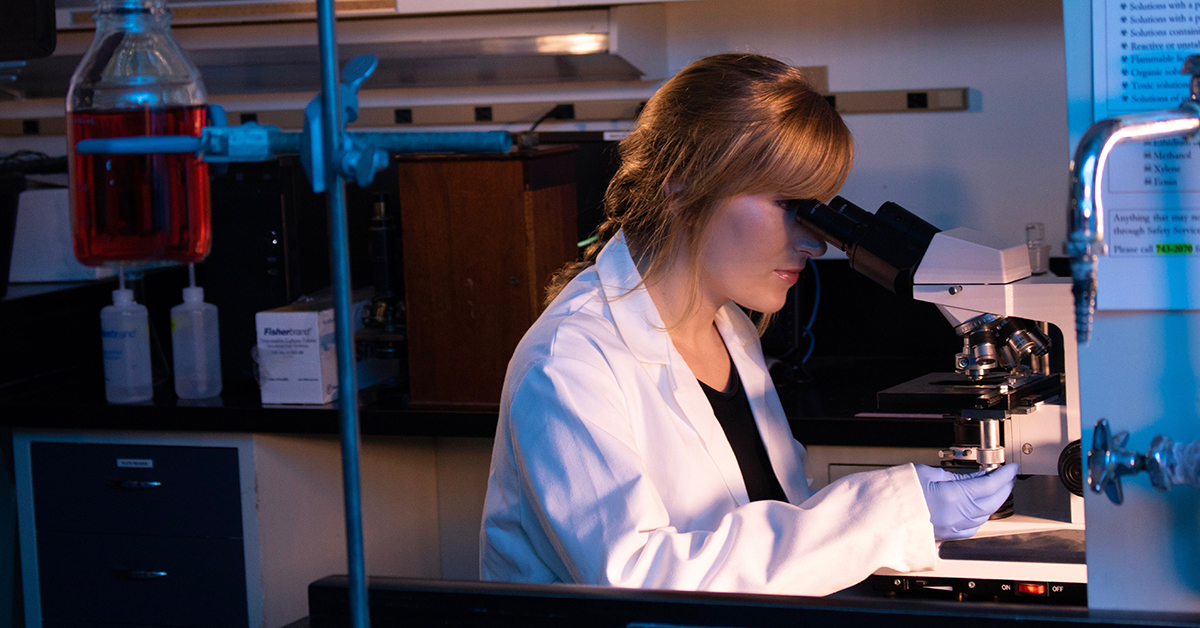 Whether it's anti-aging or cancer treatment, biomedical research is a fundamental part of medicine. "If we know more about the world, by studying biological sciences or by studying the world in general, we can vastly improve our quality of life." Smith said.
Smith accepted a postdoctoral position at the National Institutes of Health, working in the National Institute on Aging in Baltimore. She will be working to identify more biomarkers of aging and potential targets to slow down the various health effects of aging.
A huge thank you to Graduate School of Biomedical Sciences student leaders who worked tirelessly to bring Student Research Week together: Whitni Redman, Riccay Elizondo, Ksenija Korac, Bradley Schniers, Josue Enriquez, Brianyell McDaniel and Monica Sharma.
2019 Student Research Week Winners
Nursing Students
First: Laura Castle & Amber Higgs
Second: Dina Brown
Third: Melissa Duffy & Bryan Earle
Health Professions Category
Resident and Fellows
First: Russell Stanley
Second: Jacob Schoof
Third: Carlos Valencia
Undergraduate Research
First: Garret Welch
Second: Shane Cristy
Third- and Fourth-Year Doctoral Students
First: Jessica Smith
Second: Diego Pedroza
Third: Kellsie Beasley
First and Second-Year Medical Students; Graduate Medical Sciences/Public Health
First: Nicholas Smith
Second: Grant Sorensen
Third: Cody Eslinger
Third- and Fourth- Year Medical Students
First: Elizabeth Cook
Second TIE: Niki Parikh/David Foley
Third: Jamie Osinovsky
First- and Second- Year Graduate School of Biomedical Sciences; Biotechnology
First: Ismail Mohiuddin
Second: Tim Brown
Third TIE: Sarah Hernandez/ Bradley Schniers
School of Pharmacy/Pharmacy Sciences
First: Sharavan Ramachandran
Second: Itishree Kaushi
Third: Sanaullah Sajib
Lubbock Economic Development Alliance Award
First: Sharavan Ramachandran
Second: Alexsandra Schaubhut
Third: Ben Jackson
Image Gallery for Poster Presentations