This Needle Can Help Stop Pain — Dry Needling
Gary Kearns, PT, ScD, explains how physical therapists are turning more and more to dry needling to alleviate muscle pain.
Not all needles are alike. Ask Gary Kearns, PT, ScD, assistant professor in the Doctor of Physical Therapy program in the School of Health Professions, and he gladly explains how physical therapists are turning more and more to dry needling.

"That's probably the biggest question that I get as a clinician from patients is dry needling the same as acupuncture? And the answer is no," Kearns said.

While acupuncture can be used for a number of medical conditions, dry needling is used by physical therapists to primarily relieve pain and tightness in muscles. By inserting a needle directly into a trigger point, the needle can release tension in the surrounding muscles.

"The needles used by acupuncturists and physical therapists are very similar, but the biggest difference is going to be what your license says you can and can't do. From a physical therapy standpoint, we can only treat joints, muscles and the nervous system," Kearns said.
The needles used for dry needling are tiny but solid.

"They're different than the type of needles that you would get a flu shot with," Kearns said. "A flu shot needle is larger and hollow which allows the flu shot to actually get into the skin and muscle, whereas the needles we ue are much smaller than that. That's where the name comes from— it's dry in the sense that you're not injecting anything. And so, you can get pain relief, without having to having to add any extra medication to the patient."

Kearns explained that a physical therapist uses dry needling to relieve pain and relax the trigger points commonly found to cause musculoskeletal pain and dysfunction. Many times, a physical therapist will treat chronic conditions like low back pain, headaches and neck pain, but he said dry needling is simply a tool.

"It's not going to be the only thing that you receive as a patient to address your pain and associated impairments," Kearns said. "It's a component of everything a physical therapist ay employ to decrease pain, improve flexibility and strength and normalize function. Dry needling is used to target trigger points and muscles. I like to emphasize to patients and PT students that dry needling is great for the right person, but requires a very thorough assessment to address conditions that maybe a contraindication for choosing dry needling or could increase the chance of a poor response."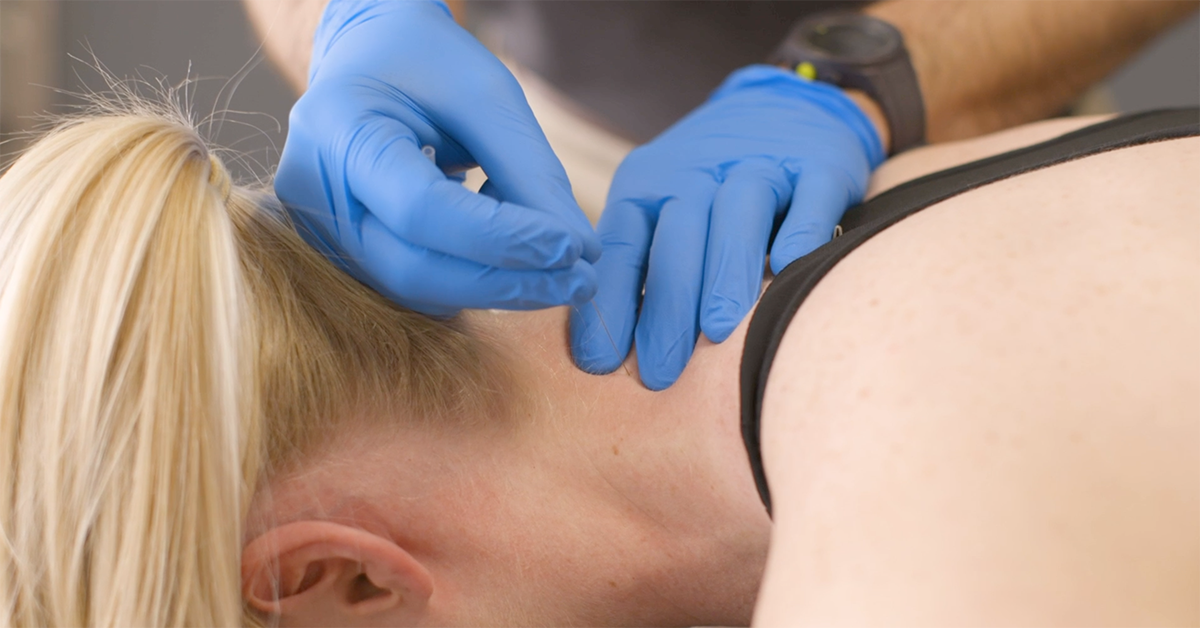 Some of the common considerations to screen include: a fear of needles, infection, pregnancy (depends on what trimester), blood thinners or a compromised immune system.

"There's a laundry list of things that you have to go through to make sure that everyone that's coming in is treated appropriately," Kearns said. "Dry needling works best when other therapy like joint mobilization, exercise and stretching are combined with the treatment. It includes the whole gamut of what physical therapy does with dry needling as a tool used to address the muscle."

Dry needling has been around since the late '60s and early '70s. But in terms of being more commonplace in physical therapy, Kearns said in the U.S., it caught fire in the last five to 10 years.

"I've been performing dry needling since 2009 when it wasn't very common, and now, almost every physical therapy clinic is going to have somebody that does dry needling," Kearns said. "The big question is, what's their extra training and how long have they been using it? Did they just go to a weekend course? Or is it their passion? And obviously, that's, that's my passion. That's where I do my research which focuses on the safety of dry needling. I didn't get into physical therapy thinking I would ever be doing anything invasive. And here we are sticking needles of people. You've always got to be concerned with ensuring the safety of each patient to maximize outcomes and minimize potential side effects. You don't ever want to send the patient away worse than when they came in. Looking for the right expert who has training and asking your health provider questions is key."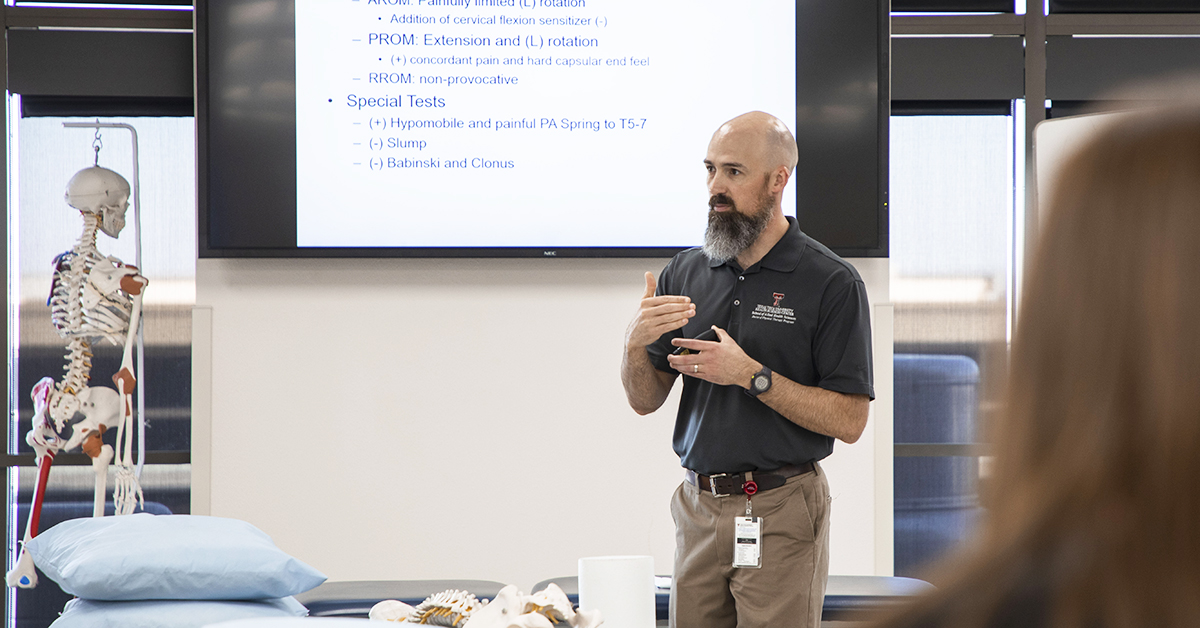 Dry needling can have potential side effects with potential bruising and soreness as the most common. But Kearns said the upside of dry needling can far surpass the possible side effects. If a patient has tight spots in a muscle, the muscle essentially is staying contracted, and it will not relax. And as a result, it basically keeps this chemical soup there that produces pain. Physical therapists look to identify those trigger points. Patient education is key, however.

"We want to make sure that patients know going in eyes wide open, what could go wrong, but also what steps we take to ensure that it's safe," Kearns said. "What is appealing to patients is that it is possible after three to four visits to see results."
Related Stories
By Lori Rice-Spearman, Ph.D., Steven L. Berk, M.D.
March 22, 2022
TTUHSC Celebration of Life Service was held March 25th in remembrance of Tom McGovern, Ed.D.
By Suzanna Cisneros
March 18, 2022
TTUHSC has been named as a Military Friendly® School for 2022-2023. Among graduate schools, TTUHSC ranked fourth in the nation, achieving Gold award status.
By Meaghan Collier
March 17, 2022
On March 16, fourth-year TTUHSC Jerry H. Hodge School of Pharmacy students interested in completing a residency after they graduate in May, learned where they would spend the next stage of their training during the Pharmacy Residency Match Day.
Recent Stories
Education
By Mark Hendricks
September 23, 2022
Fifth graders from Bean Elementary School became doctors for a day. The Texas Tech University Health Sciences Center (TTUHSC) Student National Medical Association (SNMA) hosted the Doctors for a Day Minicamp on Sept. 23.
Research
By Mark Hendricks
September 22, 2022
Pablo Artigas, Ph.D., from TTHSC's School of Medicine's Department of Cell Physiology and Molecular Biophysics, published a study with his team of collaborators in Nature Communications.
Campus Life
By Mark Hendricks
September 20, 2022
The Texas Panhandle Poison Center (TPPC), managed by the Jerry H. Hodge School of Pharmacy, will host Lubbock's Fall Medication Cleanout™ event October 1.