School of Pharmacy Named to Honor Amarillo Businessman, Philanthropist
Mitchell, the Hodges and Smith
The Texas Tech University Health Sciences Center (TTUHSC) on April 25 announced the naming of its pharmacy school as the TTUHSC Jerry H. Hodge School of Pharmacy. The naming, previously approved by the Texas Tech University System Board of Regents, honors the lifelong dedication and support of TTUHSC by Hodge.
Texas Tech University System Chancellor and TTUHSC President Dr. Tedd L. Mitchell said Hodge's leadership and involvement at the state level was instrumental in helping the university establish the School of Pharmacy in 1993, the first publicly supported pharmacy program in the United States in nearly five decades.
"The impact Jerry Hodge has had on this community has been extraordinary," Mitchell said. "His commitment and longstanding dedication to this region, the city of Amarillo and to Texas Tech University Health Sciences Center has been transformative as we wouldn't be here today without this family's devotion and support. It is an honor to recognize Jerry with the naming of our School of Pharmacy."
In the mid-1960s, Hodge, a licensed pharmacist, purchased Maxor Drugs and transformed it from a small community drugstore into Maxor National Pharmacy Services Corporation, a company that currently employs about 450 people in Amarillo and more than 660 people nationwide.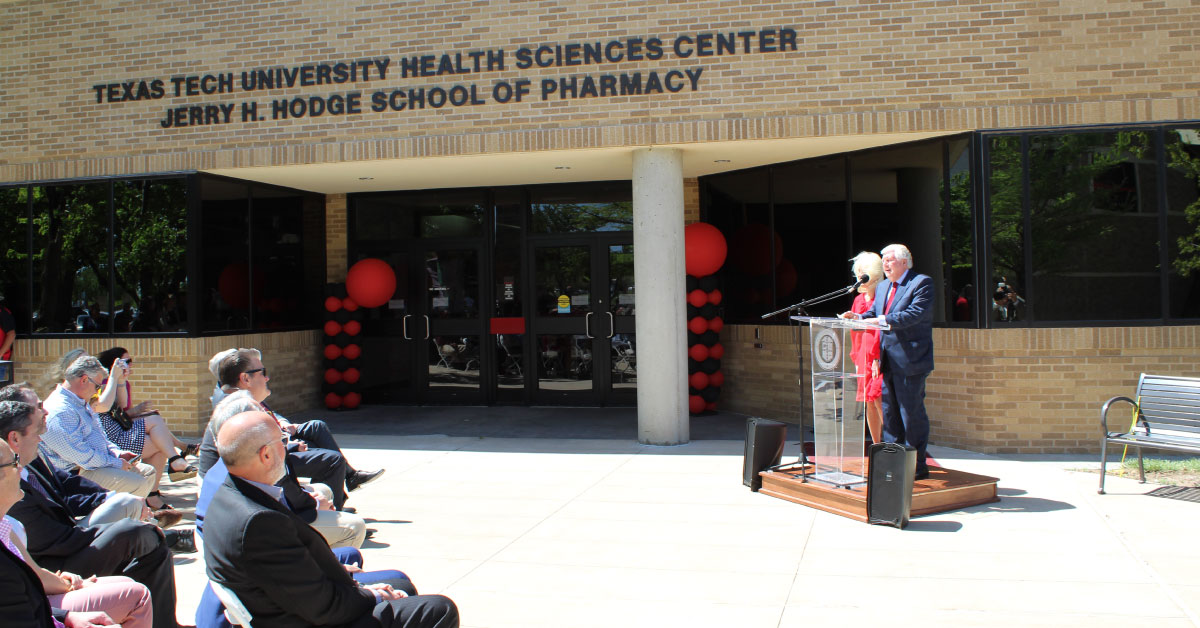 Hodge served as Maxor's chairman and chief executive officer until he retired in 2016, but his work wasn't limited to filling prescriptions. In 1977, at the age of 34, Hodge was elected the youngest mayor in Amarillo history. Four years later, in 1981, he was named to the Texas State Board of Pharmacy and served until 1987.
"The impact on patients' lives and wellbeing from all of this is incalculable," TTUHSC School of Pharmacy Dean Quentin Smith, Ph.D., said. "Throughout his life, Mr. Hodge has sought to transform pharmacy to ever-greater levels of service and effectiveness, and the TTUHSC Jerry H. Hodge School of Pharmacy will make sure that effort extends long into the future. His impact already has touched so many lives in Texas and across the nation; with this naming, it will grow far stronger."
When it opened in 1996, the TTUHSC School of Pharmacy sought to be among the top providers of modern pharmacy education, practice and research. Though barely 20 years old, the school is the largest in Texas, graduating 140 to 155 new doctors of pharmacy each year. The school recently placed 16th and 18th among the nation's 143 pharmacy schools in two surveys based upon the quality of its Doctor of Pharmacy program, and it ranked 12th nationally based upon low cost. Since it opened, the economic impact of the school's research grants alone has exceeded $53 million.
Related Stories
By Mark Hendricks
March 25, 2022
The Texas Tech University Health Sciences Center (TTUHSC) Graduate School of Biomedical Sciences hosted its 34th Annual Student Research Week March 8-11.
By Mark Hendricks
March 25, 2022
The National Cancer Institute awarded a five-year, $1.9 million grant to C. Patrick Reynolds, M.D., Ph.D., director for the School of Medicine Cancer Center at TTUHSC.
By School of Health Professions
March 24, 2022
Richard Greenhill, DHA, FISQua, FACHE, discusses the hype and reality surrounding AI in healthcare.
Recent Stories
Education
By Mark Hendricks
May 26, 2022
The Willed Body Program has served West Texas since 1972 and is the foundation upon which the TTUHSC Institute of Anatomical Sciences is built.
Education
By Mark Hendricks
May 25, 2022
The Texas Tech University Health Sciences Center (TTUHSC) recently hosted traditional commencement ceremonies for its 1,595-member Class of 2022.
Education
By Suzanna Cisneros
May 24, 2022
The school, which is the sixth at the university, aims to train future health care leaders in population and public health.